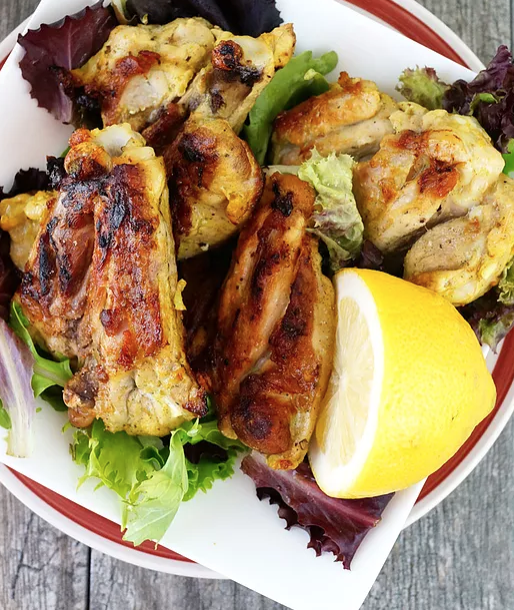 Lebanese chicken is my favorite simple childhood meal! It's usually prepared with just lemon, garlic, sea salt, and maybe some additional spices like oregano, cinnamon or cardamom depending on the grandmother in the kitchen.
This version of the recipe combines my favorite chicken thigh preparation a la adding chicken thighs skin side down to a cold pan and then turning the heat up. It crisps the skin slowly so you don't burn the outside with an uncooked middle. Deelish! Just be sure to either use a splatter guard (which I don't own) or an apron because chicken fat is the bacon of the poultry clan.
This weekend has been so much fun! A perfect summer weekend for my new family full of meet ups with friends, good coffee, spending time out at the lake, and relaxing over some tasty eats. Breastfeeding has further enhanced my relationship with food because now I really, really have to be good about getting 3 or 4 square meals a day or I'm starving, starving, starving. I haven't been able to eat cruciferous veggies because they were causing her immature digestive system a little too much stress, but I hope to bring them back in around 4 months because they are my absolute favorite. I practically lived on kale during pregnancy!
But I've really been enjoying food even more lately now that I'm home with her and have more time to plan better and get more creative in the kitchen. This week we had Macadamia and Date Crusted Salmon (recipe to come), Mediterranean Beef & Pork Vegetable Skillet, Herbed Shrimp with Dairy-Free Tzatziki (another recipe to come), and lots of salads with avocado, wild-caught salmon, fresh herbs and tahini (my old-found new-found love). See Salted Tahini-Date Fudge for proof.
I also procured an incredible book of vegan ice creams off of Amazon called N'Ice Cream! Holy waffle bowls, it's an amazing collection of AIP & Paleo-friendly ice creams!!! No gluten or dairy and very, very little grain (a couple recipes with oats). Tons of refreshing pops, instant ice creams that use frozen ingredients and no ice cream maker, and non-instant ice creams using more fresh ingredients like avocados.
There's a recipe for Apple-Mint-Avocado Pops that I'm getting on FAST. The book actually inspired my Macadamia & Date Salmon recipe, which has been my favorite way I've consumed salmon in a long time! (By the way, they have a recipe for paleo-friendly gluten-free waffle bowls using coconut sugar, almond flour, and tapioca flour!) While you dream of dairy-free ice cream, go eat your protein first!
Crispy bright lemon chicken is the perfect pair with Cauliflower Cous Cous!
Crispy Lebanese Chicken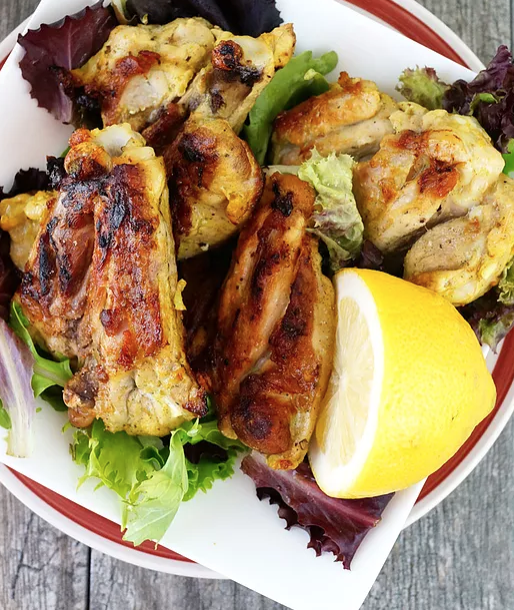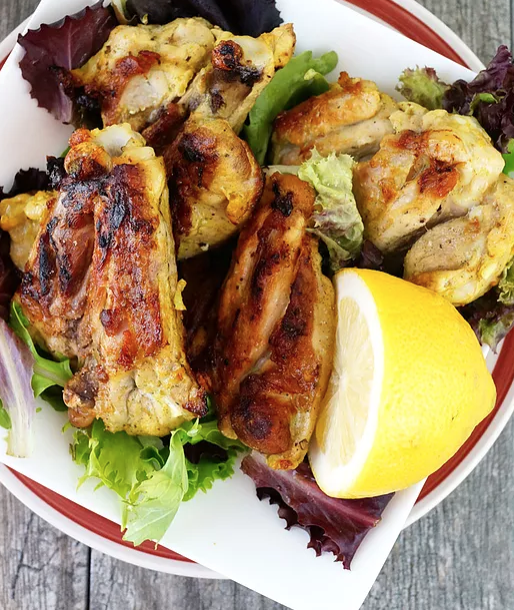 Ingredients
2 pounds bone-in, skin-on chicken thigh
4 garlic cloves, minced
juice of 1 lemon
1 1/2 teaspoon grated lemon zest
1/2 teaspoon sea salt
1/2 teaspoon dried oregano flakes
1/8 teaspoon ground cinnamon
1/8 teaspoon ground turmeric powder
additional sea salt and lemon juice for seasoning