Holy schnitzel, it's been quite the week over here. My husband got an awesome job offer in Florida, so we are packing up our baby & things, and moving in just a few weeks!! Literally will be spending Thanksgiving surrounded by boxes, not food, this year. Good thing Grace isn't old enough to realize that's a crummy way to spend a food holiday. 
These Greek meatballs are beyond delicious + when paired with roasted grapes and the creamiest parsnip puree – HUBBA, HUBBA!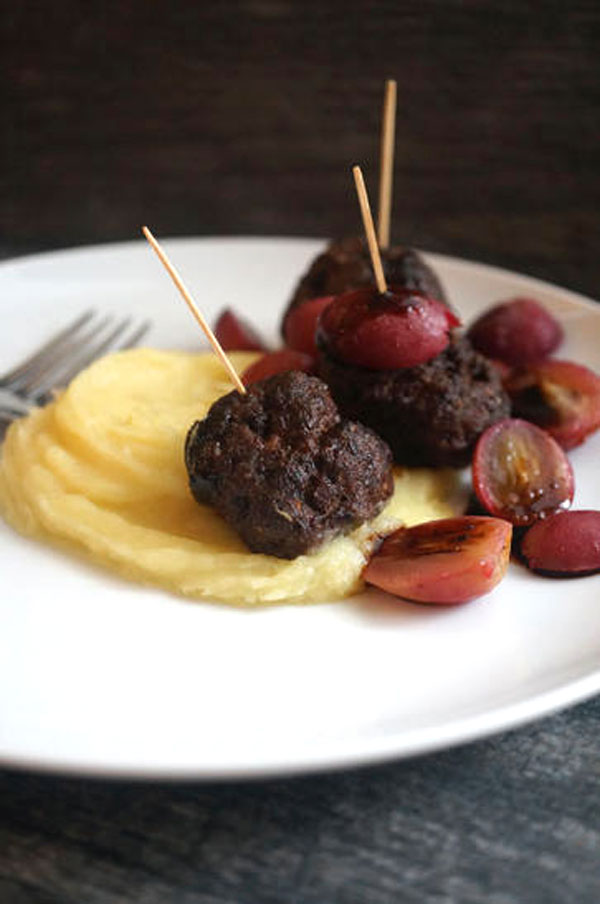 Greek Meatballs with Roasted Grapes & Parsnip Puree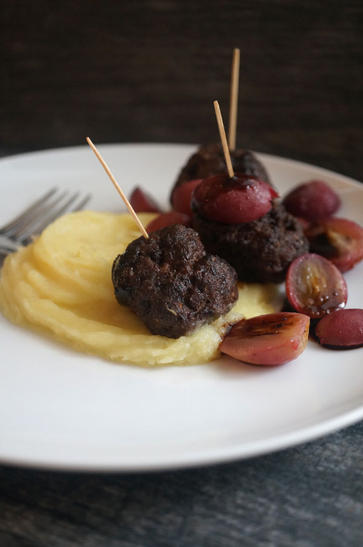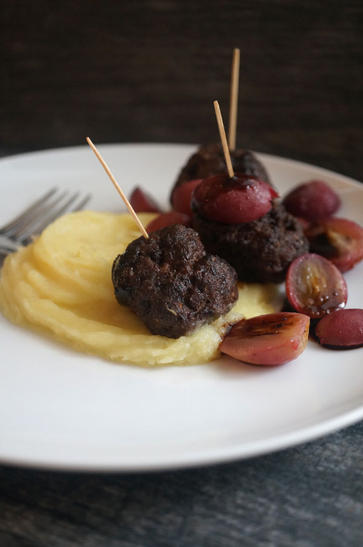 Ingredients
3/4 cup pitted salt-cured black olives or Kalamata olives*
1 pound ground lamb
1 tablespoon coconut flour
1/2 teaspoon dried oregano
1 1/2 cups halved red grapes
4 1/2 cups peeled, bite-sized parsnips (about 4 large)
1/4 cup homemade broth
1/2 teaspoon sea salt
Directions
Preheat oven to 425 degrees. Line a large rimmed baking sheet with parchment paper.

In a food processor,

pulse

pitted olives until pureed. Add lamb,

coconut flour

and oregano to the processor and pulse until well combined.

Form 16 golf ball-sized meatballs. Place on baking sheet. Add halved grapes to the same baking sheet and sprinkle with the pinch of sea salt.

Bake for 18 minutes for well-done meatballs. If you would prefer medium-done meatballs, bake for 14 minutes but continue to roast the grapes for the full 18 minutes.

Meanwhile, place parsnips, broth and salt in

Instant Pot

. Seal the lid and set Manual Timer to 7 minutes. Once timer elapses, vent the lid. The parsnips should be cooked and have absorbed the broth.

Transfer parsnips to a blender and puree. Add just 1 tablespoon additional broth if the blender needs help getting going for the creamiest puree.

Serve meatballs atop parsnip puree with roasted grapes. A drizzle of balsamic reduction is delicious on this meal!