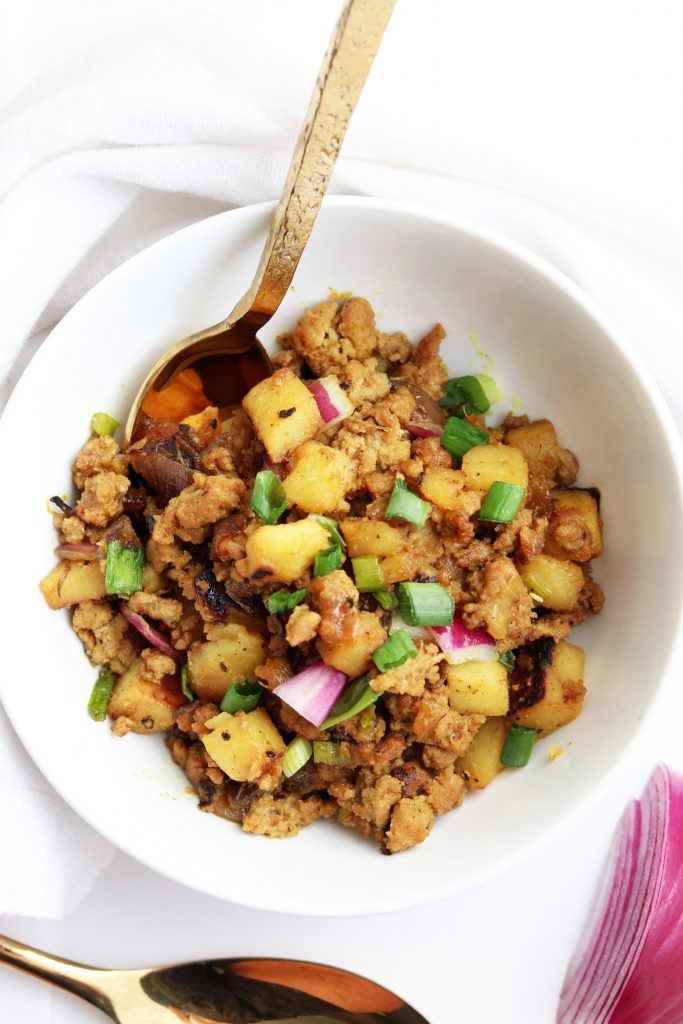 This Paleo-friendly Turkey and Sweet Potato Stir Fry is flavored with a rich ginger and coconut aminos sauce. If you think skillet meals are short on flavor, you'll love this gluten-free, grain-free and dairy-free one pan meal!
As I'm going through old recipes on my website, I'm discovering The Forgotten Ones. You know – the ones will terrible photos and maybe three comments. I have a lot of work ahead of me to optimize my website for search engine traffic – it's my #1 business goal this year. That being said – I'll be digging up some old recipes you may not have known were in the depths of Grazed & Enthused.
This One Pot Turkey and Sweet Potato skillet is based on an old recipe for a Ginger Buffalo Sauce. Well, it turns out my taste buds were way off 5 years ago because I made it today, and it tasted noting like Buffalo Sauce. It did then – it does not now. A true and humbling conundrum.
Instead, with a few tweaks I achieved this incredibly savory and flavor-packed skillet using a good dose of apple cider vinegar, ground ginger, coconut aminos, fish sauce and a few other ingredients. You whisk them together, bring them to a boil and allow to reduce into a syrupy ginger stir fry sauce.
In a separate skillet, you simply stir fry the sweet potatoes, red onion and ground turkey (or chicken or pork would work too) and toss with chopped green onion to finish. This easy weeknight meal got a 10/10 in our house – protein, veggies, satisfying salty flavor – done, done, done.
If you're avoiding nightshades to maintain an anti-inflammatory diet, you'll love the "spice" you get from the ground ginger in this Stir Fry Sauce. You can even add more than the recipe calls for, if you want it extra spicy.
WHAT YOU NEED FOR THIS TURKEY AND SWEET POTATO SKILLET
Olive oil
Red Onion
Ground Turkey – ground chicken or pork could be subbed in
White sweet potatoes – orange sweet potatoes work too
Green Onions
Ginger Stir Fry Sauce (recipe included)
If you want to add some greens to this meal, I recommend thinly slicing kale and throwing it in once the sweet potatoes are almost done cooking. You can even add some chopped cilantro, but I wanted to keep the ingredients minimal for this recipe
Finally, are you looking for a good meal prep meal? This one gets even better the next day as the flavors develop, so double or triple the recipe for meals all week! We served ours topped with sliced avocado for extra color and fat.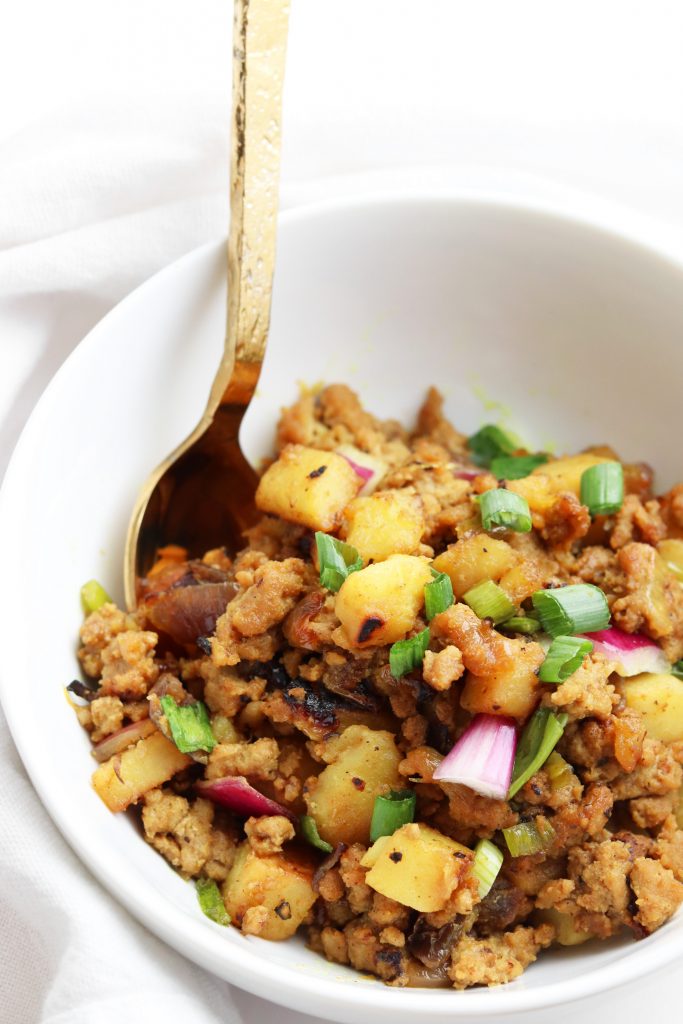 HOW TO MAKE PALEO GINGER STIR FRY SAUCE:
In a medium saucepan, whisk together the apple cider vinegar, canned coconut milk, honey, ground ginger and turmeric, garlic and onion powder, and fish sauce.
Bring to a boil over medium heat and allow to reduce and thicken for 10 minutes. It will deepen in color.
Stir in the coconut aminos and smoked sea salt for added flavor and umami. Stir into your Turkey & Sweet Potato Skillet as it calls in the below recipe.
LOOKING FOR MORE PALEO SKILLET RECIPES?
Five Spice Beef Skillet with Fennel and Currants
Nightshade-Free Cuban Picadillo

[simple-recipe:9049a]