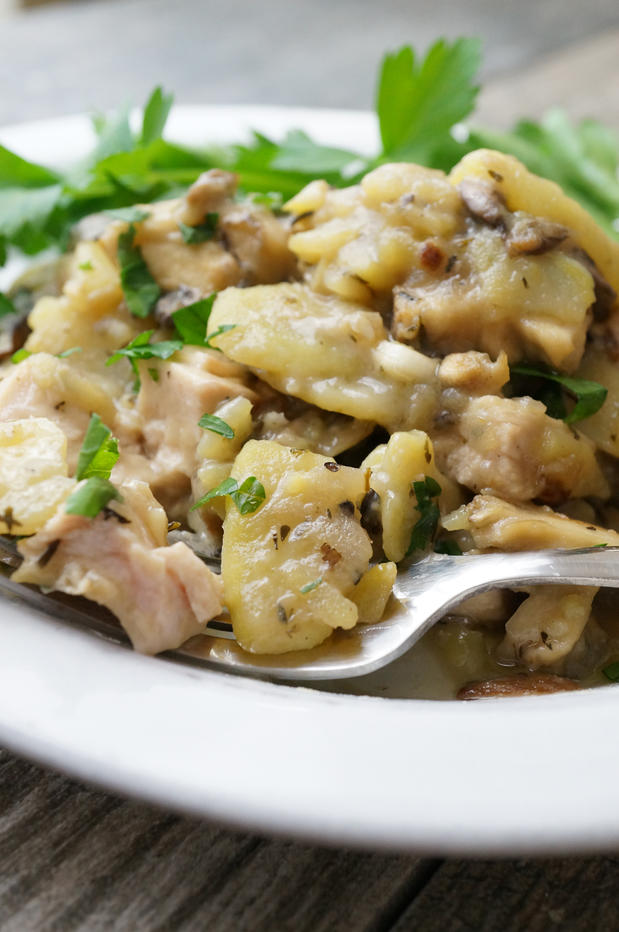 Probably one of the hardest tasks when cooking for the autoimmune protocol is coming up with different flavor profiles and textures. Without a load of spices and kitchen staples, it can feel pretty limiting at times when you only have meat, seafood, veggies, and fruit to work with! After almost two years cooking this way every single day (and multiple times at that), I have developed a few techniques to mimic some old standby cooking comforts that were always guaranteed to make a meal comforting and satisfying, namely cream and butter!
Alas, dairy products and people with autoimmune disease and food intolerances often do not jive. Trust me, I tried to convince myself when I lived in Chicago that Jeni's Splendid grass-fed ice cream didn't cause me any gut symptoms since it was grass-fed milk, duh. That's Paleo, right? Errr yeah. It took me 10 bowls of salted caramel (not in a row) until I realized dairy falls into the same category as nightshades for me (the danger zone).
This recipe for Creamy Mushrooms, Potatoes, and Smoked Turkey is inspired by a recipe in The Healing Kitchen for Creamy Bacon Scalloped Sweet Potatoes (so good!!) That recipe is a side dish though, and I wanted to prepare a cold-weather dinner for my husband and myself that would be packed with veggies, bone broth, and tasty smoked turkey!
My Whole Foods sells house-smoked turkey breast, ribs, and chickens season with only salt and pepper. The pepper is on the skin, so I just remove the skin to keep it AIP-compliant. Mushrooms are the steak of the funghi world and add a meatiness and bulk to this dish that wouldn't be present otherwise. White sweet potatoes are slightly sweet, mild, and starchy and literally melt into the broth and coconut cream! The smokiness of the meat breaks up all the heaviness of the coconut cream, broth, and mushrooms and makes a perfect date night meal for two (or leftovers for one!) Bon Appetit!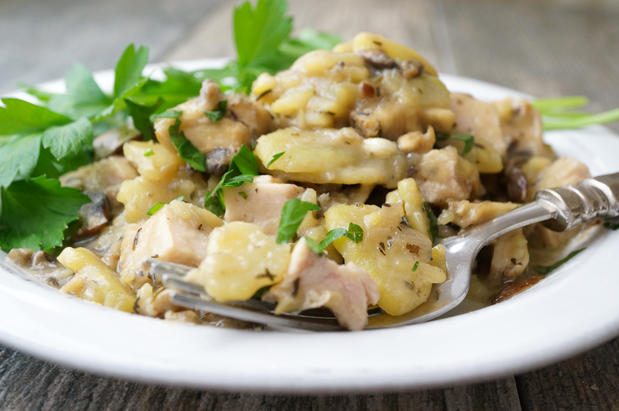 This yummy all-in-one dish couldn't be any easier to make!
Smoked Turkey with Creamed Sweet Potatoes & Mushrooms

Ingredients

Sweet Potato Base:
1 cup +2 tablespoons coconut cream (divided)
2/3 cup homemade chicken broth
1 1/2 teaspoons dried thyme leaves
1/2 teaspoon garlic powder
1/2 teaspoon onion powder
1/2 teaspoon truffle salt, divided
8 ounces white sweet potato, peeled and thinly sliced
1 tablespoon arrowroot starch
Mushrooms & Turkey:
1 tablespoon olive oil
1/3 cup diced shallot
5 cloves garlic, chopped
5 ounces oyster mushrooms
4 ounces sliced baby bella mushrooms
8 ounces pre-cooked smoked turkey or chicken breast, chopped
chopped parsley for serving

Directions

For sweet potato base:

Combine 1 cup coconut cream, broth, thyme, garlic and onion powder, ¼ teaspoon truffle salt, and sweet potatoes in a small saucepan. Ensure the sweet potatoes are covered with the liquid as much as possible.

Bring to a boil over medium-high heat and cook uncovered for 4 to 5 minutes until potatoes are tender.

Remove from heat.

In a small dish, whisk together arrowroot and remaining 2 tablespoons coconut cream. Stir into the saucepan along with the remaining ¼ teaspoon truffle salt /continuously for 1 to 2 minutes to thicken the liquid.

For mushrooms & turkey:

Meanwhile, cook the mushrooms while the potatoes are boiling.

Heat olive oil in a large skillet over medium-high heat. Add shallot, garlic, and truffle salt and cook for 1 minute until fragrant ensuring you do not burn the garlic.

Add mushrooms to the skillet and cook for 4 to 5 minutes until tender, stirring every couple minutes. Add turkey or chicken to the pan to warm.

Remove from heat.

Stir in contents from the small saucepan and mix gently and continuously until the entire mixture has thickened to a creamy and thick consistency, about 1 to 2 minutes. If you have reintroduced black pepper, add some fresh cracker pepper now.

Serve sprinkled with chopped parsley with a simple green salad on the side.