Acorn Squash Gnocchi is an excellent way to use leftover roasted acorn squash in a lower carb version of the classic gnocchi. Cooked in a 3-minute garlic brown butter, it makes an impressive Paleo, grain-free, gluten-free and egg-free side dish.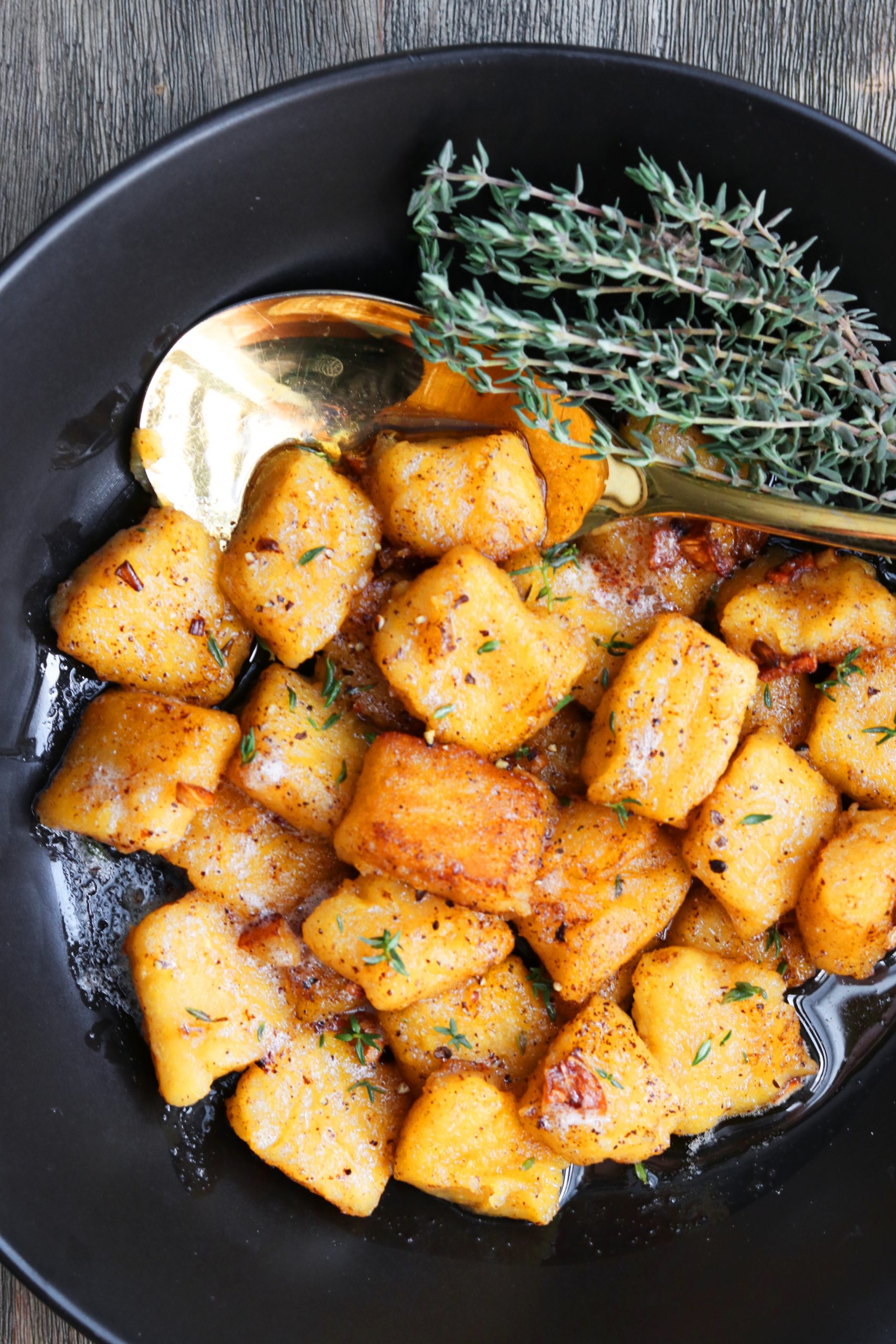 I roasted up a big batch of acorn squash for my 9-month-old's meals this week, but we tired of eating plain roasted squash more quickly than I anticipated. I had an entire leftover squash and was about to throw it in a soup when gnocchi popped into my head. I haven't made gnocchi in years since potatoes are part of the nightshade family, and significant doses of them give me headaches and an increase in autoimmune symptoms.
This grain-free, gluten-free and egg-free Acorn Squash Gnocchi are flavorful little pillows bathing in a very quick garlic brown butter sauce. I would pair this side dish with a roasted beef recipe like my Instant Pot Caribbean Shredded Beef.
What you need for this easy Acorn Squash Gnocchi
Roasted Acorn Squash

: Pre-roast a medium acorn squash by slicing in half, scooping out the seeds, brushing with olive oil and laying cut side down on a parchment lined baking sheet. Roast at 400 degrees for 30 minutes or until you can easily pierce the squash with a fork. Remove the flesh from the skin and let cool completely in the refrigerator for several hours before using in this recipe.

Gluten-Free Flour

: Cassava flour provides the delightfully doughy texture of traditional gnocchi and coconut flour helps bind it together.

Unsalted Butter

: I like to use Kerrygold butter in all of my cooking. If you can only tolerate ghee, you can use 3 tablespoons of unsalted ghee, but do not expect it to brown or develop a rich flavor since the milk solids have already been removed.
How to make Homemade Acorn Squash Gnocchi
1. Mash the pre-roasted and cooled acorn squash with the gluten-free flour and salt.
2. Using clean hands, roll the gnocchi "dough" into short 3/4-inch wide logs and slice into 1-inch pieces.
3. Boil the gnocchi in a pot of lightly salted water for the first step of its cooking process.
4. Lastly, you'll make a quick garlic brown butter in a stainless steel skillet and fry the gnocchi on each side.
How many people does this recipe serve?
This recipe serves two hungry adults as long as you're serving it alongside a main dish. Any roasted beef or seared steak recipe would go well with this Acorn Squash Gnocchi. And red wine. Definitely some of that too.
Can I make Acorn Squash Gnocchi in advance?
You could roll out the dough and slice into the gnocchi in advance. I would wait to cook them until you're ready to serve!

[simple-recipe:8774a]