This grain-free, nut-free, vegan and low sugar granola will satisfy your sweet breakfast cravings. It is a Paleo-friendly snack or cereal option that combines sunflower seeds, raisins, flaxseed, chia seeds, and a bit of coconut oil, maple syrup and vanilla.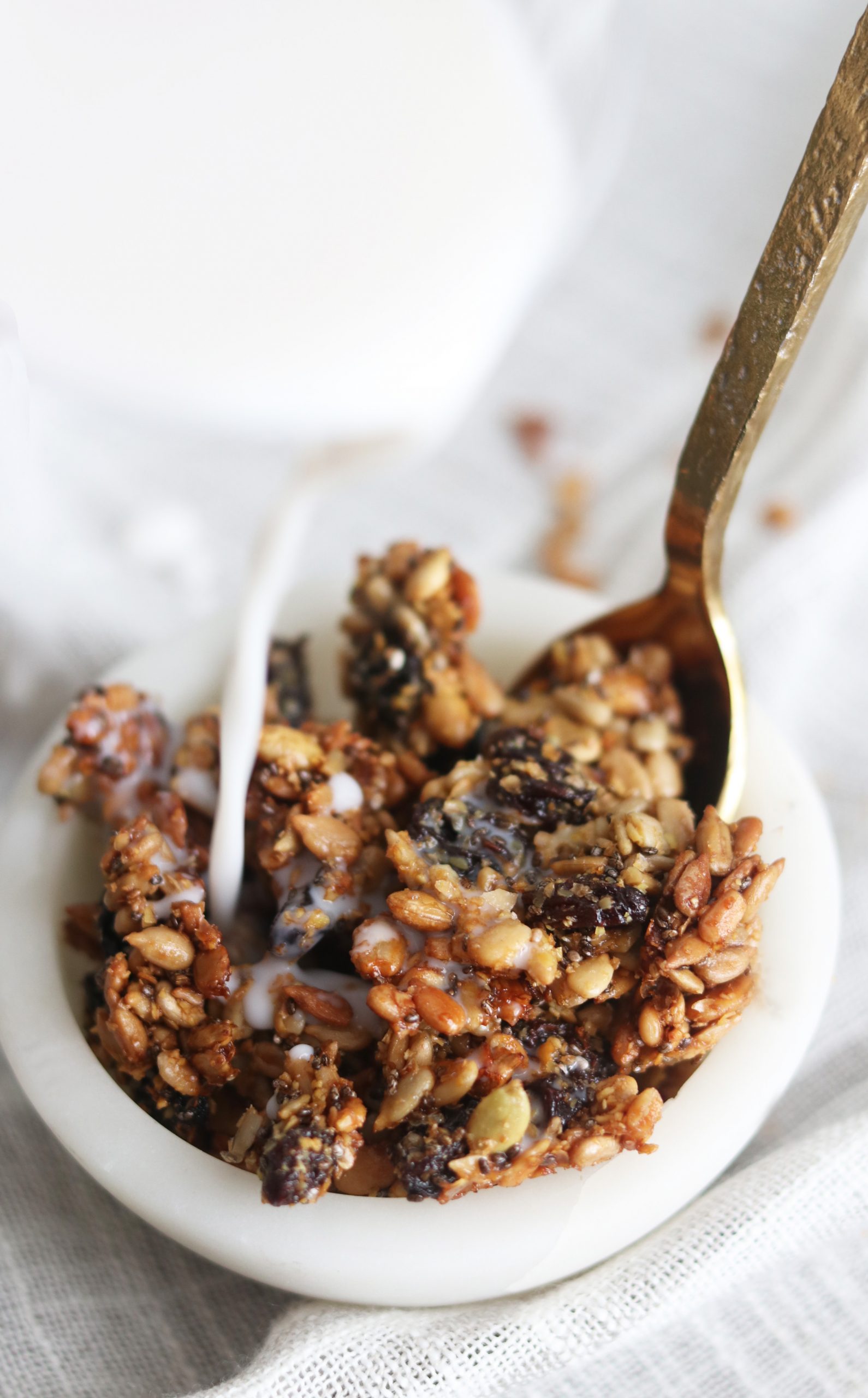 I have had a hankering lately for SOMETHING – and that something has evaded me greatly – until I made this Nut-Free Paleo Granola. At 9 pm every night after an exhausting yet fulfilling day at home with my girls, I feel depleted. Sometimes emotionally – but often times nutritionally. My body will crave something undefined, and I always take that as a sign that deserves some attention.
Well, last night after a big bowl of this Nut-Free Paleo Granola standing over my kitchen sink while having an important conversation with my husband on how we will ensure our children leave our grip with awareness, acceptance and with boundless confidence. It's crunchy, a little sweet and nourishing – and it is so much more affordable than purchasing pre-made granola which is often much higher in added sugar.
This Paleo Nut-Free Sunflower Granola includes: 
Raw Unsalted Sunflower Seeds: you can source organic raw sunflower seeds affordably at most stores and on Amazon
Ground Golden Flaxseed Meal: You can buy this pre-ground, but it's much easier to find whole golden flaxseeds that  you can grind at home in a blender or coffee grinder.
Raw Pumpkin Seeds: for added protein, fiber, magnesium and bigger crunch. It's hard to find these without sunflower oil
Chia Seeds: add protein, fat, calcium, and manganese.
Coconut Oil: helps bind everything together when baked.
Maple Syrup: to add sweetness to your granola and create a brittle-like texture as it bakes
Vanilla Extract: for that delicious vanilla flavor of course!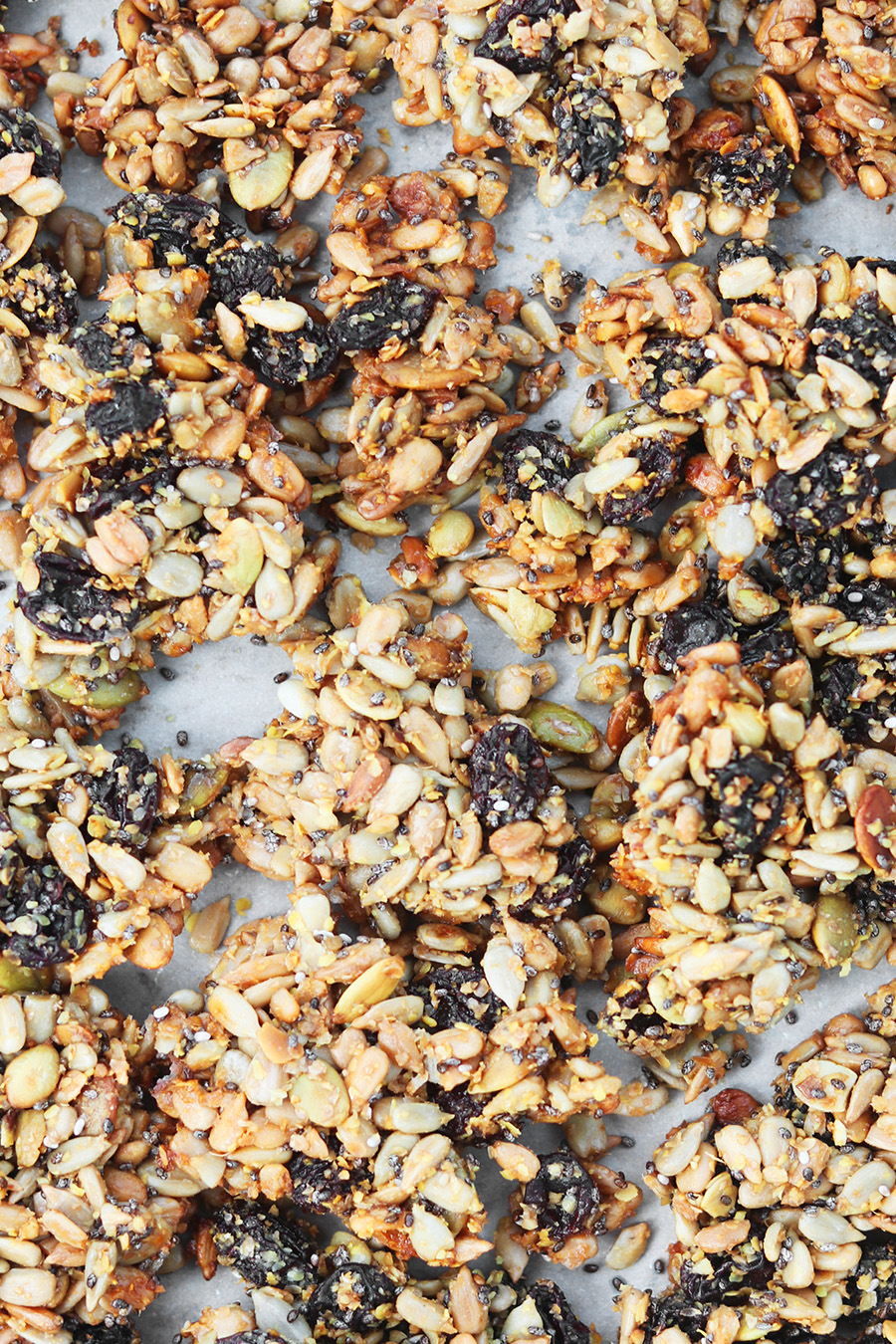 Nut-Free and Grain-Free Granola couldn't be more simple to make either. You are just mixing everything together in a bowl (try not to eat all of it before it goes in the oven because it's goooood), pressing it into a parchment lined baking sheet, and baking until lightly golden. Let it cool completely for at least 45 minutes before breaking up with your hands.
You can eat this granola for a snack or you can use it to top smoothie bowls, salads, or enjoy as a cereal with your milk of choice. Yes, it's an energy dense cereal, but that's what makes it so nourishing. The energy is not coming from processed sugar or blood sugar spiking grains but from organic, high quality and nutrient dense seeds.
Other inclusions you can add (I wanted to keep this recipe as simple as possible!)
Unsweetened shredded or flaked coconut
Other chopped dried fruit like apricots, dates, currants and cranberries in place of the raisins
Ground cinnamon, nutmeg, sea salt, and ginger
If you're looking for a completely AIP Granola, please check out these recipes:
Pumpkin Spice Granola (guest post on Autoimmune Wellness)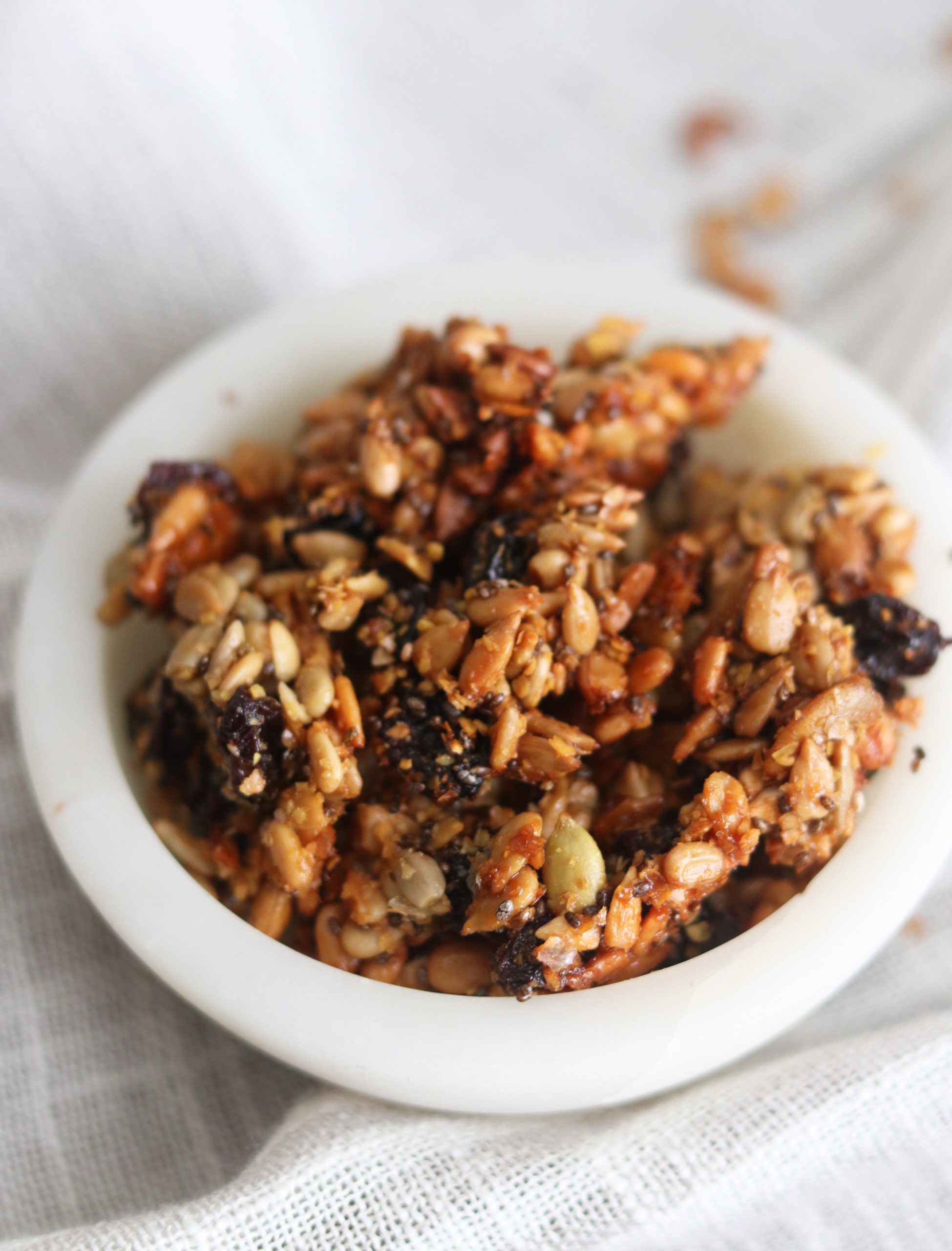 [simple-recipe:9355a]