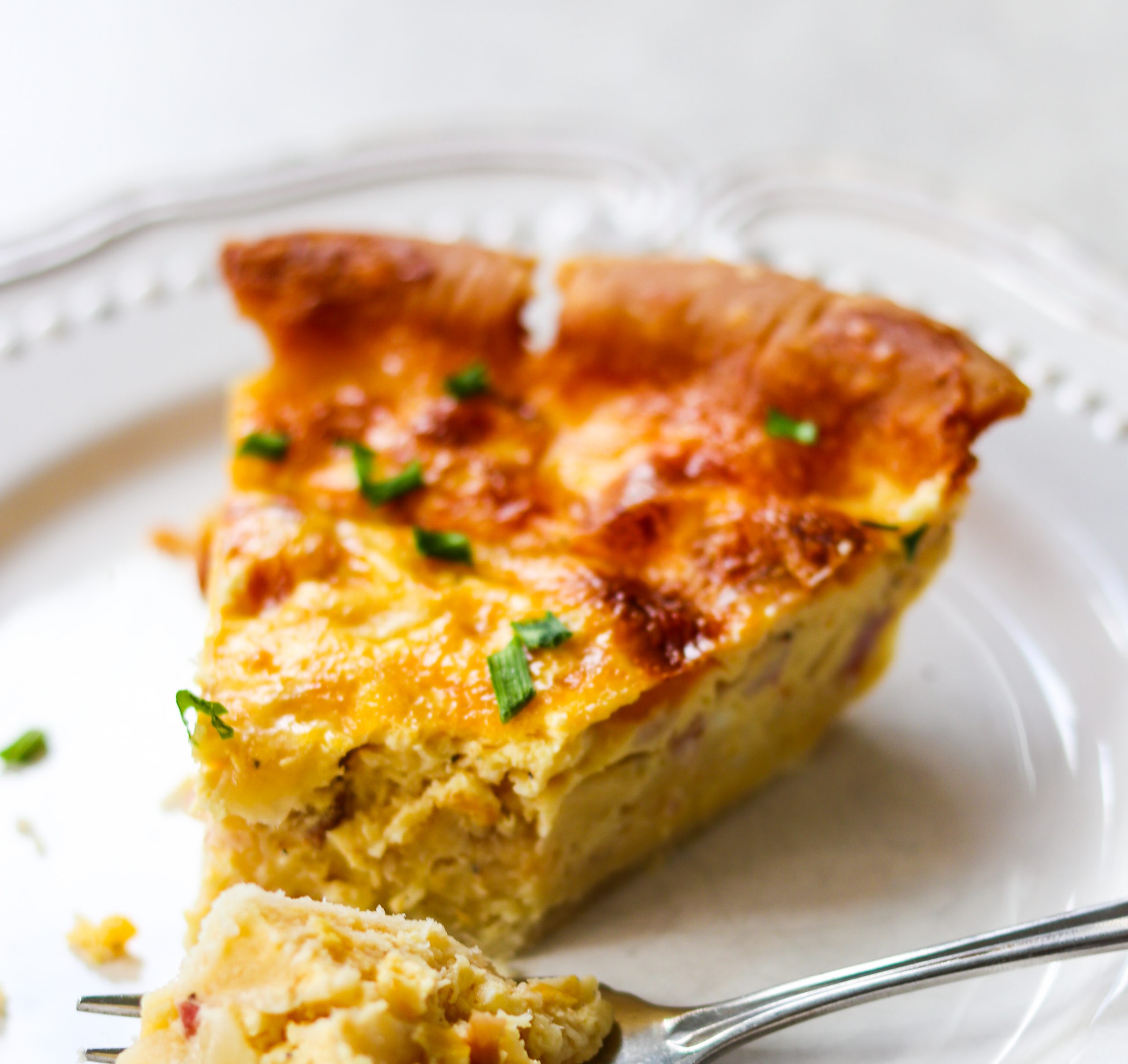 Gluten-Free Quiche Lorraine makes for an impressive brunch or easy make-ahead weekday breakfast. Using frozen gluten-free pie shells and a delicious combination of fresh eggs, bacon, onion, fontina, swiss, seasonings and organic cream.
For Christmas morning this year, I made this beautiful Gluten-Free Quiche Lorraine for my family. It was a huge hit with lots of compliments, so I had to share this easy make-ahead weekday breakfast or impressive brunch recipe here.
If you've never had quiche before, it's a savory creamy egg custard baked into a flaky pie crust. Quiche Lorraine includes chunks of thick-cut bacon which I pair with golden sauteed onions and a few simple classic seasonings.
To make this recipe super easy for make ahead brunches and breakfasts, I used the Wholly Gluten-Free Pie Crusts which come in a 2-pack of 9-inch frozen crusts. These can be found at many grocery stores in the freezer aisle, or you can try using my pie crust from my Classic Pumpkin Pie.
This version is lighter on the heavy cream than most recipes, but still just as rich, salty and satisfying. You can pre-bake the crust and pour in the filling a day ahead of baking, if you want to prepare it the night before.
What's in Gluten Free Quiche Lorraine?
Frozen gluten-free pie crusts
Thick-cut bacon
White onion
Eggs
Fontina and Swiss cheese
Heavy whipping cream
Almond or whole milk
Seasonings like salt, pepper, paprika and nutmeg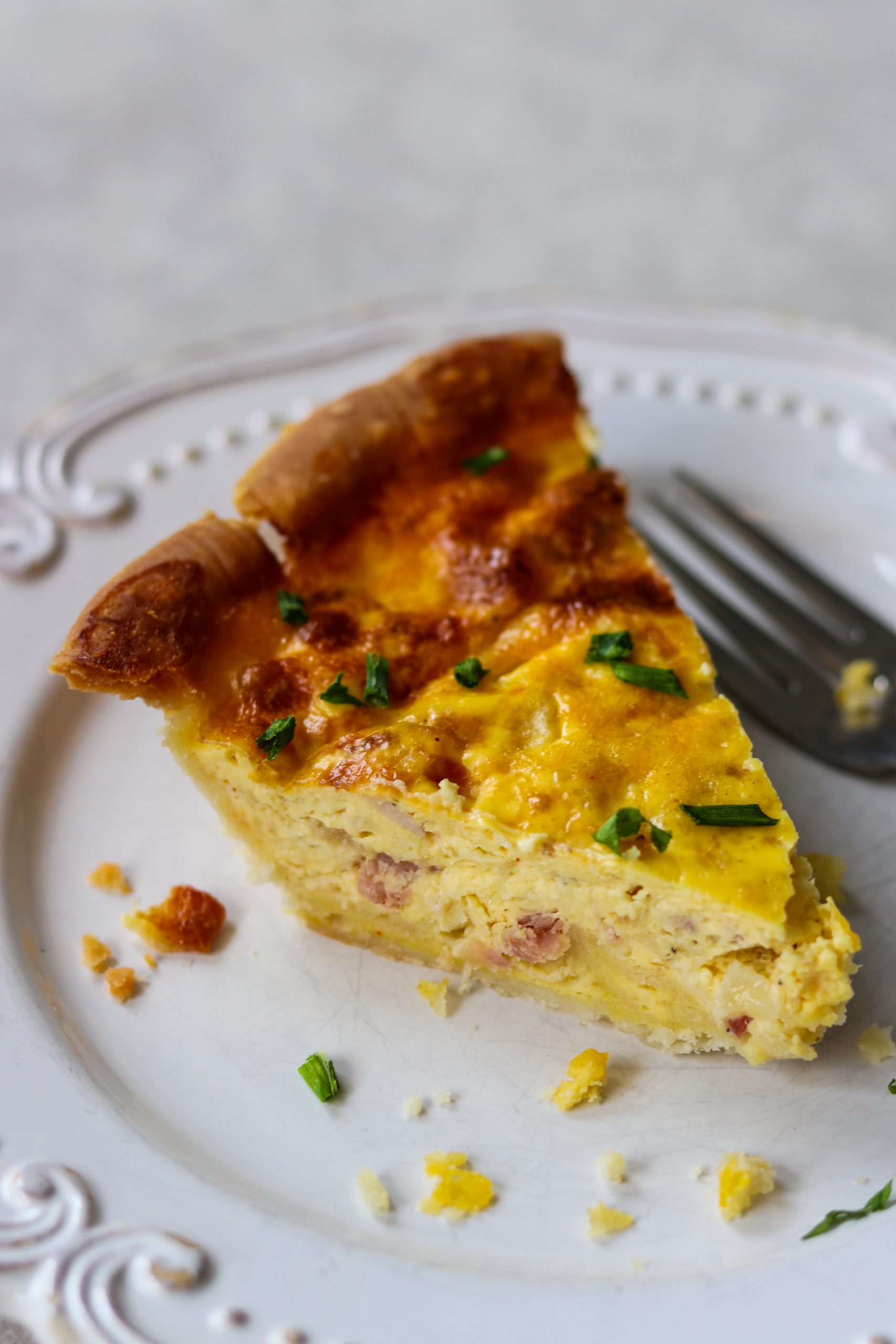 How do you make Gluten Free Quiche Lorraine?
For mess-free bacon, bake thick-cut bacon slices in a 375 degree oven until crisp. Transfer to a cutting board, chop into 1/2-inch pieces and set aside.
Meanwhile, cook the diced white onion in olive oil until golden brown, stirring frequently. Stir in the chopped bacon and set aide.
Adjust oven temperature to the one indicated on the gluten-free pie crust instructions. Pre-bake the pie crusts according to packaging directions, usually 10 to 15 minutes.
While the crust is pre-baking, whisk together the eggs, whipping cream, milk, seasonings, and cheese. Stir in the bacon and onions.
Divide the egg mixture between the two pie crusts. Any leftovers can be used to make mini crustless quiches by pouring into greased muffin tins.
Bake at 375 degrees for about 40 minutes on the middle oven rack until the center is set and no longer jiggles.
Let cool 10 to 15 minutes before slicing and serving with minced chives and parsley.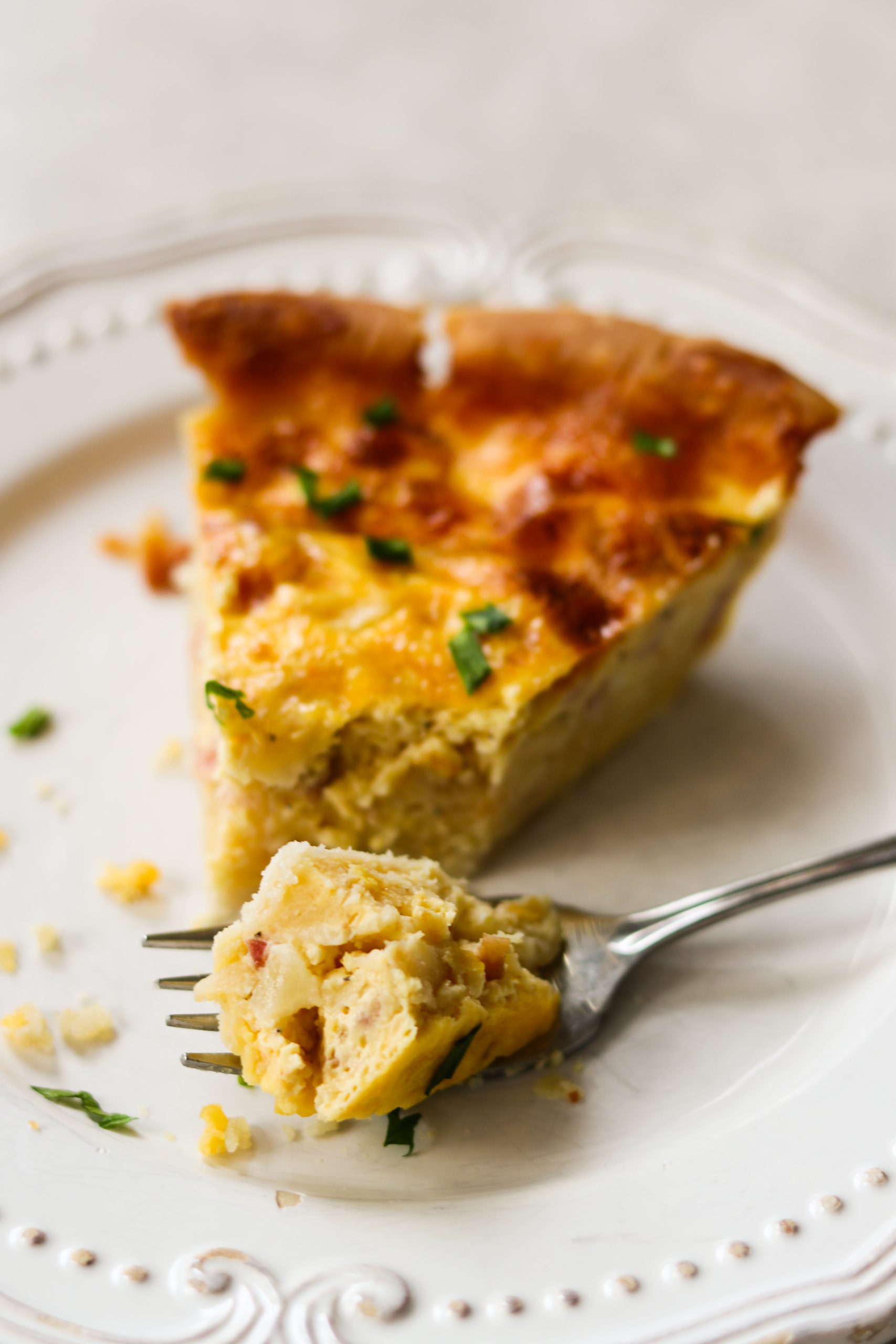 Looking for more gluten-free breakfast ideas? Try some of these favorites:

[simple-recipe:9872a]