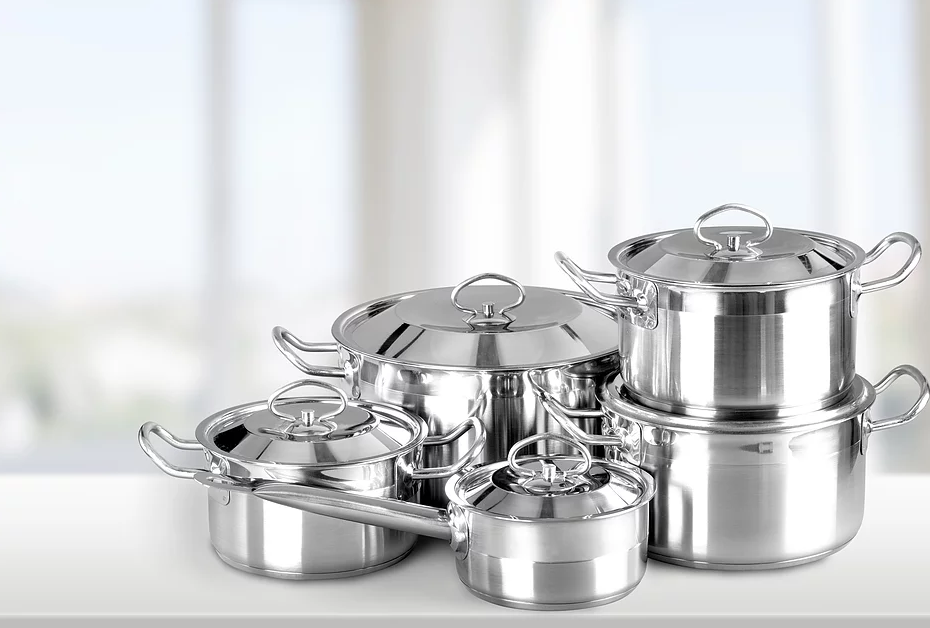 In the advent of convenience, a host of non-stick skillets, pans and pots have entered the cookware market. Made from a synthetic polymer and multiple chemicals, they may not be the best choice for the health of you and your family.
It's hard to rationalize cooking your organic, fresh from the farm meat and produce on a toxic chemical-derived surface. We are exposed to environmental toxins at all angles, and I recommend cleaning up as much of your cookware, household cleaners and personal care products at home as you can afford. Do what you can within your control. 
I have received many questions about what cookware is the least harmful to use. My resounding answer is always stainless steel. Stainless steel is my preferred cookware choice for several reasons that extend beyond it's safety. If you're wondering what my second choice is…. cast-iron!
Stainless steel is the best cookware for creating flavorful, browned & tender food.
Stainless steel cookware heats evenly and it's uncoated surface allows for rapid browning. The browning process is called the Maillard reaction that gives food it's caramelized flavor.  Trust me, I've compared cooking with non-stick at my sister's house to cooking with my stainless steel cookware set. It's incredible the difference you'll received in flavor and texture.
This Cuisinart 12-piece Multiclad Pro Stainless Steel set is what I use at home. This set has everything you need to transition your old stovetop cookware to stainless steel!
Stainless steel is the professional chef's choice cookware for flavor and time.
Because of it's even and rapid heating, stainless steel cookware cooks food faster than non-stick pans. I am able to saute cauliflower rice in 50% less time than I could with my previous coated cookware.
Crispy sweet potato fries straight from the stove are one of my favorite ways to use stainless steel cookware. Just heat your solid fat of choice and fry sweet potato wedges until crispy!
Stainless steel creates a nice crust on tender meats like ribeye steaks – especially helpful if you don't have a grill but want a restaurant worthy meal at home!
Everyone's biggest hang-up with stainless steel? CLEANING IT!
Stainless steel is easy to clean if you follow my tips!
Here are my top tips for easiest cooking & cleaning with your stainless steel cookware!
For easiest clean up, do not cook higher than medium heat on the stovetop.
Use enough fat to grease the pan or pot so that food does not stick.
If cooking a low fat protein such as chicken breast, continue to move the meat around until it has achieved a crust. This will help prevent it from sticking when you want to flip the meat.
Immediately after cooking is complete, transfer food to a serving dish. Run warm water over cookware and use a gentle bristle brush to scrub any stuck-on food off.
Use a vinegar cleaner to get stainless steel pans shiny and new after each use and cleaning! My favorite is Aunt Fannie's. Just be sure to avoid a citrus scent since it can rust the steel.
Cooking eggs? Heat your stainless steel skillet over medium low or medium heat until warm. Add enough fat to cover entire bottom of skillet (1 tablespoon for a 9-inch skillet will do). Cook eggs as desired, using a rubber spatula to gentle move and lift them before they stick. Transfer eggs to serving dish and immediately run under warm water and use a gentle scrub brush to clean.
DO NOT use abrasive scrub brushes or products containing bleach or citrus-derived ingredients which can cause rusting.
This post contains affiliate links which I receive a small compensation if you choose to make a purchase through my site.