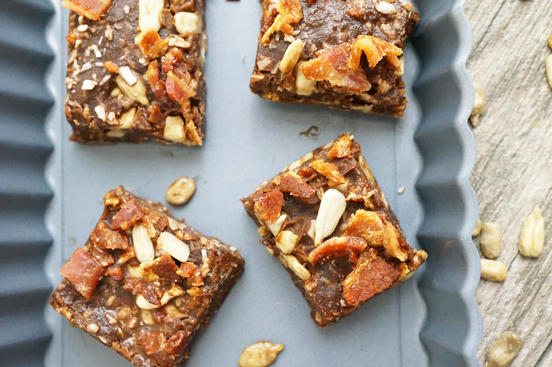 I don't often buy seed or nut butters – really only when the craving hits (like it did when I bought this tahini for my Twice-Baked Tahini Mashed Sweet Potatoes) or I'm planning on making a recipe that features them.
In a past Paleo life, almond butter was a dangerous rabbit hole for me. If I were to do a Whole30, I would not be allowed to eat almond butter because it would qualify as a SWYPO (sex with your pants on) no-no. When I first entered Paleo-land, I was seriously malnourished from gut disorders and you couldn't feed me enough. I used to eat Lara Bars spread heavily with fresh ground almond butter on the daily. I was a titch obsessed. That would be SUCH a treat for me now if that were to ever happen.
I really like to keep my treats very basic which prevents me from ever over-doing it. I enjoy dark chocolate (85% and higher) frequently but it never becomes an issue of overindulgence like if I were to make brownies or cookies (I hate baking, so rarely). I also have been enjoying coconut milk ice cream since the beginning of my pregnancy. It adds such an important quality of life factor. Ice cream has always been one of my happy foods, along with more nutrient dense foods like steak, salad, avocados, soup and salmon. I don't believe in deprivation for the sake of deprivation but rather include these happy foods in my life in ways that support my positive relationship with food and body image.
I get a LOT of questions on social media when I post photos of my meals containing any sweetener, rice, or Paleo convenience food. It seems incredulous to some that I could possibly promote the AIP while still consuming white rice with my bone broth or dark chocolate several days a week. Here's my take on it… it's a plain, simple, and common sense approach to food that seems to get lost in the real food movement at times. I eat for three reasons: healing, happiness, and hunger. In that order. I've worked extremely hard the last 5 years to get to the place where I am today, where I'm able to enjoy foods that may not fit into someone else's definition of a healthy diet. There was a time when I was limited to less than TEN foods for months because of my chronic histamine intolerance, leaky gut, and food allergies. If you've lived that life as a person who loves food, you appreciate the variety and freedom in each meal thereafter. I really urge anyone following an elimination diet to get out of the mindset that this is forever. I used to think that too, and I will forever incorporate the principles of AIP (namely nutrient density at every chance I get) but I won't do it at the expense of my happiness. Thankfully, steak, salad, salmon, soup and avocado are my OTHER happy foods besides chocolate, yes!?
All of that being said, I bring you a new treat recipe that in it's own right meets all 3 of my requirements for a food. I've recently fallen into heart-eyes with dates. At the end of my pregnancy, it was recommended I eat 6 a day to shorten my labor. I think I started too late, and I could never eat more than 2 a day, because my labor was 90 excruciating hours long. As 2010 said, "Epic Fail". They historically have been an incredibly vital food for my ancestors and are a nice source of fiber, potassium, copper, magnesium, and B6. They can be a delicious way to ease digestion and elimination and are fairly low on the glycemic index compared to other Paleo sweeteners like honey and maple syrup which are actually quite high compared to most of our diet. Sunflower seeds are a wonderful source of iron, magnesium and B6 as well and tahini contains thiamin, magnesium, and calcium too! Bacon is there just for the pure deliciousness that is bacon combined with chocolate and sea salt.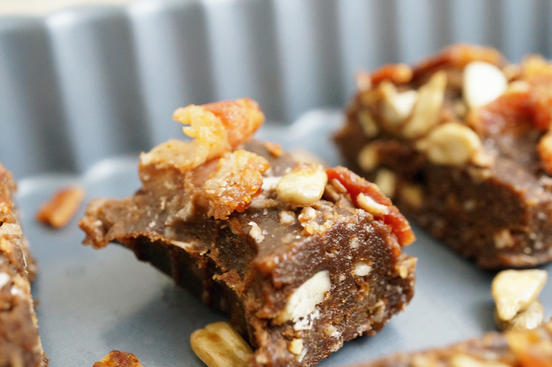 See? Even my treats can meet all 3 of my edible criteria: healing, happiness, and hunger (I woke up from a nap starving before I ate a couple of these fudge squares!) So here's a rare treat recipe for Grazed & Enthused. No, it's not AIP-compliant, but it is Paleo and contains no added sweeteners plus a nice dose of health-promoting fruit and seeds. Just don't throw caution to the win with these babies (which aren't overly sweet really) and keep your serving to 1 to 2 squares per day.They're chewy, salty, crunchy, and satisfying in a savory-sweet type of way that will make your bacon & chocolate loving heart flutter.
This is quite possibly the tastiest sweet & savory dairy-free fudge out there!
Print Salted Tahini Date Fudge with Bacon
Author:

Prep Time:

1 hour 15 minutes

Cook Time:

0 minutes

Total Time:

1 hour 15 minutes

Yield:

16

1

x
---
Scale
Ingredients
12

soft Medjool dates, pitted*

1/2 cup

organic tahini

2.5

-ounce 85% (or higher) dark chocolate, melted

2 tablespoons

softened coconut oil

1 teaspoon

vanilla extract
sea salt

1/4 cup

shredded coconut

2 tablespoons

roasted and salted sunflower seeds

2

slices bacon, cooked and crumbled
---
Instructions
In a food processor, combine dates, tahini, chocolate, coconut oil, vanilla, and 2 generous pinches sea salt until a smooth ball forms.

Pulse coconut and sunflower seeds into the mixture briefly until distributed evenly.

Using a rubber spatula, scrape mixture in a parchment-lined glass rectangular container such as a 3-cup Pyrex container. Smooth fudge into a rectangle about 1-inch thick.

Press bacon crumbles evenly into surface. Freeze for 1 hour until solidified.

Slice and serve directly from freezer as the fudge softens at room temperature due to the coconut oil.
---
Notes
*Dates must be very soft before you puree them. If you do not purchase high-quality soft dates, you must soak your dates in warm water for 30 minutes prior to adding to the food processor.
---