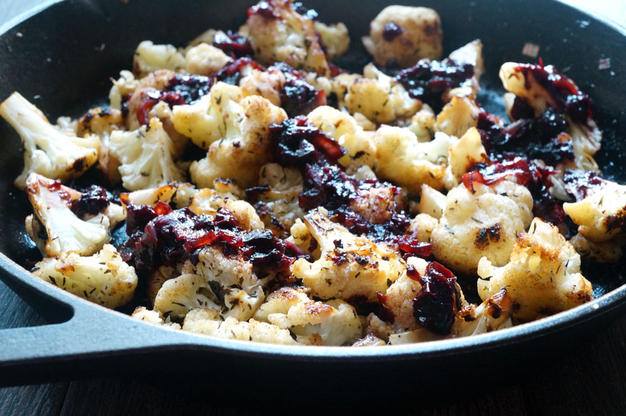 When I posted this photo on Instagram over the weekend, someone said they've never heard of such a combination of ingredients! Well, that is EXACTLY why I love getting creative in the kitchen. I don't want to bring you guys a bunch of has-been's you've found on other Paleo or real food blogs. Never boring.
I just really love finding new ways to eat vegetables, especially one of my favorite vegetables cauliflower. You know how people will say they don't trust those who don't like dogs? I don't trust people who don't like cauliflower. If you are one of those people and are interested in earning my trust, try one of my other 3 cauliflower recipes that are the sheeeeez!
Salt n' Vinegar Cauliflower Bites
Mediterranean Cauliflower Cous Cous Salad
Roasted Cauliflower & Garlic Bisque
I will describe this dish for you if you can't imagine how it tastes. The cauliflower is salty savory thanks to a nice dose of sea salt and takes on the deep broth-y flavor. The cherry balsamic sauce is actually much more meaty than fruity! I use a fig balsamic vinegar that is fig paste mixed with balsamic, but you could use any fruit flavored balsamic or just plain balsamic. It ends up being a much more savory than sweet side dish, even if it looks fruity. 
Make sure to use a nicely seasoned cast iron skillet. If you do not own a cast iron skillet yet, what are you waiting for? I recommend this one from Lodge that you can get on Amazon for an awesome price! Don't be intimidated by working with a cast iron – they aren't nearly as much upkeep as they seem! Once you have a good seasoning on yours (I'm still working on mine), it's a matter of simply wiping down with a clean coat of olive oil after each use. I do sometimes use a non-lathering oil based soap on mine when I really make a mess, but often I can just wipe mine out with a paper towel. 
Print Pan-Roasted Cauliflower with Cherry Balsamic
Author:

Prep Time:

10 minutes

Cook Time:

20 minutes

Total Time:

30 minutes

Yield:

4

1

x
---
Scale
Ingredients
1

large head cauliflower, cut into bite size florets (no more than 1-inch in diameter)

3 tablespoons

olive oil

2 teaspoons

dried thyme

1 teaspoon

sea salt, divided

1/3 cup

homemade broth

1 cup

frozen pitted cherries

1/3 cup

diced shallots

2 tablespoons

fig balsamic vinegar or plain balsamic vinegar

1

bay leaf
---
Instructions
Toss cauliflower florets with olive oil, thyme, and ¾ teaspoon sea salt in a large bowl until well coated.

Heat a large cast iron skillet over medium heat until a drop of water sprinkled on it sizzles.

Add cauliflower to the skillet and cook for 10 minutes, tossing every couple minutes, until cauliflower is golden brown.

Add broth to the skillet and cover it with a lid immediately. Steam cook the cauliflower for 3 to 5 minutes until just tender being sure not to overcook.  The cauliflower should be golden brown and tender enough to bite through easily. Remove from heat and sprinkle with remaining ¼ teaspoon sea salt.

While cauliflower is cooking, add cherries, shallots, vinegar and bay leaf to a small covered saucepan and bring to a boil over medium-high heat. Continue to cook until the cherries burst open and the mixture is thickened, about 5 to 7 minutes.

Remove the bay leaf and transfer the cherry mixture to a food processor and pulse into a chunky sauce. Serve cherry sauce over the pan roasted cauliflower and serve warm. This would go exceptionally well with seared pork chops. 
---