I could not decide what to make for Valentine's Day for the blog. I'm really not one to plan my recipes. I look in the refrigerator, or buy what's on sale and in season, and off I go whipping up some unknown dish that only is christened with a name upon first bite. Because God only knows you try to make an AIP lasagna and instead end up with a pumpkin and nomato beef stew. Or maybe that's just me. Something tells me it's not. 
Well, I hate baking. And most Paleo baked goods recipes I have tried make me just go "Eh, I'd rather eat tostones and steak". BUT I've said it once and I'll say it again, Merit + Fork's Perfect Paleo Chocolate Chip Cookies are the real damn deal. They are the only Paleo dessert I will make because 1) they always turn out right 2) they don't cost $30 for one batch and 3) they don't use flours I'm allergic, intolerant, or otherwise indifferent to.
So, with that said, I will only take partial credit for this recipe and give credit to Nicole at Merit + Fork because without her sweet angelic baking skills, this recipe would not be possible. Nicole, you're amazing and a far better baker than I will ever be!
I modified the recipe slightly into a cookie cake by adding a delicious sweet, slightly tangy, and crunchy combination of macademia nuts and dried cranberries. Then I said, "Well, Alaena, if you're going to make cookie cake, you better make some frosting or you can't call it cake and you'll have to call it something horrible like "Pizookie". That's pizza-cookie, and it's a thing. A really delicious thing will melting vanilla ice cream on top. 
I digress. Stop distracting me, pizookie. The frosting is a freakin' delicious combination of vanilla and raspberry-infused cane sugar which I realize may not be a common find in your average grocery store. I do challenge you to ask your Kroger, Jewel, or other middle-of-the-road grocer for "their finest raspberry-infused organically grown cane sugar" just for fun and to fill out a comment card requesting an order be placed immediately to satisfy "its growing demand". You can use my wording. 
If you can't find this fairy dust (I get mine at Whole Foods), then instead mix in 1 tablespoon crushed freeze-dried raspberries (Trader Joe's sells these) into the frosting, taste, and add any additional honey if desired. 
This Paleo Valentine's Cookie Cake tastes just like MALL COOKIE CAKE. Mall cookie cake. The free samples (Take just one! "Oh wait, I bought a new shirt at Wet Seal and I'll put that on and take another; it'll be like I'm a different person", said 13-year-old me.)  \\ The free wafts of freshly baked sugar-saturated cookies that your mom might buy you if you're being not puberty-bitchy that day pestering her for a belly button piercing // The free opportunity for your 8th grade crush to treat you to something special. A soft-baked pretzel, my darling dearest, or would you rather a white chocolate macademia nut cookie fresh out of the food court oven? In return for a public hand-holding? Yes, totally worth spending $2.25 out of my $10 a week allowance, he thought. 
What Valentine's Day Should be the Naughtiest Day of the Year
Santa isn't watching. And he's so old, he'll probably forget any misgivings done in February come December. 

If you have been ignoring your sex appeal game all winter (hat hair, dry skin, unshaved legs, pasty face, and chunky sweaters got you feeling extra un-female), now is your chance to revive your femininity for one night only. Until spring, when you get to wear dresses, bouncy curls, and posey-colored lipstick again. I'll still be in yoga plants and loose tank tops. 

You get to get spoiled. Ugh, screw feminism today. Let him hold the door, order your dinner, and feed you chocolates in bed while you say "the best gift you could give me is to vacuum my car tomorrow". Also let him do other things I can't mention on a blog to regain your power in the relationship after he does all that other stuff. Women > Men. And any real man knows that. I don't like equal signs. Nothing is equal in this world except numbers. Simple math, people.

Allow yourself to scream, "IDGAF about Valentine's Day" inside any CVS card aisle, movie theatre, or fancy sushi restaurant you happen to walk by on February 14th. If you want to beat a drum strung around your neck while wearing the color black and throwing down cheap chocolate truffles and stomping them in your wake, I think it will be an even more powerful message. 
AIP Valentine's Cookie Cake Modification
Prepare cookie cake as directed below but instead use homemade Carob Chunks from this recipe by Flame to Fork, omit the macademia nuts, and omit the rapsberry cane sugar. Replace the raspberry cane sugar with 1 tablespoon crushed freeze-dried raspberries, if desired, and replace the vanilla extract in the frosting only with 1 teaspoon vanilla powder. 
Ensure you make the cake recipe using the coconut oil option rather than butter or ghee.
I used Bob's Red Mill Coconut Flour & Arrowroot Starch for this recipe.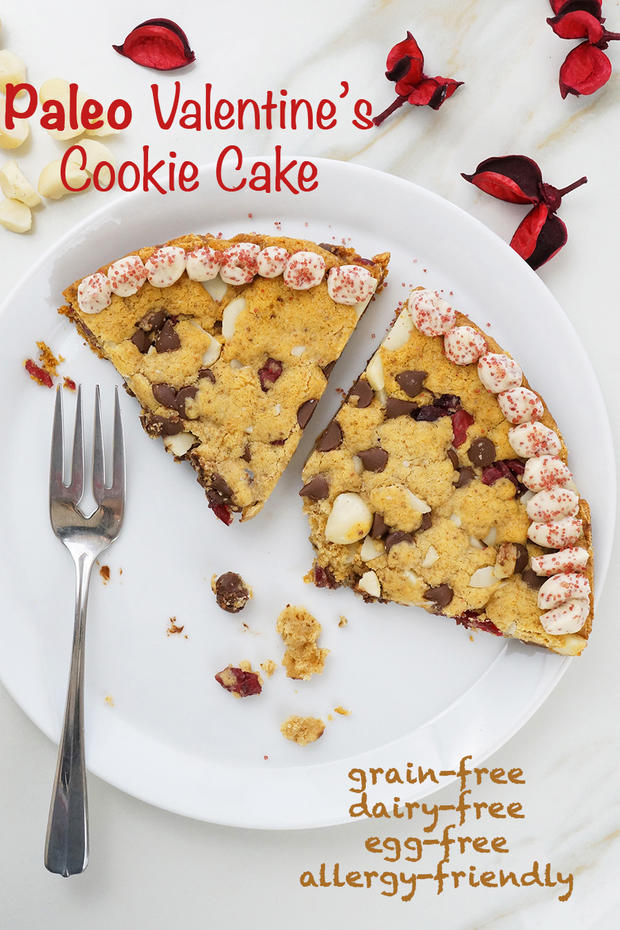 Paleo Valentine's Cookie Cake
Serves 6 | Prep Time 15 minutes | Cook Time 12 minutes
1 recipe Merit + Fork Perfect Paleo Chocolate Chip Cookies, made using the below modifications
½ cup macademia nuts
1/3 cup dried cranberries
Reduce chocolate chips to 2/3 cup

Add ½ cup chopped macademia nuts

Add 1/3 cup dried cranberries

Line the bottom of a 9-inch circle cake pan with parchment paper. You can do this by tracing the bottom onto a piece of parchment paper then cutting out the circle and placing it in the bottom of the pan.

Press cookie dough firmly and evenly into the bottom of the parchment-lined pan.

Bake in 350 degree oven for 11 to 12 minutes until the edges are a medium golden brown and the cookie cake has risen.

Let cool COMPLETELY before piping the frosting and slicing. You can speed up this process by placing the pan directly in the refrigerator or freezer just until cool. Make sure you don't freeze it too long, if placing in the freezer, or it will be hard to remove from the pan and difficult to slice. 
Raspberry-Vanilla Frosting
Makes enough for 1 cookie cake
1/3 cup softened palm shortening (not melted)
1 tablespoon honey
1 tablespoon raspberry cane sugar
1 teaspoon vanilla extract
1 teaspoon Great Lakes grass-fed gelatin
tiny pinch sea salt
Whip all frosting ingredients together during a fork until fluffy and well combined. Spoon into a piping bag and pipe on the cooled cake in a pattern of your choice.