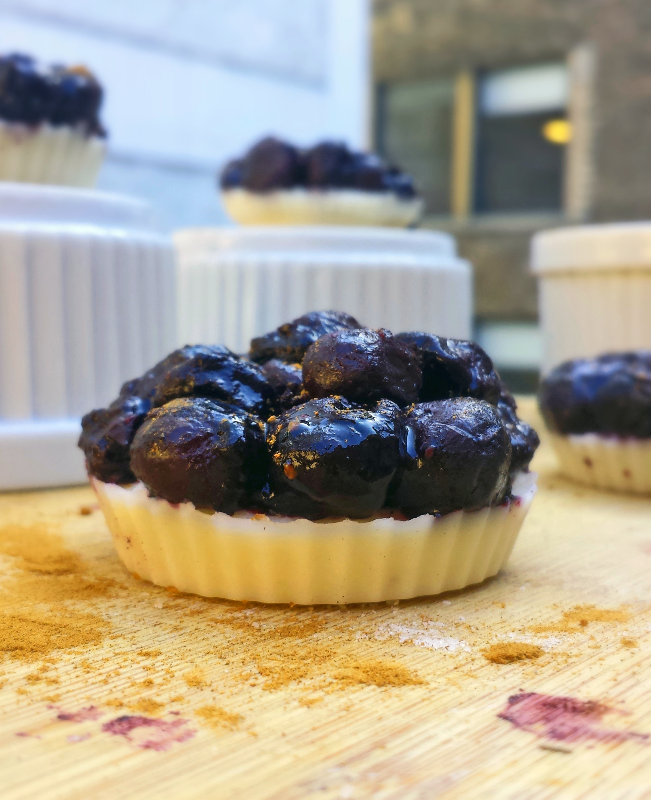 I enjoyed these before my muscle party last night… They fueled me for 35 handstand pushups, PR chest press, 500 m row sprints, forearm stand practice, and 40 lb kettlebell swings (100 in good form!)
We are doing a 30-mile ride to Hyde Park along Lake Michigan today, and I really wish my fiance hadn't eaten all the energy bites. Growl. He should know better than to mess with my kcals. Juli from PaleOMG calls herself a "food hoarder" on her blog's bio. I know EXACTLY what she means. If you have dozens of food intolerance or allergies like I do, food becomes a precious resource. Traveling with me is just a real joy. TSA is like "why the fart do you have ten 4 oz containers of coconut oil, a baked sweet potato, and bags of mini carrots hiding under your panties?"
That reminds me of this hilarious South Park episode making fun of how intrusive the TSA is, except in the episode TSA stands for "Toilet Safety Administration". Our favorite quote is a TSA worker casually asking people, "Let me check inside yo' a******hole."  and then she uses a flashlight to do a cavity search while the customer just mosies on about his day. So vulgar, but that's exactly why I like that show. I'm totally going to be one of those dirty old people that makes jokes about Viagra and pickles. I don't have a quip just yet about those two objects, but I will spend the next 50 years thinking about one.
No-Bake Blueberry Pie Energy Bites [AIP-Friendly]
Makes 4-5 | 15 minutes cook | 2 hours fridge/freezer
1 ¼ c blueberries, fresh or frozen
1 T honey (optional)
1 tsp lemon juice
½ tsp cinnamon
½ cup coconut butter, room temperature
1 T coconut oil
½ cup finely shredded, unsweetened coconut flakes
Sea salt
Bring berries, coconut sugar (if using) and lemon juice to a simmer over medium-low heat in a saucepan for 10 minutes, stirring every couple minutes, so the sugar does not burn. Stir in cinnamon and 1/8 tsp sea salt. Set aside in a bowl. Rinse out your saucepan.
Melt coconut butter in the saucepan over low heat. Stir in coconut oil, coconut shreds, and pinch sea salt.
Pour coconut butter mixture into silicone muffin molds. Freeze for 20 minutes until solid.
Pour blueberries evenly on top of the coconut base. Refrigerate for 2 hours or overnight (the flavors will develop delightfully). Top with extra cinnamon, whipped coconut cream, or lemon zest.