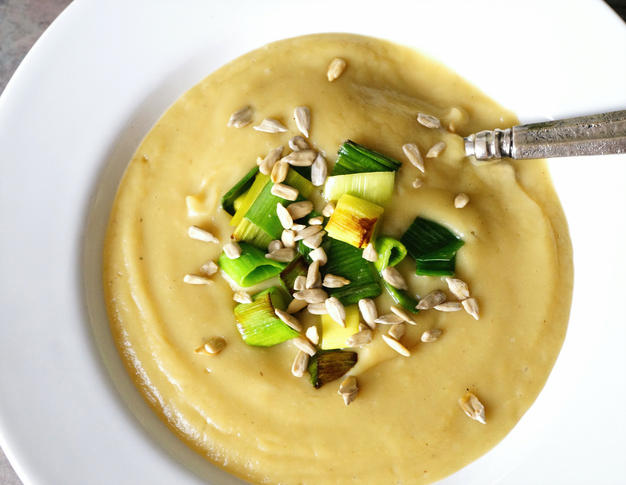 I'm on a soup binge these days. Because it's summer and who doesn't want to sweat additionally? My first (and last) Texas summer is kicking me in the tush. I have a max outdoor limit of 2-3 hours a day and then the rest of the day requires laying on the couch consuming too much Bravo. Man that Andy Cohen really has something going over there. His insight into his American demographic (18 to 54 year old females who like to hyper-analyze others) is precise. I'm one of them. It's not criticizing if you are a viewer. It's social observation of some peculiar native tribes. Ethongraphy. That's what it is. Qualitative research that will serve the betterment of America. Can you tell I'm justifying my Bravo obsession?
There's 4 people on Bravo from my little hometown in Florida. Clearly many a'entertaining folk come from teeny Melbourne Beach. I grew up with kids who entertained themselves by doing back flips off trees (spinal cord injuries waiting to happen), running people over with wakeboard boats (I have the scars to prove it), and meeting at a local hot dog restaurant on Monday nights for a large quantity of chicken wings for a small price.
You HAVE to find a way to be entertaining in that small of a town (one stoplight, and that only came when I was 15, and it totally f-ed up my new driver confidence). We only got caught drinking by the cops twice which means 99.9% of the time we were able to get away with imbibing in $15 liter bottles of vodka and a pack of Black and Milds on the beach until 1 am. Do you remember those from your youth, other Gen Y-ers? I hear people still buy those. That is troubling information. Man, being a teenager is fun. I'm really glad I'm not one right now though. Cyberbullying, Kylie Jenner, and butt-cheek-showing-jean-shorts are 3 things I want nothing to do with. A+ for the most random post ever. 
Soup is good. Eat soup. Especially this one. And if you don't have an Instant Pot  yet, you're going to want to buy one because they are the greatest invention for the modern cook's kitchen evahhhh. Especially us real-food gals who know what's up with the daily bone broth (and who only like to cook in 10-minute increments). Now you can adapt any Instant Pot soup recipe for a stovetop stockpot, but you will have to increase the cooking time likely by 1.5-2x the amount listed. That was a guess, so use your eyeballs and mouth to make sure the potatoes are very tender before pureeing. Or just get an Instant Pot.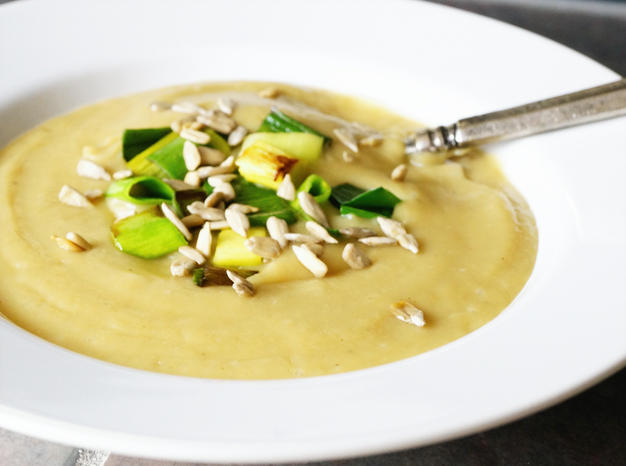 Creamy, savory & reminiscent of the ultimate comfort potato soup without any of the nightshades or dairy to boot!
Nightshade-Free Potato & Leek Soup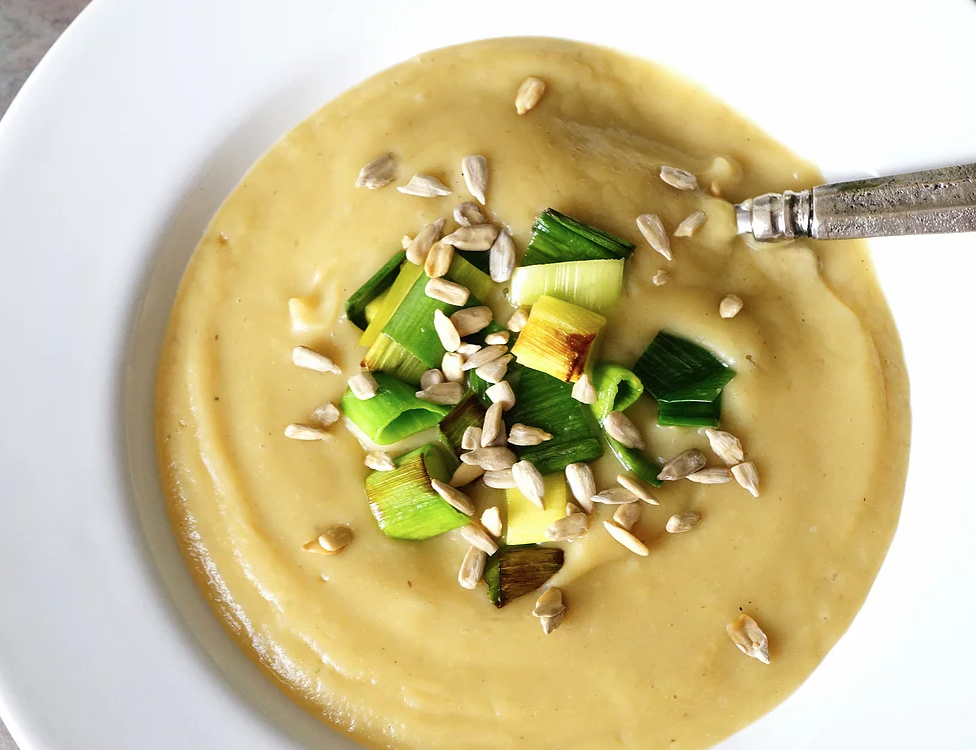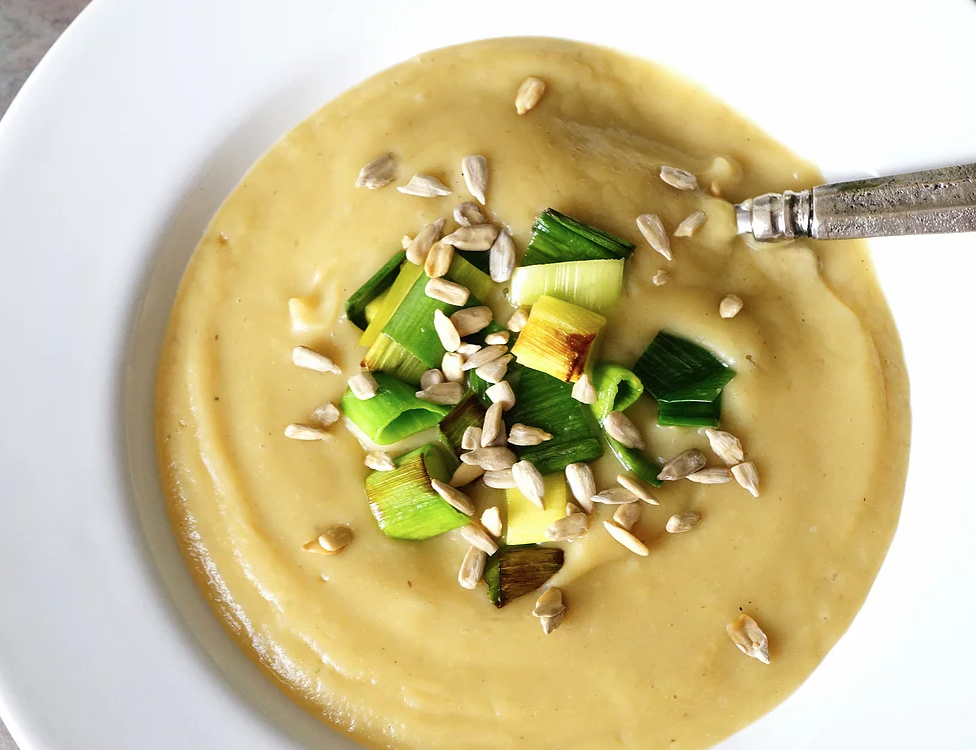 Ingredients
2 leeks, washed
2 tablespoons fat of choice
1/2 yellow onion, chopped
1 1/2 pounds white sweet potatoes, peeled and chopped into 1-inch pieces
1 teaspoon truffle salt
2 cups homemade beef bone broth
1/2 cup coconut milk
For serving: chopped green onion and sunflower seeds (omit seeds for AIP elimination phase)
Directions
Chop both leeks and separate the white/light green and the green parts in two different bowls.pan>

Heat your fat of choice in the Instant Pot insert using the "Saute" function. Add chopped white/light green leeks and yellow onion to the pot and stir to coat in the oil. Sautee for 10 minutes until lightly browned and tender. pan>

Add sweet potatoes, truffle salt and the bone broth to the insert. Turn Saute function off, seal the lid, and turn the "Manual" cook time to 8 minutes. pan>

Vent the lid immediately and let cool for a few minutes before transferring to a high-powered blender like a Vitamix or Blendtec with the coconut milk and pureeing for at least 60 seconds until silky smooth. Taste and adjust sea salt. pan>

Meanwhile, add 1 more tablespoon fat of choice and turn the Saute function back on. Saute green parts of chopped leek for 5 to 7 minutes until charred. Serve atop the soup with sunflower seeds, if desired. pan>