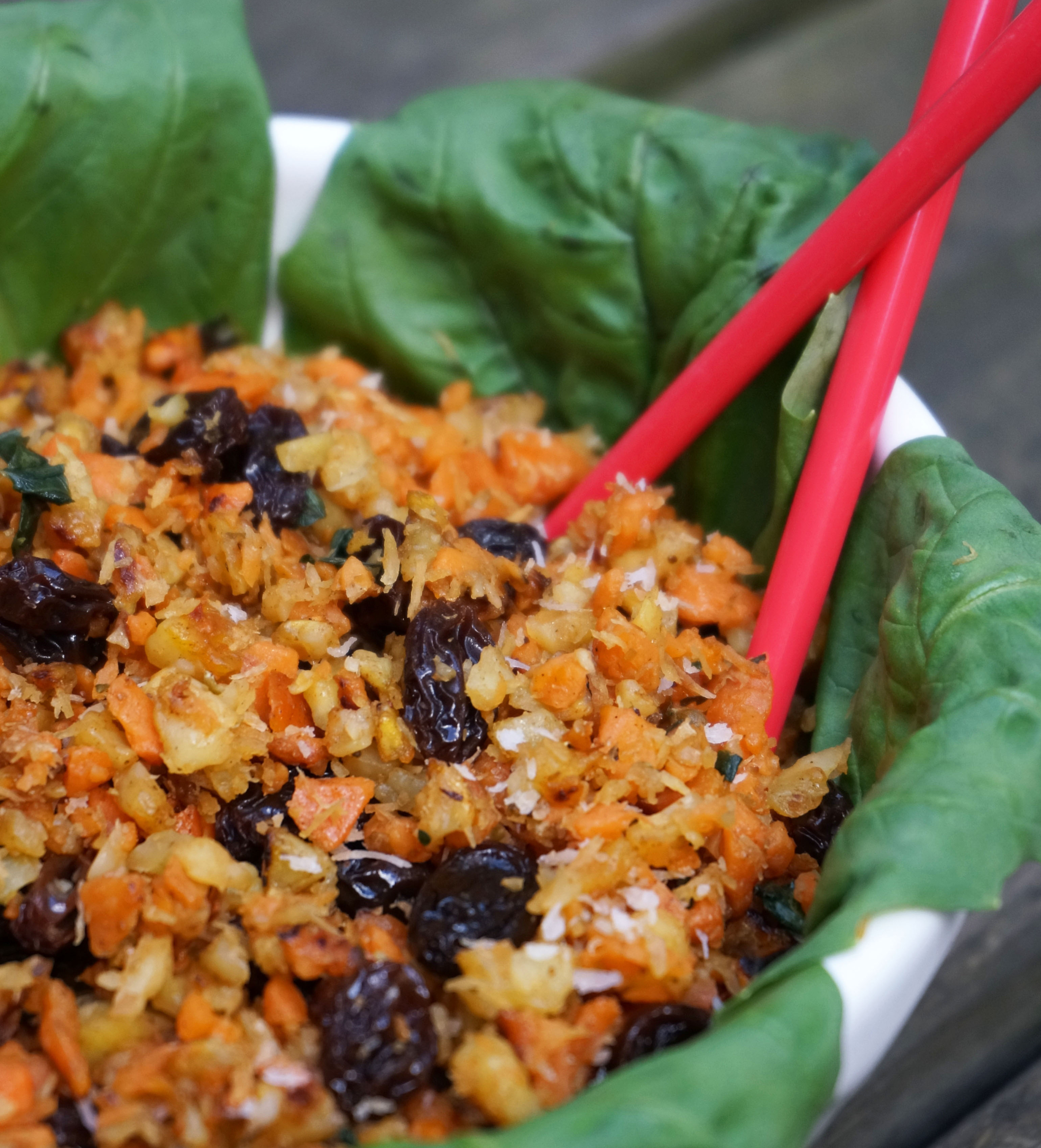 Oh my doodle, I could have probably eaten this whole recipe in one sitting. I snuck a bite of real rice about a  year ago, and I have to say…. no thank you. It's just plain ol' starch. Jazz it up with some spices and herbs, maybe a little dash of MSG and eat it to the tune of your favorite 1997 Zataran's commercial, and I can see the appeal. But plain white rice (which I see popping up all ova Instagram) – BLAH!
That's my opinion on something no one cares about. My husband ate a yummy looking rice mixture with similar spices at the Whole Foods hot bar in Atlanta this weekend, so I wanted to make an AIP version. Turns out, I couldn't use 90% of the spices in the dish, so I said F-it, and used what we can on AIP. I cannot have turmeric, but if you can, then you can add 1/2 tsp to this dish. It will make you and everything else near you bright yellow though. I wonder if I could dye my doodle yellow using au naturel turmeric mixed with water? Don't know WHY I would want to do that, but something tells me I'd get a real kick out of it.
Atlanta was BEAUTIFUL. I had no idea – I have only seen it on RHOA (Real Housewives of Atlanta) circa NeNe and Kim (are they still on the show?), so I thought I was signing up to get my butt whooped by a hyperactive woman outside a fancy Mexican restaurant. My memories of that episode may be blurry, but I believe that was the main itinerary of each show.
Atlanta has pretty rolling hills, old buildings, well maintained parks (wadup, Piedmont!?), and lots of hippie stuff that I like – I bought some handmade coconut oil soap and met a shopowner who told me that my wide hips are caused by a poor relationship with my father. Favorite moment. But really a store or business only needs to have 2 qualifications to make me fall in love: a jingly bell on the door handle and a strong reek of eucalyptus incense.
Moroccan Spiced Rice
Makes 4 servings | Prep time 10 minutes | Cook time 10 minutes
2 cups cubed Japanese yam*
2 cups cubed sweet potato*
½ cup raisins, soaked in hot water for 5 minutes, drained
1/3 cup finely shredded unsweetened coconut
¼ tsp ground mace
½ tsp cinnamon
1 tsp dried oregano
1/8 tsp ground cloves
¼ tsp granulated garlic
¼ tsp sea salt
¼ cup finely shredded basil
1 tsp lemon juice
½ tsp apple cider vinegar
1 T coconut oil
*Or 4 cups of a combination of your choice of root vegetables
Place yam and sweet potato in a food processor and pulse until finely chopped into rice-sized pieces. Set aside.
In a large skillet, heat coconut on medium heat for 2-3 minutes, stirring frequently, until golden brown. Watch carefully – coconut can burn quickly. Set aside.
In same skillet, heat coconut oil over medium-high heat. Add chopped root vegetables, mace, cinnamon, garlic, oregano, cloves, and salt and stir well to coat the vegetables.
Spread mixture so the entire bottom of the pan is covered and do not disturb for at least 2 minutes, until the vegetables begin to brown. Stir and let cook another 2-3 minutes until the vegetables are an al dente texture – neither crunchy nor mushy.
Stir in the toasted coconut, raisins, fresh basil, lemon juice, and ACV, and salt lightly once more. Serve warm.