Minneapolis has it all! Great food and drinks, thoughtful city design, beautiful lakes and the kindest people on the side (which side?) of the Mississippi!
My husband and I just returned from our 3-night stay in Minneapolis. I surprised him for an early 40th birthday gift – some time alone without Grace doing what we love to do. Namely, eat, explore and eat.
I chose Minneapolis because I had heard they were on the forefront of design and sustainability while still maintaining that mid-century charm reminiscent of 8th grade American history textbooks.
We visited at the end of September – just before it gets too chilly to ride bikes around the lake. In fact, they had quite the heat streak a few days before we arrived but thankfully we still got a reprieve from Florida's 90+ weather. It was a comfortable 55 to 60 degrees our entire stay with a good dose of sunshine and some non-threatening drizzle here and there.
When planning this trip, I wanted to balance all of our eating and drinking with lots of city exploration and outdoor time.
We arrived to our hotel,

The Hewing

, on Friday evening, hungry and ready for a drink! The hotel isn't cheap but it's worth every penny to be in a neighborhood so walkable to great restaurants, coffee shops and the river. We had a king-size room for 3 nights that was just perfect. Big, beautiful shower with a separate toilet room, comfortable fluffy but not too fluffy bed, plenty of space for suitcases, large flat-screen TV and an upscale cabin feel. It's only 10 months old too!

The Hewing is a converted warehouse with the original brick walls and wood floor. A private yoga studio, gym and spa treatment room are located in the basement along with free bikes for guest use. I used the yoga studio every day because… HELLO PRIVATE YOGA STUDIO.
The bar & restaurant in the lobby had fantastic people watching,  a great cocktail and cider list and the food looked quite delicious. And it's beautiful to boot. We didn't dine there but we grabbed a drink everyday. The front desk even gave us some drink coupons because some rambunctious wedding guests kept us up until 6 am Friday night blasting shitty club music.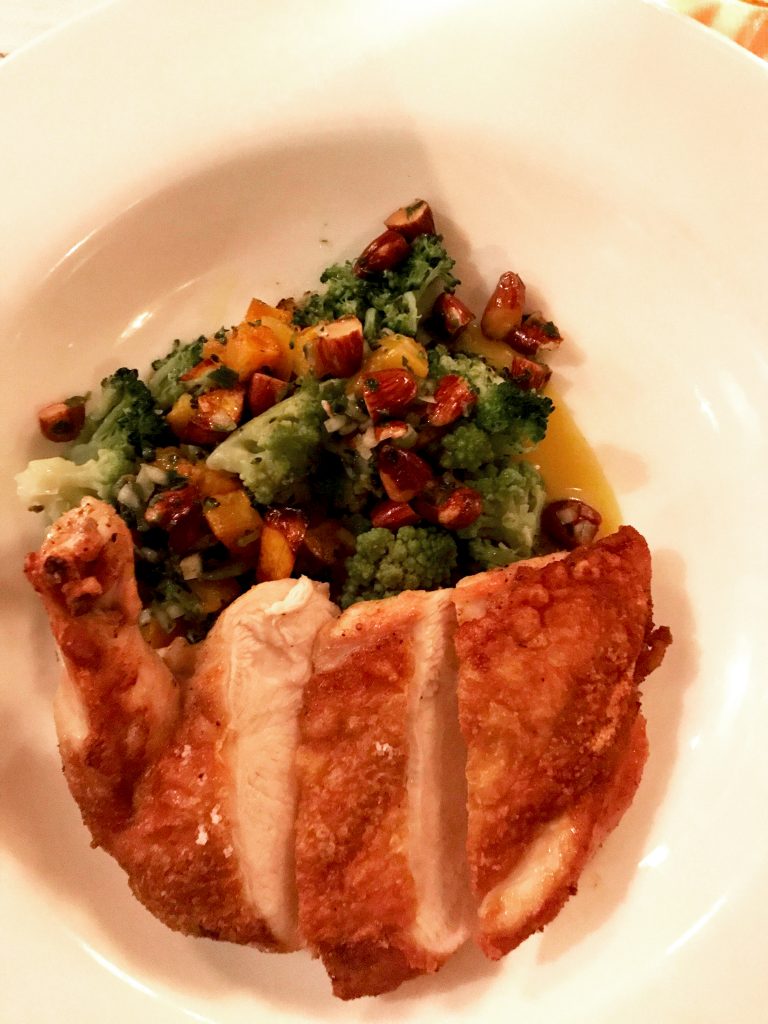 Friday night's dinner was my favorite meal of the trip! The Bachelor Farmer has it all going on. Great ambience (cozy, mature and upscale without being uncomforable), an attached speakeasy (very swanky, not totally my scene) and a little cafe for daytime treats. I had the crispiest skinned chicken thigh over the creamiest cauliflower puree outside of France. I can't even describe how amazing the flavors were – the only non-AIP ingredients were butter and black pepper. They even started our meal with local melon seasoned with salt and pepper as an amuse-bouche. My husband had a cider cocktail and I had a glass of sauvignon blanc. The service was excellent. This is 100% a can't-miss, don't-miss restaurant in Minneapolis.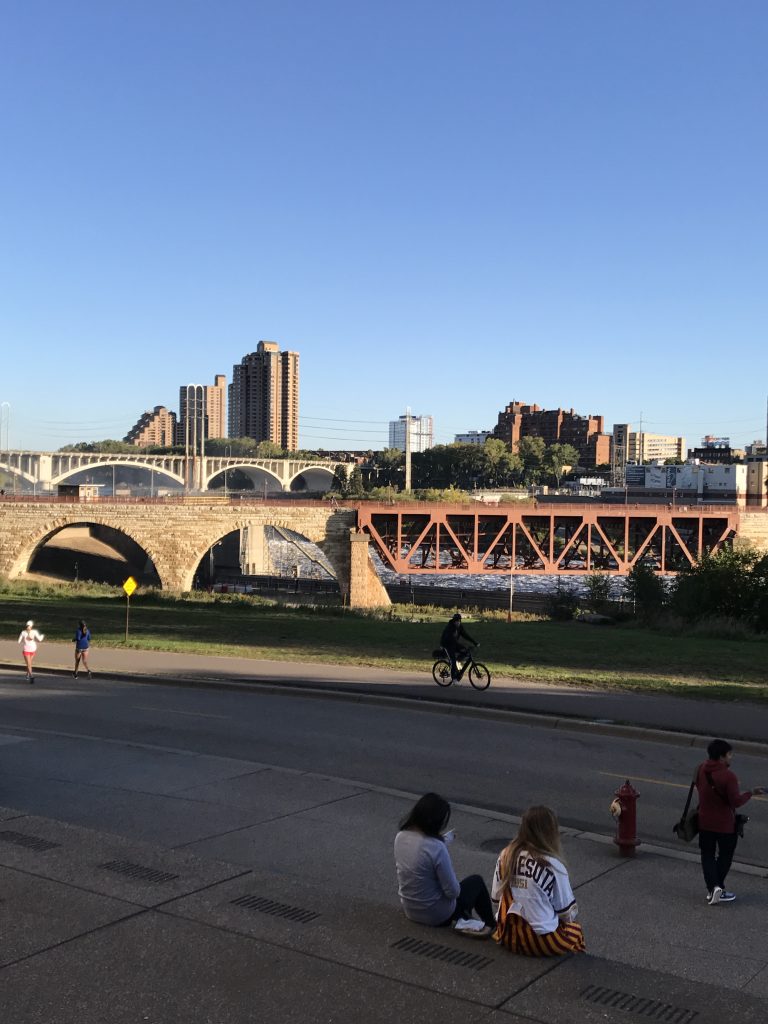 View from farmer's market across Mississippi River to Nicollet Island 
We also visited the

Mill City Farmer's Market

which runs on Saturdays from 8 am to 1 pm through October. I'm glad we didn't skip it because this farmer's market is in a very unique location – along the river and an old train depot in the mill district. An old Pillsbury factory sits nearby that I believe offers tours (don't quote me). You can  grab tacos, a green juice or a bag of local organic apples and sit on the steps watching the bikers and joggers move along the river.

Mill City Museum next to the Mill City Farmer's Market
I picked up some incredibly fresh-pressed juice at the market. My favorite was the beet-ginger – it tasted spicy and cleansing – perfect for the morning after lots of cider sampling the night before. I also grabbed a 9-pack box of

Ommie Snacks

. The owner is a friendly woman who offers a wide variety of fruit and seed based snack bars with interesting flavors like Apricot Chai and Lemon Poppy. They are delicious, not too sweet, but perfect little snack squares and only about $2/pop! You can order Ommie snacks online HERE. I will be ordering & having them shipped to Florida!
We needed to get some activity in to make room in our stomachs for more food on Saturday afternoon. This task proved easy to accomplish as Minneapolis' lengthy city bike system and trails connect the north loop of the city to the Mississippi to the chain of lakes to the west. We rented

Nice

Ride

bikes for a couple hours one day and biked from Uptown (a neighborhood just south of downtown) along the charming Lake of the Isles, Lake Calhoun and adjoining neighborhoods.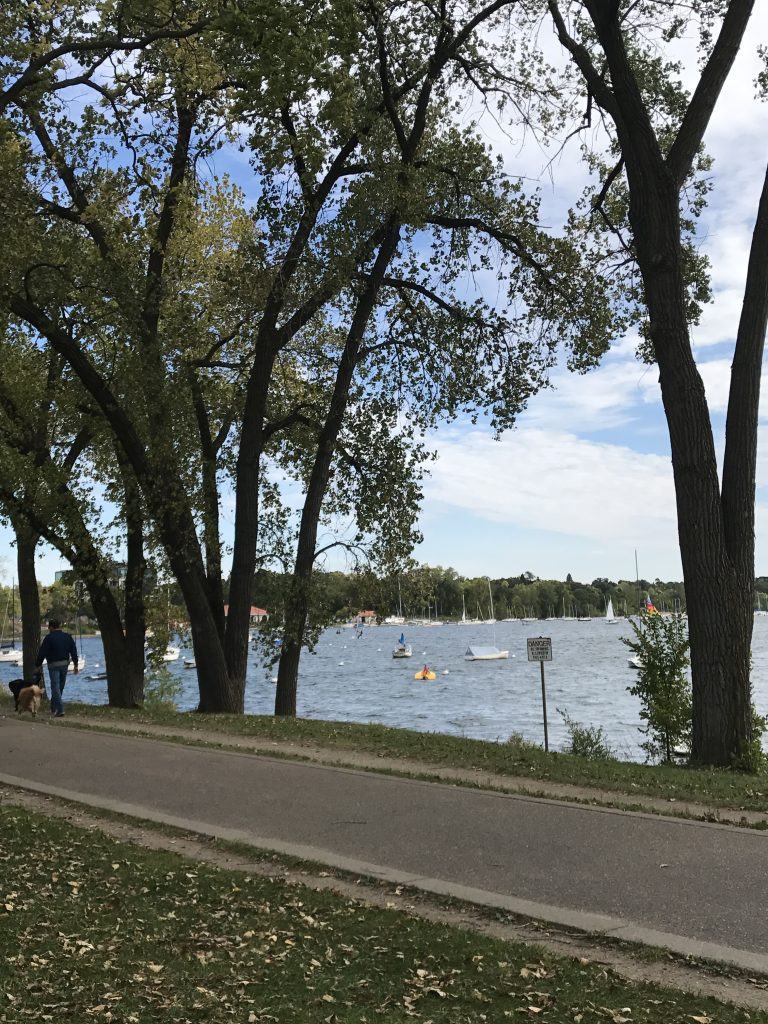 View of Lake Calhoun from the bike path that weaves around the chain of lakes
The homes along the lake are a feast for the eyes – a mix between Victorian, 60s modern and 21st century sleek. There's a separated bike path away from walkers, joggers and rollerbladers so you can speed along at your heart's content. Lake Calhoun has a deck with concessions 100 or so people were resting on around 3:30 pm Saturday, watching the sailboats and kayakers mosey down the sparkling water.
I recommend downloading the Nice Ride bike riding system app if you choose to rent city bikes and getting a 24-hour pass if biking for longer than 60 minutes. You have to check them into a station every 30 minutes so it helps to have the app with a maps of stations and a timer.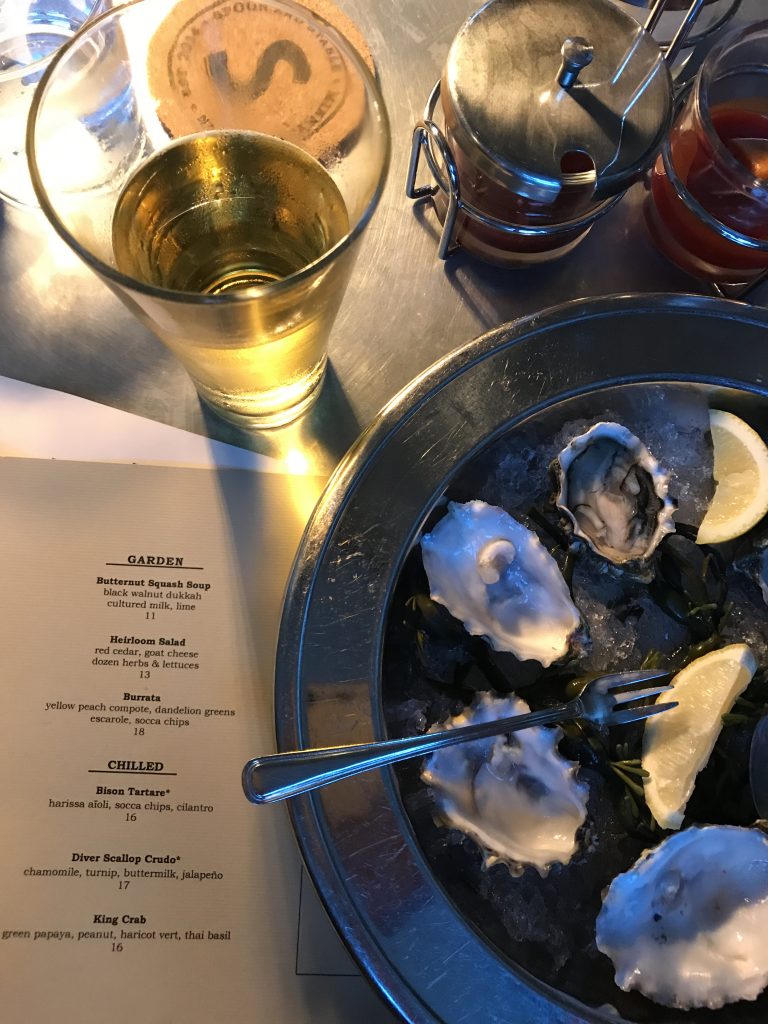 Oysters & cider from Spoon & Stable
That evening we headed back to the hotel to unwind before grabbing another drink at The Hewing bar before walking to dinner at

Spoon & Stable

. This was my least favorite meal of the weekend but it was still quite delicious. We sat at the bar because it was slammed by 7 pm. It felt a little too pretentious in there for me and the bartender was being a bit of a know-it-all about my food allergies. I'm sorry, but they're my food allergies, not yours, sir. We had oysters and Aspell cider to start. For dinner, I ordered the Tamarind Glazed Pork Chop which was at least 12 ounces – HUGE! It was undercooked even though they said it wasn't. It was 100%. I sent it back and they re-plated it and it was perfect – much better. Other than those minor transgressions, I'd recommend it but it The Bachelor Farmer was a step above for sure.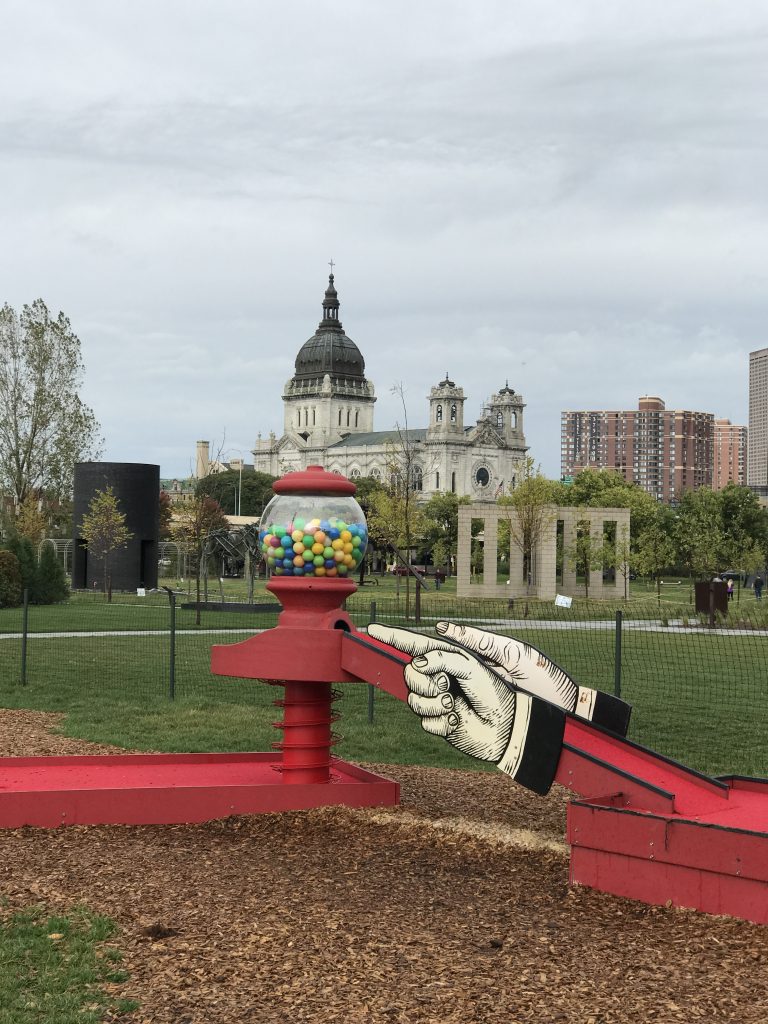 Artist-designed mini golf in Sculpture Gardens at Walker Art Center
My top city pick though was the Walker Art Center. Situated just on the southern outskirts of the center of downtown, this modern and intellectually designed 7-story building housed some of the most kooky and ironic contemporary art I've ever seen. I much prefer it to the Art Institute of Chicago which is so enormous and echo-y, you need a full 8 hours to see the whole thing. Just walking through the smartly designed space is a feast for the eyes.
The Walker was much more digestible – and speaking of digestion – they have the cutest bar and restaurant inside called

Esker Grove

. The bartenders and patrons were so friendly and gave us lovely suggestions for later in the day! I grabbed a cider (Aspall Blush – an English apple cider with a touch of blackberry juice and the color of rose) before exploring the Sculpture Gardens along the museum.

Minneapolis bars almost always had a local or craft cider on tap!
The Sculpture Gardens

seem to be the most iconic Minneapolis attraction other than the bridge. A large spoon with a cherry sits in the center while a variety of other quirky statues are walking distance around it. A giant bright blue pop-art rooster and the artist-designed mini golf course were my favorite. There's also a beautiful basilica near the museum that we admired from afar. Next time, I'd love to go inside to check it out.
We headed back into Esker Grove to grab another cider (this time a Sociable Training Wheels) and took the suggestion of the bartender to walk south to Uptown. Yes, Uptown is south. It's up of some town, I'm sure.
Uptown is the trending young professionals neighborhood full of everything the crunchy hippie part of my heart desires.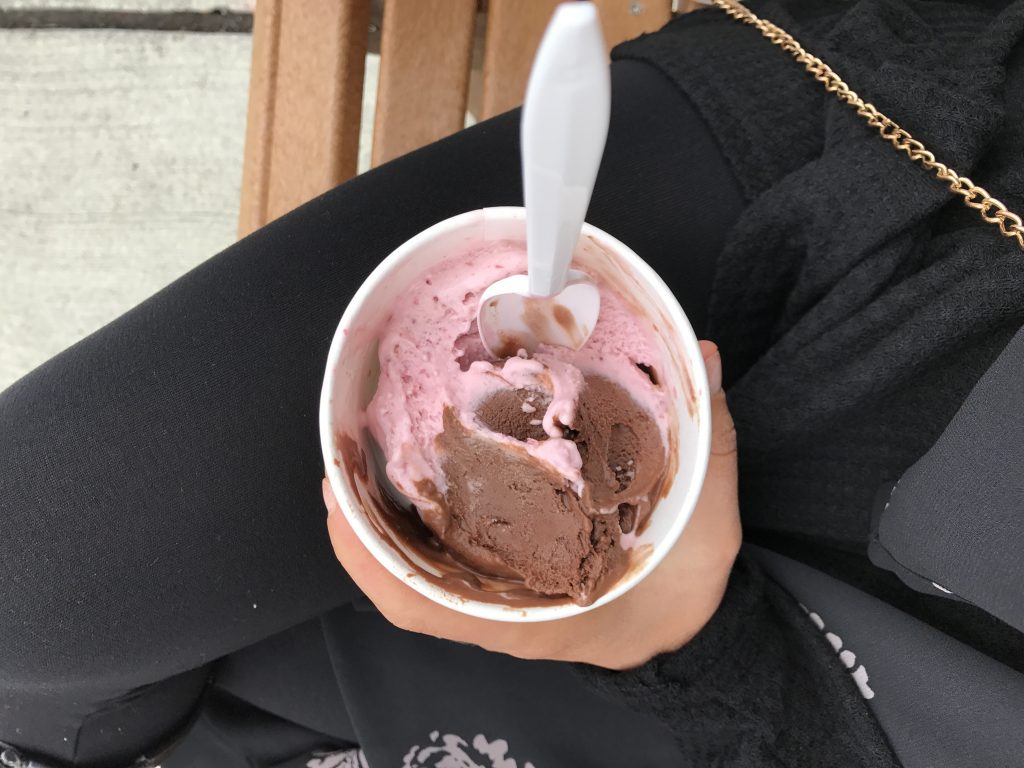 Coconut milk ice cream from Sebastian Joe's in Uptown
We had dairy-free, vegan ice cream at two places:

Sebastian Joe's

and

Milkjam Creamery

. First stop, obviously.
At Sebastian Joe's, I got a scoop of their coconut milk strawberry and coconut milk dark chocolate (which had a funny name I can't recall … maybe Nuclear?!) It was rich, creamy, and I couldn't finish the whole thing. The kind of ice cream you could easily trick your newly diagnosed lactose intolerance kid with.
Milkjam was a more interesting experience though their ice cream was less creamy, more ice-y. While the ambience and scent at Sebastian Joe's left a lo to be desired. MilkJam is bright, fun, and engaging. Their flavors and topping offers are much more condensed and unique – you can get a donut ice cream sandwich even! I chose the vegan (almond and coconut milk) Toasted Coconut + Black Chocolate.
Okay maybe it wasn't called Black Chocolate but it was made from the darkest cocoa I've ever seen – literally black in color. I topped mine with a drizzle of olive oil and a flaked smoked sea salt… which they were super stingy with… the 15-year-old kid clearly did not understand my love for fat and salt. They also win on logo design.
MilkJam is connected to a restaurant that smelled like my Moroccan dreams called

World Street Kitchen

. We didn't get to eat at it but it's on my list for next time. The smells tied me over until then.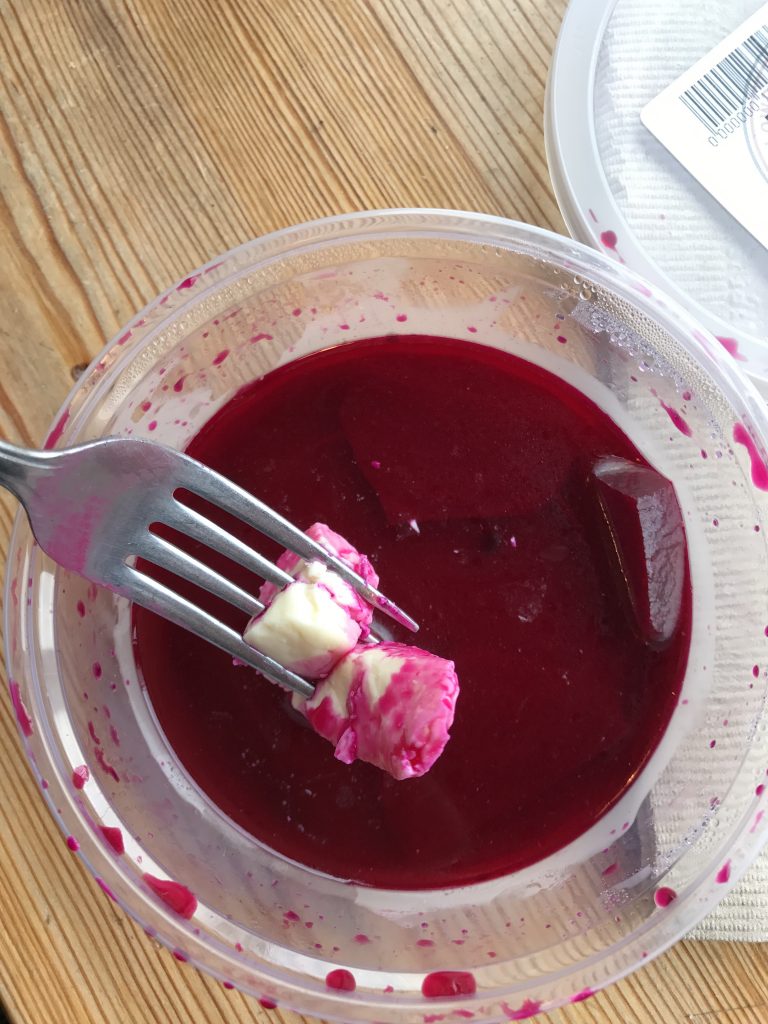 Organic cheese curds from Wisconsin and Lowry Hill Meats pickled beets for a quick snack
While in Uptown, we also visited

Lowry Hill Meats

and got a bag of organic cheese curds with a container of their house-pickled beets for snack. I wanted handfuls of salami and pastrami as well but I was saving my appetite for dinner at Burch Steakhouse.
At the recommendation of a bearded and kind-eyed patron at
Esker Grove

, we headed to

Tao Natural Foods

. It's one of the coolest crunchy vegan shops/cafes I've ever been in. It felt like I was in a cozy wooden cave with smells of burdock and turmeric wafting through the air. There's a small upstairs loft with an impressive selection of bulk organic herbs – everything you've heard of and never heard of. There's even a small, cozy and dimly lit massage room with a lovely orange glow and scent of lavender eye pillows.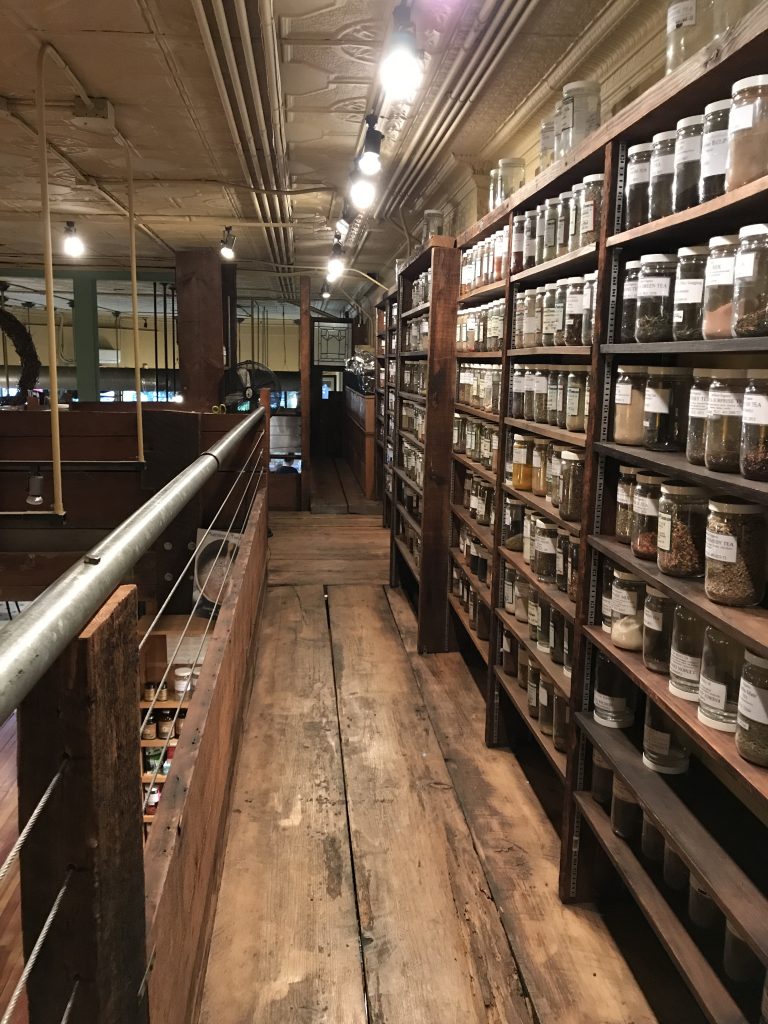 Tao Natural Foods' upstairs loft herb bar
At the cafe, I ordered the best turmeric latte of my life and even grabbed the recipe from them. It was coconut milk, turmeric, cinnamon, honey and a splash of vanilla. Frothy, thick and so, so warming. Tao Natural Foods makes me want to be a 23-year-old Master's student in Minneapolis on a cold February day.
For shopping, we visited

Patina

– this store was Urban Outfitters meets Etsy meets some Minnesota state park's souvenir shop. I LOVED IT. And spend a lot of money. You have to visit and leave at least an hour to peruse! Pacifier in North Loop is also the cutest freakin' baby store I've ever been inside. I mentally spent $2,000 there but physically bought Grace a $5.95 book. You can shop Pacifier online for gifts – I know I will be!
We walked around the
Lowry Hills neighborhood

after that and before dinner at

Burch

. Beautiful tree-lined streets, modest brick and shutter homes and apartments that probably cost 3x what they would in Florida. Very charming. The kind of neighborhood I'd love to live in – walkable to tons of shops and restaurants!
Our third night's dinner at

Burch

did not disappoint. We arrived for an early 6 pm dinner and it was already packed. The smells of meat over an open flame, the sounds of a bustling city restaurant full of celebratory events, and the open kitchen was exciting. We ordered another Sociable cider, a grass-fed 6 ounce sirloin each (medium rare, charred crust) and a side of caramelized carrots with a sherry gastrique. The food was easily modifiable – the housemade A1 sauce and horseradish came on the side with pickled beech mushrooms. They left the goat cheese off the carrots – which were dessert in themselves. Caramelized in sugar water until dark brown with the perfect hint of wine-like vinegar. 7/10 for atmosphere and 9/10 for steak.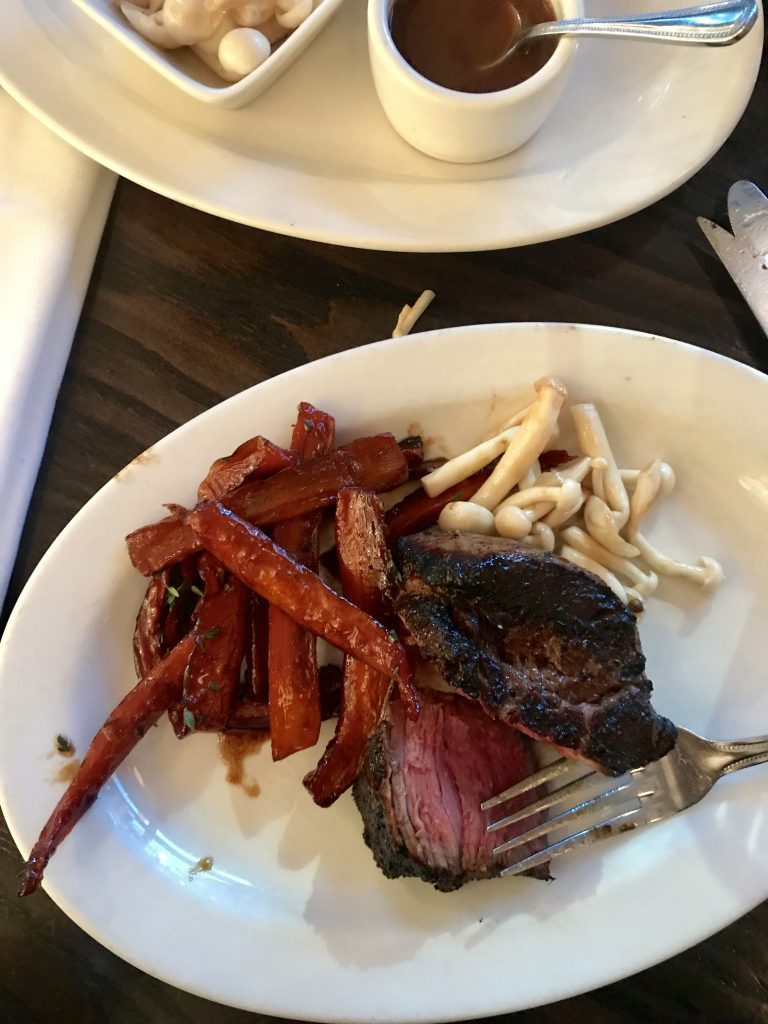 Grass-fed sirloin, glazed carrots & pickled beech mushrooms at Burch
Monday morning we walked to the North Loop Whole Foods for breakfast. It was only 3 blocks from the hotel, so I  grabbed salad there every morning for my breakfast to save some money. They have a nice local chocolate selection there too! We also went to an adorable donut shop in The Skyway (indoor mall) called Cardigan Donuts. I didn't see any gluten-free options but my husband enjoyed his 3 (!!!) donuts and coffee. Speaking of coffee, there's so many amazing coffee shops in the city but our hotel had delicious coffee for free…. so we didn't go to them! But I did have a homemade almond milk latte at Penny's!
Oh yes, and we also tried two places for lunch that I recommend for grass-fed burger salads: Red Cow and French Meadow. We also had lunch at the Minneapolis-St Paul airport at French Meadow. They made me a wild salmon and kale salad with kalamata olives and scallions that was pretty good for airport food!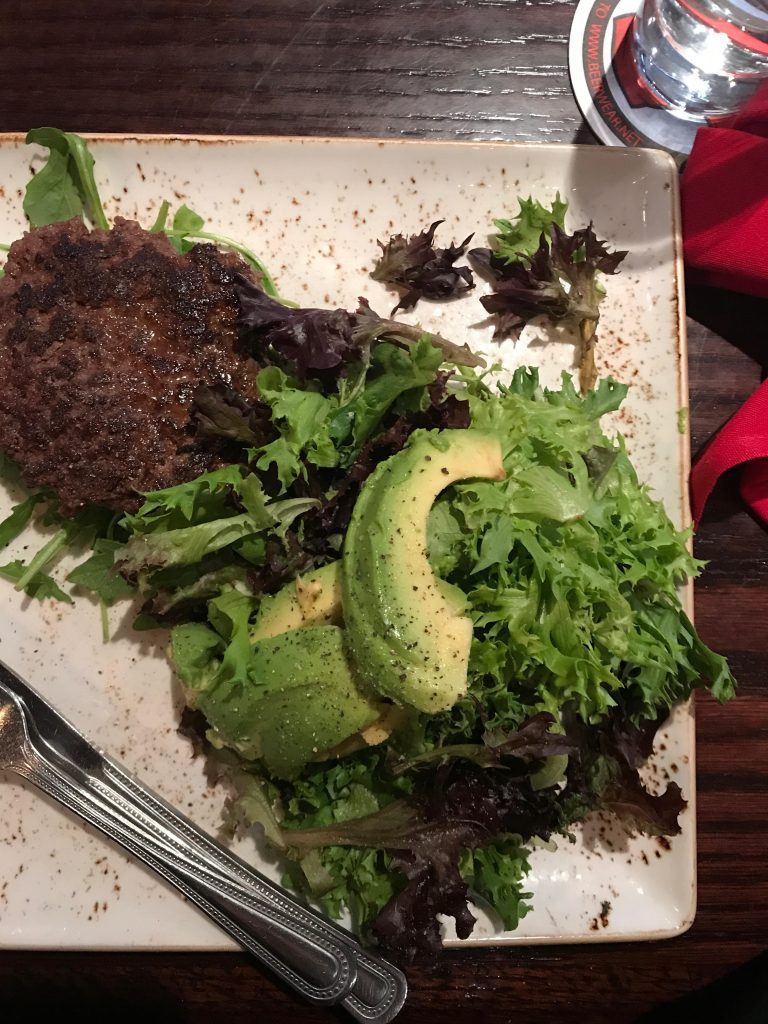 This was a FANTASTIC burger salad at Red Cow! Grass-fed & well-salted beef, a whole avocado & tender greens!
---
WALKABILITY OF THE CITY:  7/10 from the hotel to the Walker Art Center was 1.5 miles and to Uptown another 1 to 1.5 miles. We used Lyft and the drivers were so nice – one even gave us free water bottles he had in a little cooler for his riders. Uber can suck it.
FOOD & DRINK: 9/10 excellent for sustainable and organic food, unique menu items, well-designed cocktails and a wide variety of gluten-free cider choices – much healthier options than Chicago or even Austin!
PEOPLE: 10/10 SO DAMN NICE. Is "Minnesota Nice" a saying? I feel like I've heard that before. If not, it needs to be… everyone was incredibly helpful, accommodating and inquisitive. They wanted to know all about you unlike NYC or even Chicago where people put their heads down and avoid stranger interaction.
---