Chocolate Fudge Cream Cheese Brownies without the gluten, dairy OR sugar!
I posted this recipe on Instagram over the weekend & it seemed to intrigue you all. Chocolate… Fudge… Cream Cheese… Brownies made without added sugar or eggs or dairy-based cream cheese! Sounds a little impossible, a bit improbable, but I live in the land of proving the impossible probable.
Nikki's Coconut Butter sent me 3 of their coconut butter flavors to try. I'd never had their coconut butter before but the flavors had waiting anxiously for the package to arrive: Chocolate Fudge (cocoa, thinner than regular coconut butter), Vanilla Cake Batter (vanilla with a touch of coconut sugar sweetness), and Cashew Coconut (haven't tried it yet!)
The Chocolate Fudge Coconut Butter was runnier than traditional coconut butter, so my mind immediately went to making brownies and using it to replace melted chocolate. The brownies contain gluten-free rice flour, coconut flour and tapioca starch. They're cake-y (not dense cake-y though) and rich but without any added sweeteners!
I swirled the Kite Hill Almond Milk Cream Cheese into the batter because I knew it would need a flavor contrast to break up the richness of the dark cocoa. It stays creamy but bakes into the brownies, so you get the perfect bite of creaminess & cakey-ness. It's Monday, I'm inventing too many words for one blog post.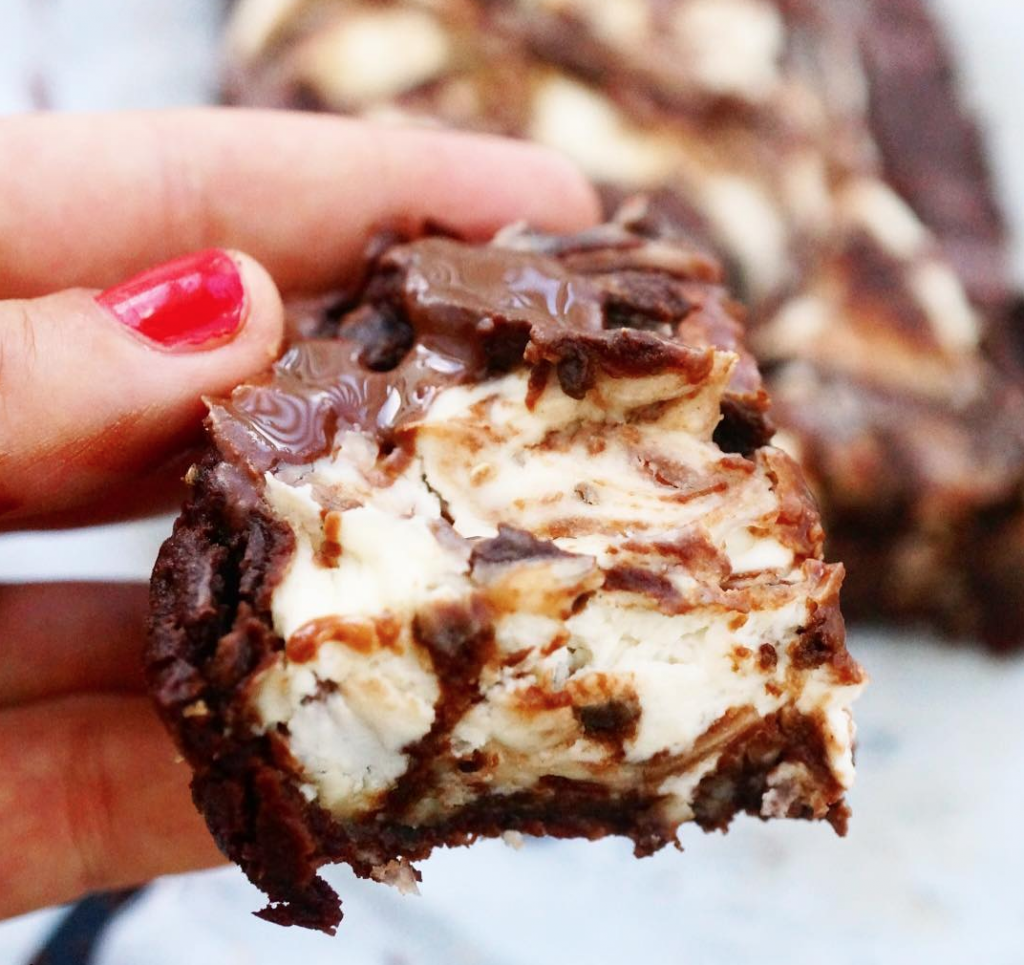 SUBSTITUTIONS
Brown Rice Flour: I suspect you could replace it with an equal amount of almond flour or tigernut flour but since I've never tried that, don't hold me to it. Experiment & let us know below.

Chocolate Fudge Coconut Butter: You can replace it with melted plain coconut butter, but I would add some chocolate chips to the batter for sweetness and to make up for the lost chocolate flavor.
Tapioca Starch: You can replace it with arrowroot starch.

Coconut Flour: I don't recommend replacing coconut flour in my recipes.
Have fun with these low-sugar, gluten-free Chocolate Fudge Cream Cheese Brownies!
Print Chocolate Fudge Cream Cheese Brownies (No Added Sugar, Gluten-Free, Egg-Free)
Author:

Prep Time:

15 min

Cook Time:

30 min

Total Time:

45 minutes
---
Scale
Ingredients
1/2 cup Nikki's Chocolate Fudge Coconut Butter
1/4 cup melted coconut oil
1/3 cup mashed banana
1/3 cup almond milk
1 teaspoon vanilla extract
1 tablespoon chia seeds
2 tablespoons water
1/4 cup cocoa powder
1/3 cup brown rice flour
2 tablespoons coconut flour
2 tablespoons tapioca starch
1/2 teaspoon baking soda
1/2 teaspoon cream of tartar
1/3 cup Kite Hill Plain Almond Cream Cheese
---
Instructions
Preheat oven to 350 degrees. Line an 8×4 loaf pan with parchment.
Combine coconut butter and oil, banana, almond milk and vanilla in a food processor until smooth.
In a small bowl, stir together chia and water and let sit for 3-5 minutes until thickened.
Add chia "egg" and remaining dry ingredients to food processor and blend until smooth.
Spoon into loaf pan. Spoon cream cheese on top and swirl with a knife to incorporate into batter.
Bake for 28 to 30 minutes until the top is firm to the touch and a toothpick comes out clean.
Let cool 30 minutes before slicing. Drizzle with additional melted Chocolate Fudge Coconut Butter.
---