Want to try Daily Harvest? Use code ALAENA for up to $40 off. I'm sharing my favorite flavors below!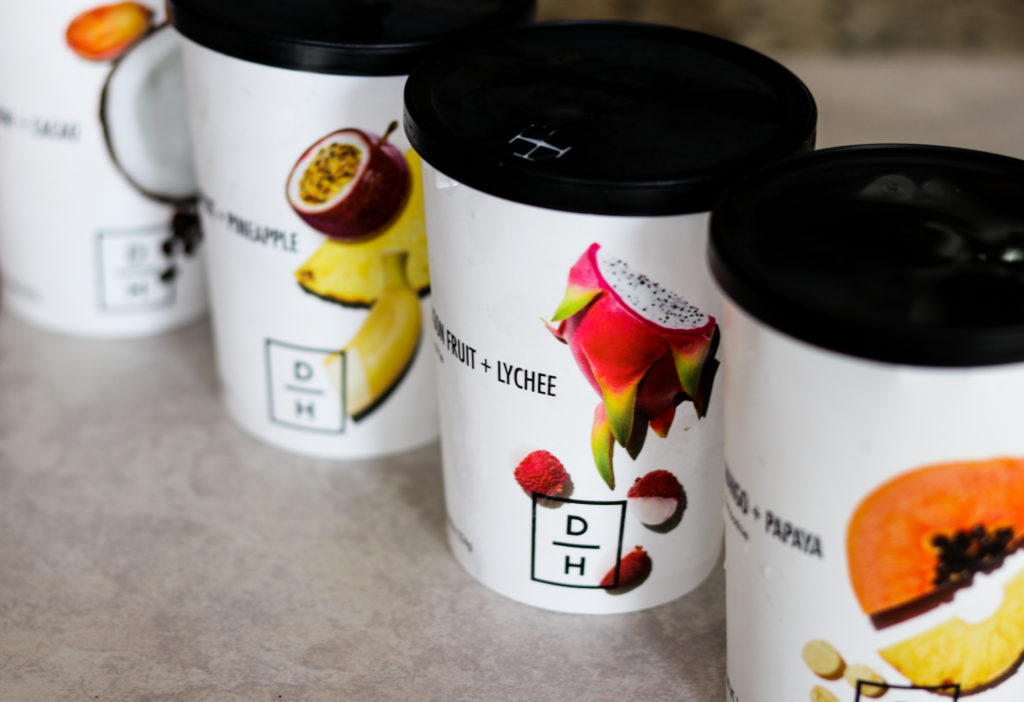 I have been getting monthly and sometimes biweekly Daily Harvest boxes for almost three years now. I started outsourcing some of my cooking when I was pregnant with my second daughter and in the throes of all-day nausea and food aversions. All I ever wanted was smoothies and veggies (big meat aversion), but I often didn't have all the ingredients on hand to make something really nutritious and actually tasty. There's just something about a kale, blueberry and almond milk smoothie that loses its appeal REAL QUICK.
Enter Daily Harvest… I was impressed with their organic and fresh ingredient sourcing and minimal plastic packaging. The cups are made from recyclable paper and we've turned the plastic lids into fun craft projects for the kids. When you're buying individual frozen fruits and veg, they come in larger plastic bags. While I could easily make my own frozen fruit pieces, the whole point of ordering a box is convenience. I cook 95% of my meals at home and rarely eat out – so a little help with three kids is greatly appreciated!
I was immediately impressed with their smoothie flavors and interesting functional ingredients like wild pine pollen (chock full of amino acids and minerals), MCT oil, ashwaghanda (adrenal and immune adaptogen), sachi plant protein, and camu camu (whole foods vitamin C) among many other interesting ingredients you likely wouldn't source yourself!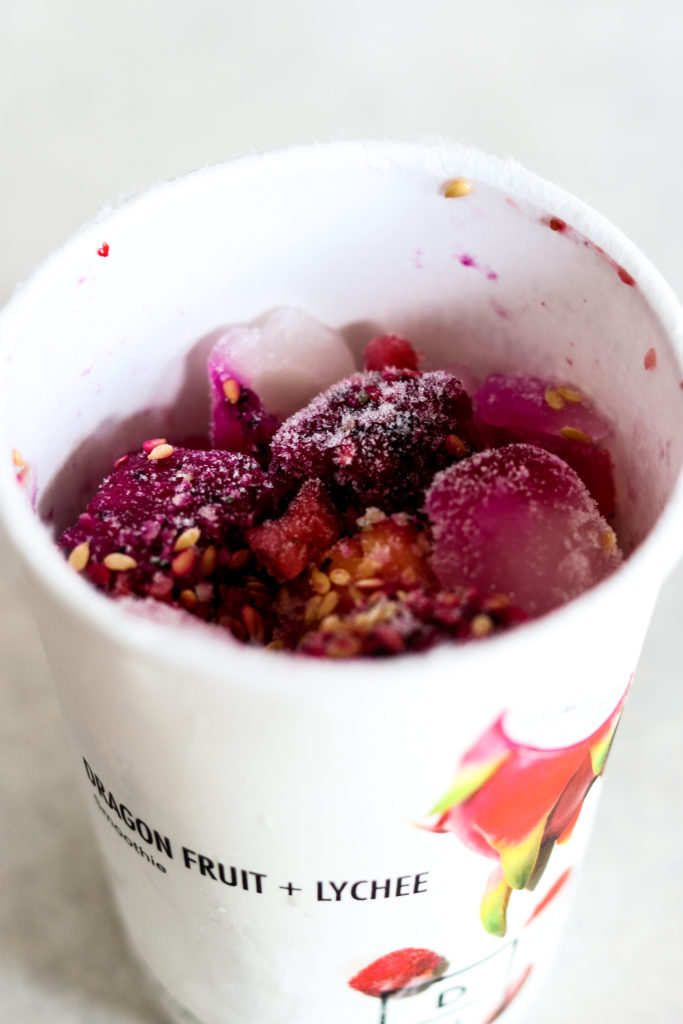 The best Daily Harvest flavors:
Okay I'm a food blogger and particularly picky about flavor balance in my food. I wouldn't lead you astray with any of the below flavors. I'm also sharing which flavors (there's only a few) that I did not enjoy and don't recommend. I'm also sharing what I add to them if I want to "doctor them up" as my father-in-law says.
Cold Brew & Almond: reminds of Dunkin' Coffee Coolattas from the 90's! I add a scoop of collagen, a sprinkle of vanilla powder, and a bit of maple syrup to slightly sweeten for a frosty morning coffee beverage with fat and protein. I use almond milk or coconut milk.
Passionfruit & Pineapple: similar to a passionfruit flavored Pina Colada, I use just water or coconut water. Tropical frozen drink heaven!
Mint & Cacao: if you love mint chip icecream, grab this one! I add a medjool date (it's not sweet at all without it) and use almond or coconut milk.
Banana & Almond: this is a legit banana bread flavored smoothie! I add collagen and use almond or coconut milk. This one has parsnip but you can't taste it at all. I also recommend adding more liquid than they call for as this one is a bit thick.
Cherry & Almond: this one tastes like cherry marzipan. I use almond or coconut milk and add collagen and a pinch of sea salt and vanilla powder.
Carrot & Cinnamon: carrot cake flavored smoothie. I use almond or coconut milk and add collagen and sometimes a medjool date.
Chocolate & Hazelnut: Nutella flavored smoothie. I like coconut milk with this one! My husband loves this one because it tastes like dessert and has enough calories to be a meal.
Dragonfruit & Lychee: My girls love this one – it's more strawberry slushie flavored but it's really pretty with the pink, purple and fun-looking dragonfruit.
Mango & Papaya: One of my weekly go-to's with macadamia nut. It has a very tropical flavor and I add vanilla, sea salt and sometimes collagen. Never tire of it!
Sweet Potato + Wild Rice Hash Harvest Bowl: this one reminds of a southwestern breakfast burrito bowl. I often add some scrambled or fried eggs for protein.
Brussels Sprouts + Tahini Harvest Bowl: this one is for tahini lovers as it does have a strong tahini flavor but it's full of veggies. I don't usually add protein to it – it's filling on its own.
Kabocha + Sage Flatbread: all their crusts are grain-free and gluten-free and made with veggies and cassava flour. This flavor tastes a little cheesy on its own but I like to add shredded organic parmesan and bake in my convection oven until really crispy.
Tomatillo + Pepper Flatbread: this flatbread is on the spicier side but pairs well with leftover chicken or on its own even without cheese added. I'll add organic colby jack shredded cheese.
Raspberry + Mulberry Seeded Forager Bowl: this is a great vegan seed-heavy snack or breakfast that is slightly tart from the raspberries but has lots of texture! You can stir in protein powder and treat it like oatmeal with other toppings.
Strawberry + Goji Berry Oats Bowl: love having these oatmeal bowls in the freezer to quickly heat up with almond or coconut milk. I stir in collagen and top with whatever is in my pantry like raisins, coconut flakes, hemp seeds, etc. The goji berries add a fun texture and look.
Vegan Ice Cream and Almond Milk Without Fillers
Vanilla + Sticky Caramel Scoops (Ice Cream): these vegan ice creams are so awesome! They don't contain any yucky gums, fillers or emulsifiers – all clean ingredients. This one reminds of me Edy's Caramel Delight that I used to be obsessed with in high school. The caramel is made with Murasaki sweet potatoes which is so cool! This is one of their sweeter flavors.
Mint + Dark Cacao Scoops (Ice Cream): again if you're into mint chocolate chip ice cream, here's your new favorite. By the way, since these ice creams have no emulsifiers you'll want to leave on the counter for 30 minutes prior to scooping to soften up!
If you're looking for additive-free organic almond milk, you need to try the Daily Harvest Mylk Pods. They don't contain any of the gut-disrupting fillers you find in store-bought almond milk, and are cheaper and easier to make than homemade almond milk. They also use organic almonds which is very hard to find in store-bought almond milk (Mylk is the only brand I know of that uses organic ingredients and nuts). You simply blend these pods with filtered water, and if I want to sweeten it up, I had a little maple syrup too. I keep it covered in a glass jar in the fridge for up to 3 days to use for coffee, tea, oatmeal, smoothies, or for my kids to drink.
Best way to save on:
Use my code ALAENA for up to $40 off your first box to save the most on Daily Harvest. That will get you about 4-6 items for free depending on what you add to your box.
How do Daily Harvest subscription boxes work:
Daily Harvest allows you to order as frequently or infrequently as you'd like while changing up what's in your box every time. They send you an email a couple days before your box is about to ship so you cancel, defer to another date, or change your box contents. The more you order, the more you save (after your first order with my above discount code). Everything is easy to store and stack in your freezer and comes fully frozen. Just make sure to bring it into your home soon after delivery during the warm summer months.
Daily Harvest for Pregnancy and Postpartum
These organic healthy smoothies and meals have been my health-saver through two pregnancies and postpartum periods! We all have those moments when hunger strikes (especially that breastfeeding hunger) and nothing healthy is prepared in the fridge for a quick reheat. It's comforting to know I always have a back-up plan in the freezer when those moments hit with Daily Harvest in my freezer.
To make them more nourishing and filling during pregnancy and postpartum, add 1 to 2 scoops of grass-fed collagen. This is the grass-fed collagen I like to use. If you can do dairy, use organic whole raw milk for the smoothies. Add some shredded raw cheese to the flatbreads. For the harvest bowls and flatbreads, add leftover protein or organic sausage, ham or deli meat for extra protein too!
I like to gift Daily Harvest boxes or gift certificates to pregnant and newly postpartum friends. They've always appreciated them so much, and it's the next best thing after making a home-cooked meal for a friend in need. If you're looking for some pregnancy batch cook ideas, you can check out my post here.