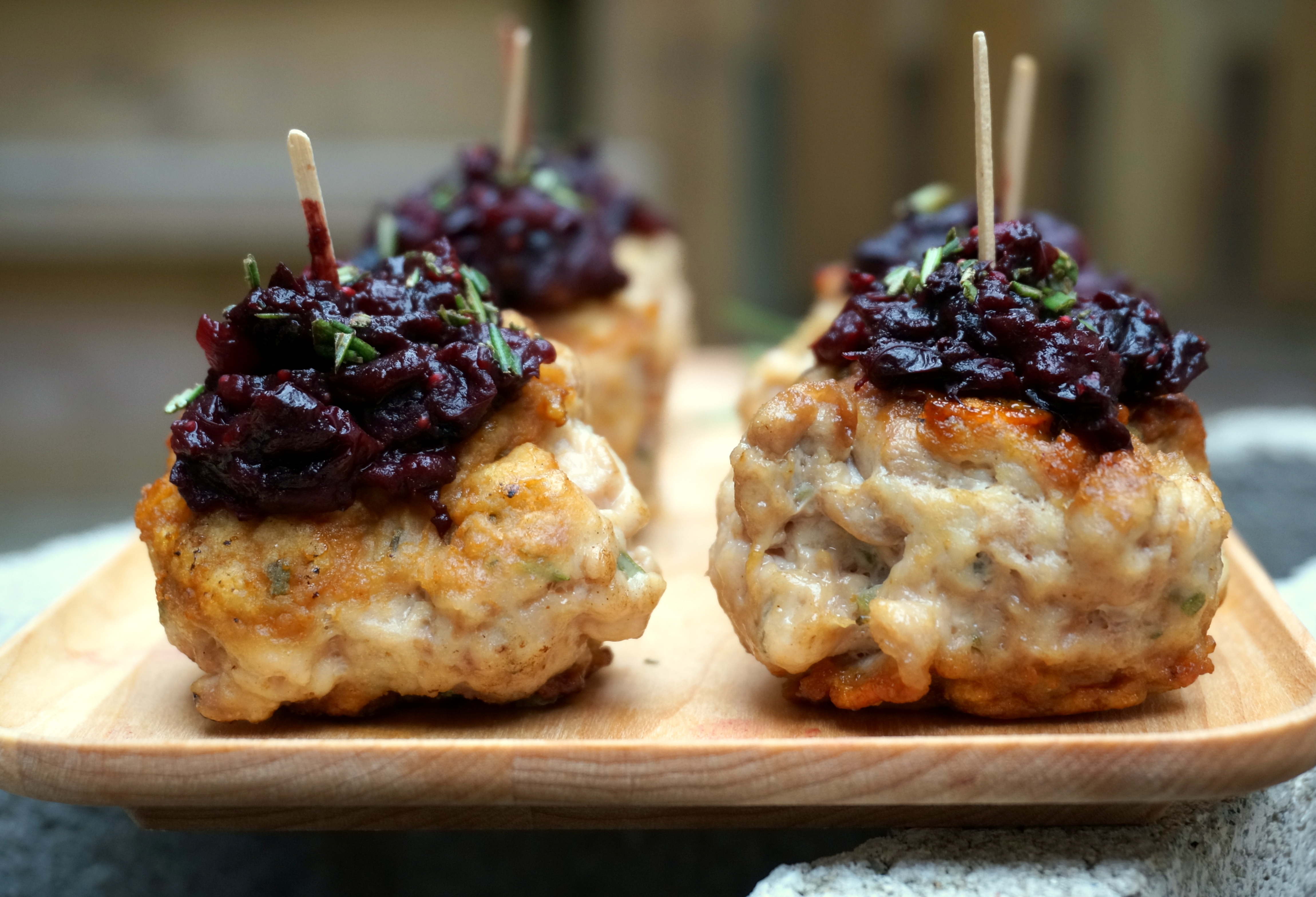 These lil' pups were one of the dishes I took on my trip to Omaha this weekend. We had a second reception so that more family & friends could be included since we had such an intimate wedding. It was a blast to bring my family from Florida to the Midwest for the first time. A cold front of 40 degrees didn't get in the way of us having an amazing time. We took them to downtown Omaha for lunch, I got to play on a playground (my, like, 3rd favorite thing to do in the world), we had a huge family BBQ, did a nice trail run wth my sisters, and then the reception was at a beautiful home (er, lodge mansion) on a secluded lake. It couldn't have been better.
I don't like to "bother" people with all my food allergies/intolerances, so I never ask for special accomodations. I usually just prep my ass off the week prior and bring everything I need for the weekend (providing I am gone no longer than 2-3 days). I put everything in a freezable lunchbag that I got from Bed, Bath & Beyond which keeps my meat frozen until I get to the hotel fridge. The hotel we stayed at had a full kitchen with an oven and microwave which was awesome, but that is usually not the case.
For Friday-Sunday morning i brought
– 3 grassfed burgers, pre-grilled
– 3 servings of these Cranberry Chicken Meatballs
– Roasted sweet potato coins (those are like candy to me and lasted 1 whole afternoon)
– Baby carrots
– Cooked radishes
– Two types of dressing
– AIP BBQ Sauce
When I arrived, I picked up a few fresh items from Omaha's Whole Foods including
– Mineral water
– Kombucha
– Organic lettuce for salads
– Grassfed ribeye to grill
This was probably the best I have planned for the trip and the first one that I wasn't starving and feeling deprived the entire time. I have learned it is BEYOND important to pack delicious food on vacation or you have to suffer on the sidelines, watching everyone enjoy Bacon-wrapped Fill in the Blank, Cheesecake, and BBQ sandwiches. I knew we would be serving BBQ at the reception, which is why I brought my own AIP BBQ sauce, since it is by far my favorite food, and it would be emotionally difficult to have to avoid it.
I will be going to San Diego this Thursday through Sunday, and I will be packing enough food for probably 1/2 of meals. I'm confident I'll be able to find restaurants to accommodate me there since it's more health-centric than Omaha or Chicago. I'll definitely do a round-up next week on that trip!
Cranberry Relish Meatballs
Makes 16 meatballs | Ready in 30 minutes
12 oz cranberries (I used frozen)
1 T coconut vinegar
½ tsp cinnamon
1 T organic blackstrap molasses (adds depth of flavor & sweetness; I do not suggest omitting)
2 lbs chicken thighs
2 T chopped fresh rosemary
½ tsp sea salt
1 T coconut oil
Place all cranberry sauce ingredients except molasses in a small saucepan over medium heat. Bring to a simmer, cover, and let cook about 10 minutes until the cranberries are softened. You may need to stir once or twice to prevent burning. Remove from heat and stir in molasses, mashing the cranberries with a spoon as you do this.
Place chicken , rosemary, and sea salt in a food processor or blender and puree until smooth. In a large saucepan, heat 1 T coconut oil over medium-high heat. Make 16 2-oz meatballs with the mixture. Fry on each side for 6-8 minutes until cooked through. You will likely need to cook them in 2 batches to avoid over-crowding the pan which prevents proper browning.
Serve topped with a dollop of cranberry sauce. Side dish idea: mashed root vegetables or braised greens.