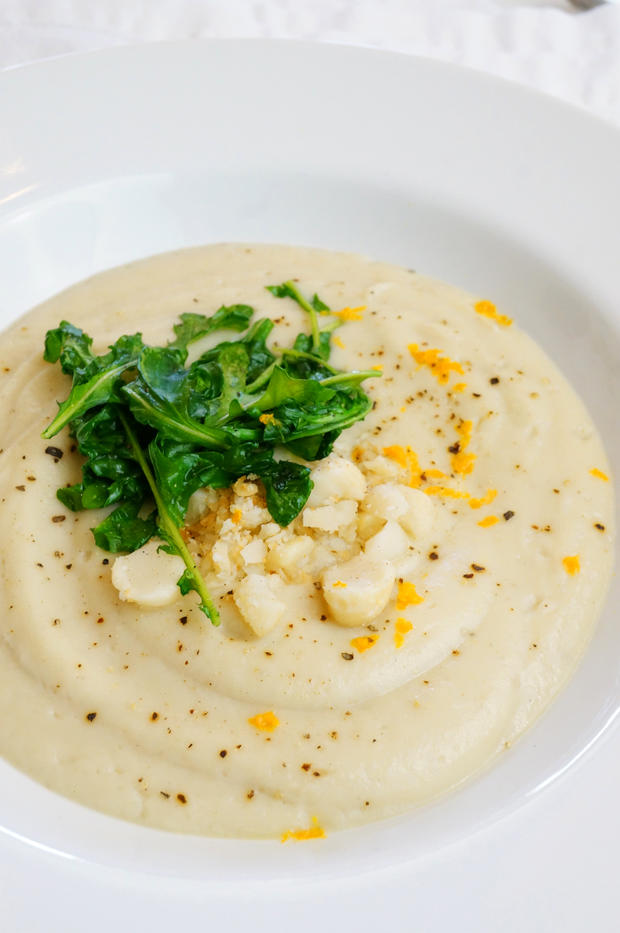 The creamiest cauliflower bisque flavored with roasted garlic, orange & greens!
Ah, soup. There's nothing quite like sitting down to a bowl of creamy, comforting soup to make your physical and mental woes be gone. At least for the 8 minutes it takes you to slurp it down and do nothing else with your hands or brain. This cauliflower bisque takes maybe 8 seconds to slurp because it's extra delicious.
In college, my friend told me her favorite food was soup and my immediate response was, "How the heck!!? Why? Because it's low in calories!?" I just didn't get why you'd want to drink a pre-digested bowl of food for a meal when you could be eating bowls of roasted vegetables, quinoa, and beans.
That was pretty much my diet in college which is fairly balanced for a 20-year-old. I remember one semester I had $30 a week for groceries and every night I ate sauteed mushrooms and asparagus with half a sweet potato and a slice of whole wheat toast. I made it work, I guess.
Ever since starting the autoimmune protocol and jumping on the bone broth bandwagon (I feel like we need a Bone Broth groupie tshirt. It needs to be really well-worn, soft, and splattered with stains of liquid gold), I am the soup girl. The soup nazi who says "no soup for you" unless you appreciate whole-heartedly how damn lucky you are to eat my soup.
My mom also is cuckoo for soup and we call each other every time we make a good batch of broth. Lately though, I have been having a hell of a time trying to find high quality grass-fed bones for beef and pork broth. When we lived in Chicago, it was fairly easy for me to source such bones at the plethora of farmer's markets and artisan butchers.
In Austin, my focus has turned to not being in the car for 30 minutes to find a farmer's market that sells grass-fed bones for less than the price of your first born. Instead I've been purchasing pre-made broth from a local restaurant who makes fresh batches multiple times a week.
Unfortunately, the majority of us don't live in cities with such restaurants. You ask your average dinner establishment to sell you broth and you may get a few cubes of buillon and the cook's "secret" recipe of add buillon to water and bring to a boil for 25 minutes. And while buying non grass-fed bones is better than buying no bones at all, I have a serious aversion to poorly raised meat.
I KNOW, I KNOW. It's all some of us can source or afford. I personally can taste a sad animal and will not enjoy my meal whatsoever. In fact, the other day at the Whole Foods salad bar I got a grilled chicken thigh for my salad. I took one bite and gave the rest to my husband. It tasted like it had been boiled in the tears of over-fed, under-nourished hens.

So what's a soup-loving gal who can't find any good bones supposed to do!!? Bone broth is an incredibly important part of any gut-healing diet, and I truly don't think I ever found true healing until I added it into my regimen multiple times a week. It's no joke, and it's no wonder it's becoming a fast-growing superfood in all segments of the population! I mean hello… Tom Brady and the entire Lakers team are doing it.
Back to my question. WHAT DO YOU DO!? You look to the Internet to solve all your problems. You thank Heavens for Fedex and dry ice. You visit the

Osso Good Bones Website

and check out their pre-made BPA-free pouches of high-quality grass fed and pastured bone broths and you order some to be shipped directly to your house because that means you don't have to scrub nasty bone broth grease off your Instant Pot for 45 minutes tonight.
OSSO GOOD BONES IS NOW OFFERING…..
Two Autoimmune-Protocol Compliant Flavors: Grass Fed Beef & Organic Cage-Free Chicken Bone Broth

20 ounce BPA-free, freezer safe pouch with easy-pour spout which makes measuring and pouring completely mess-free too!

Flavored with vegetables and no added sea salt so you don't have to worry about a recipe ending up too salty

Rich and satisfying flavor because Osso Good knows how to do broth

It gels! Ah the holy grail of bone broth making.
And of course it's what I used to make this ridic delicious creamy cauliflower bisque! It was so fast to throw together and is very hands-off. You let the cauliflower and garlic roast to savory and sweet perfection and simple blend it with the broth. A couple quick garnishes provides this bisque texture, color, and brightness, so don't leave them out!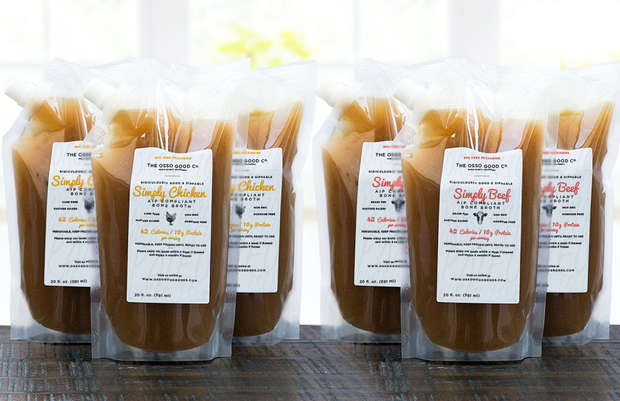 Print Roasted Cauliflower & Garlic Bisque
Author:

Prep Time:

10 minutes

Cook Time:

35 minutes

Total Time:

45 minutes

Yield:

2

to

3

1

x
---
Scale
Ingredients
24 ounces

cauliflower florets*, chopped into even-sized 1-inch pieces

10

cloves garlic, peeled

2 tablespoons

olive oil, divided

1 tablespoon

honey

1 teaspoon

truffle salt or sea salt, divided

2 cups

chicken broth, warmed

1/3 cup

chopped macadamia nuts (omit for AIP)

3

large handfuls arugula

1/2 tablespoon

olive oil

1 teaspoon

orange zest
Black pepper, to taste (omit for AIP)
---
Instructions
Preheat oven to 425 degrees. Line a large rimmed baking sheet with parchment paper. 

Toss the cauliflower and garlic with olive oil and 1/2 teaspoon salt. Drizzle the honey on top as evenly as possible. 

Roast for 28 to 32 minutes until the cauliflower is tender with browned tips. Transfer to a high-powered blender, preferably a Vitamix or Blendtec for the smoothest bisque. 

Add the bone broth and remaining 1/2 teaspoon salt to the blender and puree for 60 seconds until silky smooth. Ladle into individual serving bowls.

Prepare the garnish by toasting the macadamia nuts in a skillet over medium heat until lightly browned, about 2 minutes. Sprinkle on each bowl. Now add the olive oil to the skillet and gently wilt the arugula over medium heat for 30 to 60 seconds. Garnish the bowls with the wilted arugula, a bit of orange zest, and freshly cracked black pepper. Serve warm!
---