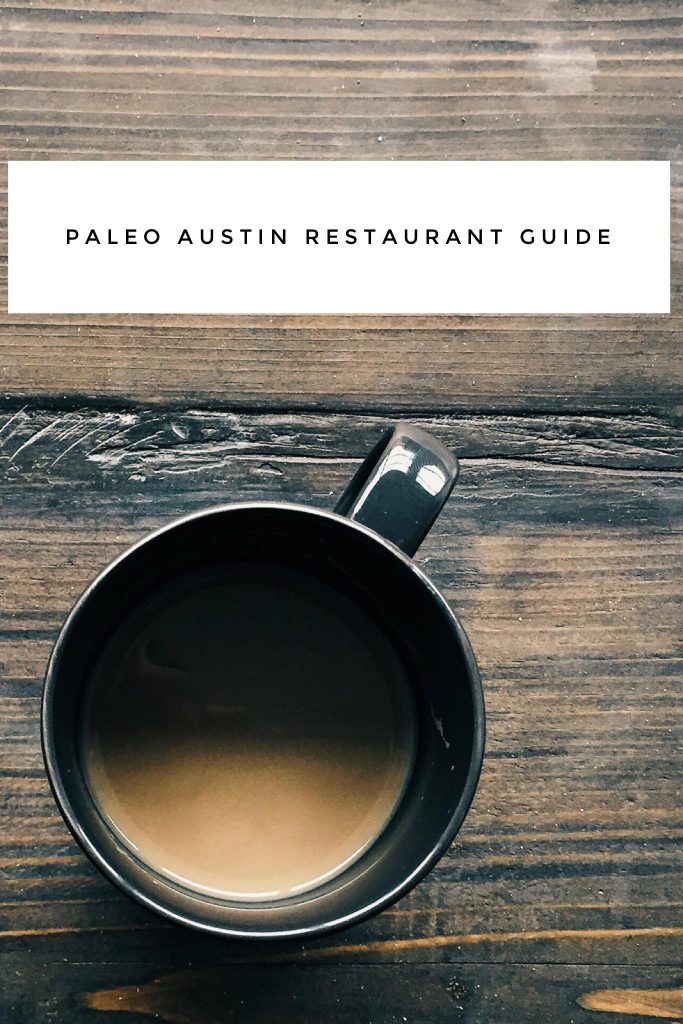 In the Paleo community, Austin has become known as a mecca for primal livers. I've been here for about 9 months now and while there is a solid group of Paleo-ites around town, there's a much larger population of foodies, vegans, and Standard American Diet eaters. I haven't found it THAT much easier to eat out here while following Paleo/AIP than in Chicago (where your options are extremely scarce for a city of 8 million).
All that said, I have explored a few amazing places that I wanted to share with my readers who either live here or are going to be visiting Austin in the future for one of the city's crowd-pulling festivals and conferences. I will say that Austin supports local business more than any city I have ever lived in, and that even the most unassuming food trucks and pizza joints are dedicated to sourcing local produce and sometimes even organics! For example, East Side Pies (an East Austin hole-in-the-wall pizzeria) has gluten-free and dairy-free pizzas that can be topped with an abundance of local veggies. Try to find that in most American cities!
I've categorized my list by types of restaurants/establishments that hit the main bases when you're in town or looking for a casual bite or beverage. None of these places have a dress code (it's Texas, after all) and many allow pets if there is outdoor seating! I've tested all of them (most several times) and have given my honest review as someone who appreciates food quality and sourcing, good service, and also duh delicious food.
DISCLAIMER: There is NO "perfect" Paleo restaurant. Many restaurants source local organic ingredients and have grain-free and dairy-free options, but they may use less than desirable vegetable oils for cooking purposes. When we eat out, there's a certain amount of known risk we take with food quality. All of the below places are dedicated to some degree to providing the community with the highest quality product at this point in time. For example, all of the ice cream locations use non-Paleo sweetener such as organic cane sugar or agave nectar, but they are offering dairy-free ice cream using local ingredients, and that is something to be desired across the country!
Lettuce-Wrapped Grass-fed Burgers
Counter Cafe *TOP PICK* 626 N Lamar Blvd, Austin, TX 78703
This little (and I mean little) cafe is right across the street from the famous downtown Whole Foods and is such as nice surprise! There are two picnic tables outside, so I'll bring my dog and have a lettuce-wrapped grass-fed burger (juicy, delicious, local ingredients) with a side of sweet potato fries (they are fried in rice bran oil there). I add avocado, red onion, and extra lettuce to my burger, and it totally hits the burger & fries craving. The oil used for the fries aren't Paleo so you can skip those if you're a die-hard, but rice bran oil is definitely better than soybean oil or soy-canola blends which is what most restaurants use! AIP? Get the lettuce-wrapped burger with avocado, bacon and red onion. Ask them to leave off the black pepper from the patty seasoning.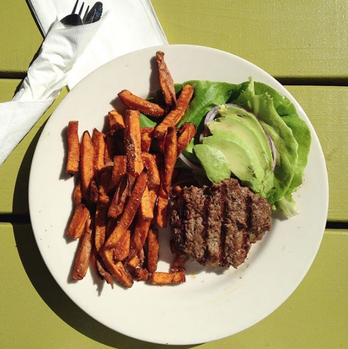 Wholly Cow 3010 S Lamar Blvd
Located in a mini-mart, this unlikely burger hangout is just down Lamar less than 10 minutes from downtown. Its counter service with tables inside and outside (pet-friendly). My husband has had the lettuce-wrapped burgers and fries and loves them. They are made with Texas grass-fed cattle. I did not get to try the burger because the spice mix in them contains nightshades (fine for Paleo, big no-no for AIP), BUT they were sweet enough to offer nightshade-free call-ahead burgers if I ever did want to give them a try! AIP? Call in advance and ask them to make you a special nightshade-free patty!
Hopdoddy 1400 S Congress
Prepare yourself for a wicked wait, line out the door at this trendy South Congress burger restaurant. They offer all types of burgers, including lettuce-wrapped grass-fed burgers. I've eaten her twice and both times had a reaction, so I'm going to assume they either spice their beef with a nightshade or there's cross contamination. I wanted to include it for the traditional Paleo person who doesn't avoid nightshades and doesn't tend to react to minimal cross contamination though. I've been here with a group of coworkers and with my husband and everyone LOVES their food every single time. And it's really neat they let you order drinks from a bar while you stand in line waiting to order your burger. They have some local ciders on tap too. AIP? Call first and ask how they season their meat. I've had a reaction the last two times I've eaten there and the burger was the only possibly culprit!
Coffee
Caffe Medici *TOP PICK* 1101 W Lynn Street
Pretty sure this is the best coffee in Austin. You may be thinking, "Yeah, right. In that hippie town, there's probably a hundred amazing local coffee shops." You would be wrong. I've tried a lot of them – even the ones people rave about, and I promise their coffee is the best. It's never better, never too hot or too cold, and they use the most delicious almond milk in their almond milk lattes (which have been my pregnancy treat – decaf of course). They also sell several grain-free energy bars from a local brand called Bearded Brothers (my favorite flavor is Raspberry Lemon). Parking is a bitch, but you can park at the restaurant across the street until 10:30 am and after that there is street parking in the neighborhood and about 8 spots available in their parking lot. Here's another place I like to sit outside with my dog in the sunshine and spend an hour chatting with strangers at the next table over. Favorite drink: Almond milk latte (iced or hot) made with a carageenan and soy-free almond milk
Picnik 1700 S Lamar
Probably the most famous Paleo place in all of America, Picnik is a local fave for butter coffee, baked goods, and light meals. Their coffee IS delicious (especially if you can tolerate dairy and get the butter coffee), but it's freakin' expensive, so I almost never go there. During the holidays, I got their Peppermint Mocha, modified to omit the dairy and include coconut butter in it's place. It was really yummy but I felt stupid for spending $7 on coffee, I'm sorry. Go for the novelty of it, if you're in town, but beware of being the gal or guy who just spent a meal's-worth of money on coffee and a chocolate chip cookie (which I guess could be considered a meal on its own?)Favorite drink: Marshmallow Chai made dairy-free!
Radio Coffee & Bar 4204 Manchaca 
This place has become a fast favorite for us. It's perfect for weeknights when you want to get out of the house but don't want to dress up and go out. There's a ton of outdoor seating, a taco trucks, an outdoor bar (sometimes staffed), and a large indoor coffee shop with plenty of seating, WiFi and live music on certain nights. I love this place because each night of the week they have some sort of event lined up like outdoor movie night, trivia, dance parties, flea markets, fiddlers. Yes, fiddlers. We bring our dog and always find a stranger to chat with. I love talking to strangers. They have dairy-free milk options like every Austin coffee house, but their almond milk lattes aren't as good as Caffe Medicis. They are probably my second-favorite in the city that I've tried so far though. They also have some gluten-free treats. Favorite drink: Their coffee isn't as good as Medici's, so I always get a Topo Chico and an iced decaf almond milk latte.
New American
Salty Sow 1917 Manor Rd
Some delicious 'ish is offered up at Salty Sow, a well-known brasserie-type of joint in East Austin. I think they are most known for their duck fat fries with a sous-vide runny egg on top. My mom and husband split those and were obsessing over them. I was super jealous and ate my plain steak and salad in envy across the table. So obviously if you eat nightshades and eggs, get the dang fries, you fool! Their food quality is definitely better than the average restaurant and you can certainly eat gluten-free there. Dairy-free may be a bit harder, but they will accommodate. My mom got a pork medallion-bacon number once, and you can't get much more Paleo than that. Make a reservation because it will always be jam-packed. This has been my least favorite AIP meal out because I think they were afraid to add any sort of flavor to my food in fear of nightshading me. But if you don't have a ton of food allergies or intolerances, you will most certainly enjoy your meal here!AIP? Have them customize a menu item for you! They made me a simple salad with local veggies and a seared steak. They could have added a little more creativity to both plates though because they were B-O-R-I-N-G. Again, everyone else's food looked amazing!
Salt & Time 1912 E 7th Street
I went to this adorable butcher shop/restaurant several years ago when I was visiting Austin for the second time. I really wanted to ravage the raw, salt-cured meat counter, but in the name of food safety and gut protection, I held back. I <3 the name and it definitely took me reading it a few times to realize, "Oooh because you just need salt and time to cure meat. How clever." From what I understand, they have expanded the restaurant to include more seating as well as an expanded menu. They are also open from breakfast, lunch and dinner now. It's not like they cater specifically to gluten-free eaters (lots of sandwiches and such) but they do have charcuterie boards, offal, salads, homemade pickles, and protein-heavy mains for dinner!AIP? Ask for a nightshade-free cured meat and some pickled vegetables!
Searsucker415 Colorado Street
I freakin' love this place. The decor is an odd combination of Nautical-Rustic-Farm Animal and really welcoming for a giant warehouse building actually. I'm not much for going out, but the social scene is so active here that it makes me feel like I'm part of the cool crowd for a whole 90 minutes. I'm obsessed with their drink menu. I've only been getting them virgin since Pregnant, but their virgin Snake in the Grass (cucumber mojito) is effin' awesome. I want one right now. They also have really delicious AIP accomodations and eating Paleo is even easier. I have had the Farmer's Chicken (big chicken leg, roasted, juicy, crispy skin) with roasted brussels sprouts, the local greens salad with shaved veggies and grilled chicken, and the insanely tender and flavorful filet mignon, which is in my top 5 best steaks of my life. It was like butter and perfectly aged, get it. It's located downtown, and you'll want to make a reservation if going on a weekend. We park in a parking lot a couple blocks away for $10 and walk around downtown afterwards to people watch.AIP? I get the roast chicken, plain, without the sides and instead get it over a green salad with extra veggies.
Dai Due *TOP PICK*2406 Manor Road
Saving my favorite for last here. Dai Due is the pinnacle of Paleo dining out. EVERYTHING is locally-sourced and/or made in house. Including the bones for their homemade bone broth which I purchase and take home on occasion. It's real-deal bone broth – jello and delicious. They change their menu every week (sometimes even more frequently) and I've always found something on the menu that is AIP-compliant. They let the food shine and don't use a ton of spices. They're also dedicated to using only quality fats – how awesome is that!? So you'll find your food cooked in grass-fed tallow, pastured lard, olive oil, and grass-fed butter rather than vegetable oils. And almost everything is cooked over a tiny open flame RIGHT in front of your eyes. Sitting at the bar is really fun for this reason. Eeek, I just love this place and could go on and on and on. My favorite meal so far has been grilled sheepshead fish from the Gulf coast with grilled Meyer lemon and grilled broccolini with mui choy (a mustard green type of leaf vegetable). We REALLY want to try their humongous grass-fed beef rib one night but it's a little intimidating. Like the size of my femur.AIP? They will make you whatever your little broth-loving heart desires! Best seat in the house is the little bar at Dai Due – perfect for a date night!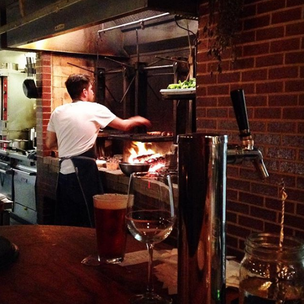 Dairy-Free Ice Cream
Lick 1100 S Lamar
A rotation of 3 to 4 flavors of coconut milk ice cream, most soy and egg-free as well. Delicious, pretty expensive, but their new location is across the street from a Caffe Medici so bonus points!
Thai Fresh *TOP PICK* 909 W Mary 
My favorite coconut milk ice cream by far! It's made with coconut milk, organic cane sugar, and a variety of flavors. They also tell you which ones are soy-free (anything without chocolate) and they're all gluten-free and egg-free too. I am obsessed with the Thai Basil & the Thai Coffee and the Lavender is amazing too. To me, this is a can't-miss ice cream place while in Austin. I get my ice cream over a ball of warmed-up sweet sticky rice, which is white rice, coconut milk and coconut sugar. Sounds weird but it's decadent and a really unique and perfect combination of textures and temperatures.
Coconut milk, cashew, and almond milk ice creams with some fun toppings like toasted coconut. No dairy, eggs, or casein in any of their flavors and they let you know which ones are gluten free. Everything is vegan too, and it's currently located inside a juice shop but they are changing locations early summer 2016, which is why I didn't include an address. They use agave nectar to sweeten their ice cream, so it's not a perfectly Paleo option.
Honorable Mentions[Places with delicious food if you are gluten-free and dairy-free but I can't vet them outto the AIP community]- Sway (Thai)- Torchy's Tacos (tacos, der)- Swift's Attic (New American)- La Condesa (Upscale Mexican)- Rudy's (BBQ – Nightshades for sure)- La Barbeque (BBQ Food Truck – Nightshades for sure)- Salt Lick (BBQ – Awesome outdoor space – Nightshades for sure)- Franklin's (BBQ – Apparently only uses salt & pepper)