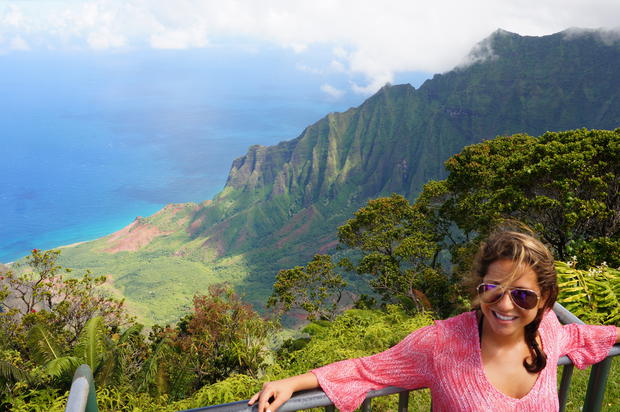 Napali Coast view from the tippy top of the Waimea Canyon. One of these years I want to do the treacherous 22-mile Napali Coast hike. It is a stunning trail!
We recently returned from our celebratory trip to Kauai, Hawaii. With the graduation of my master's program, getting my thyroid health back in great shape, and turning in the cookbook, and my birthday all occurring in the same three weeks, I totally felt like I needed a celebratory trip. On my birthday in August, I surprised my husband with a 6 days 5 nights trip to Kauai instead of traveling the PNW like we had been planning. We rented a really awesome airbnb apartment that had a full kitchen so I could cook, and so we didn't feel like we were surrounded by tourists at a resort. We did the resort thing for our honeymoon in Sedona last December because it's Sedona and that's what you do, but honestly we spent the majority of our time hiking and barely at the resort, so I'm not sure it was even worth the hundreds of dollars a night. We got our cozy true Hawaiian-style apartment for $130/night in the little town of Kapa'a which is actually the most habited town on Kauai!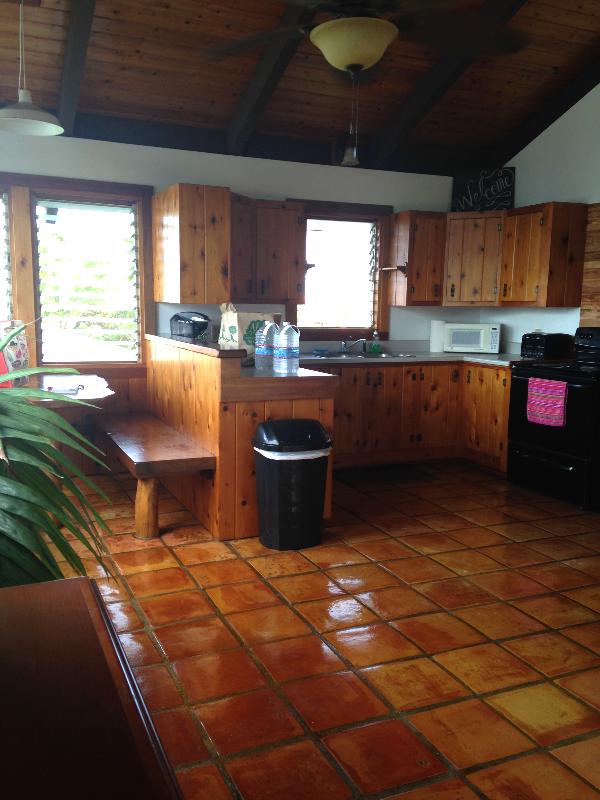 Our cute airbnb in Kapaa town. It had a full kitchen and total Hawaii bungalow vibe. We loved it! Email me if you want to know what the name of this listing is!
I cooked some very basic meals for us because of my lack of seasonings (I had coconut oil and sea salt) such as seared chicken breast, zucchini, onion, and mushrooms over kelp noodles and fresh seafood lettuce tacos that didn't require any cooking at all using canned wild salmon, store-bought cooked shrimp, and ahi tuna poke made with just tuna, green onion, and salt. The groceries there are incredibly expensive – like at least 33-50% more expensive than the mainland. I saw a 6 oz can of wild salmon going for $9 so I'm glad I brought my own! We ate out for lunch a few days – I had two lettuce wrapped grassfed burgers and one black rice wrap grassfed burger. Desserts included two incidents of super sugary Hawaiian shave ice – one was made with just ice, coconut cream, simple syrup, and puree purple Okinawan sweet potato!!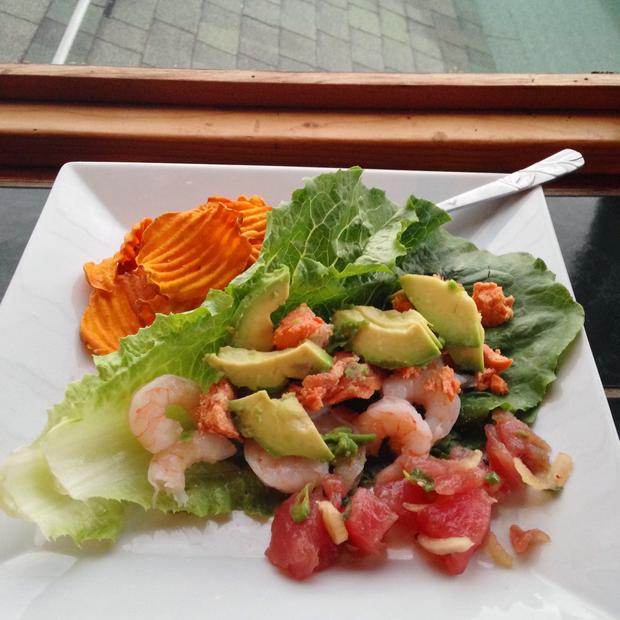 This was one of the best things I ate the whole trip and it took 3 minutes to put together.  I had a major shrimp obsession over there and would buy 1/2 pound packages of pre-cooked shrimp every other day and snack on them when I needed extra protein. Those are the Terra sweet potato chips but made with canola oil (they're a special occasion food for me for that reason). 
Every morning I woke up by 5:30 am, had a light breakfast, and went for a 2 mile run down the hill onto the beach so I could do a few minutes of push-ups or jump squats and get a good sweat going. Then my husband would meet up with me for green juice at Kauai Juice Company and organic iced cold brew with coconut cream, simple syrup, and cinnamon at Java Kai. I was obsessed with this morning ritual and by the end of our trip, I felt like I belonged in that little beach town. It reminded me of where I grew up on the beach in Florida except with ridiculously gorgeous mountains and cliffs and scarier waves.
Then we would get in our Jeep rental and drive around the entire perimeter of the island visiting different beaches and swimming. Sometimes the swimming wasn't very safe, so we retreated to more protected swimming holes. Kauai has the most drownings in all of Hawaii so I wasn't going to take any chances. The rip currents and undertows can come out of nowhere. We found a gem in a little town called Anahola where we had a rock jetty enclosed swimming hole all to ourselves from sunrise to the late morning. It was heaven with the mountains in the background and misty fog surrounding us.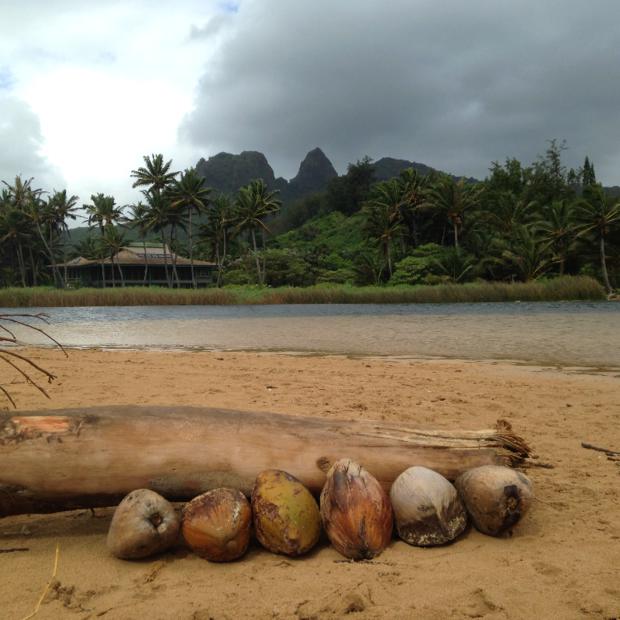 Secret/Not-Secret if you live there swimming hole with some perfectly lined up coconuts that I doubt nature had anything to do with. You wouldn't believe how smelly rotten coconuts are! I got a little rambunctous and picked one up to throw at my husband and the joke was on me because my hand smelled like dead mammal the rest of the day. 
We kayaked for several hours one morning on the river, visited a stunning grotto covered in hanging ferns, and hiked two decently long hikes on different days. We were supposed to do an adventure boat ride along the Napali Coast but had to cancel last minute (a story for another day) – I was SO bummed because that would have been an adventure of a lifetime. Instead we hiked through the Waimea Canyon (called "The Grand Canyon of the Pacific" and MUCH more beautiful than our mainland Grand Canyon in my opinion. Set in the rocky beautiful Napali coast, we were lucky enough to reach the lookout point on the most beautiful day you could ask for. We were even higher than the fog!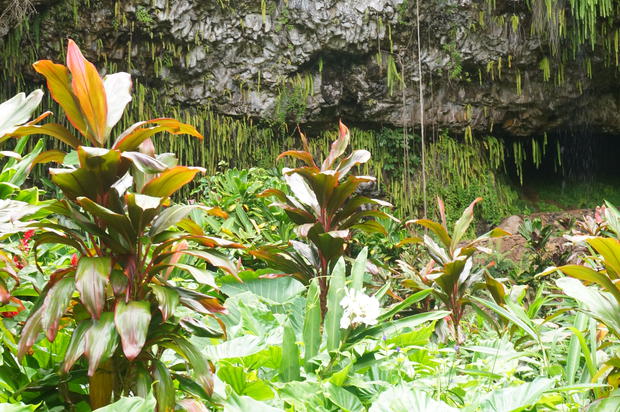 Fern Grottos along the Wailua River
We swam almost every day and even played a little pick-up game of beach volleyball with some locals. I was surprisingly good at beach volleyball and made some impressive dives in front of a beach full of sun-bathing tourists. I like to think they were all watching me in awe of my skills, but really I think they were in awe that every time I ran to get the ball my bathing suit bottoms started to fall off. Oh well, what happens on the Marriott Kauai beach resort stays on the resort. We snuck into their huge lagoon pool with waterfalls and surrounding Jacuzzis then promptly realized security would be on our tails within 20 minutes and darted. When a large Hawaiian man with pectoralis muscles the size of beach balls looks at you with authority, you run.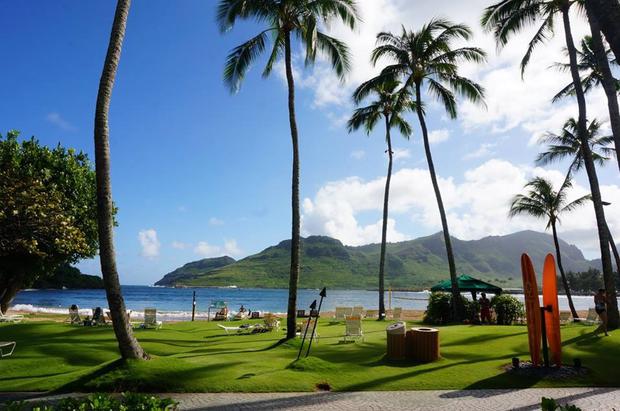 The Marriott on the south shore near the airport is located on a pretty spectacular beach. That would be a good hotel for families, older couples, or those who prefer to lounge rather than explore on their vacations. 
This was the first vacation I have taken in FOREVER where I could drink and eat whatever I wanted within reason without having any reactions. I think I was just so relaxed and enjoying the sunshine and fresh air so much, my body was in prime healing mode. It was absolute paradise and I cannot wait to go back! On our last day, we also took an organic chocolate farm tour and tasting to end on high note. Seriously, we felt high and then sick on chocolate. They give you 20 different chocolate samples ranging from ginger to macadamia nut to coconut milk to curry and single estate varieties from around the world. I was the only person in the tour of 40 who had to start turning down the samples around number 15. Weak. Then we got really jittery and needed meat badly and had the BEST grass-fed burgers at Street Burger in Kapa'a.
If you head to island and need some ideas on where to eat Paleo, here is where I went:
Bubba Burgers – lettuce wrapped grassfed burgers (6/10)
Living Foods in Poipu – beach town health food store and market in a cute little outdoor mall. They special menu-ed this burger for me with bacon and a side of purple sweet potatoes cooked in coconut milk.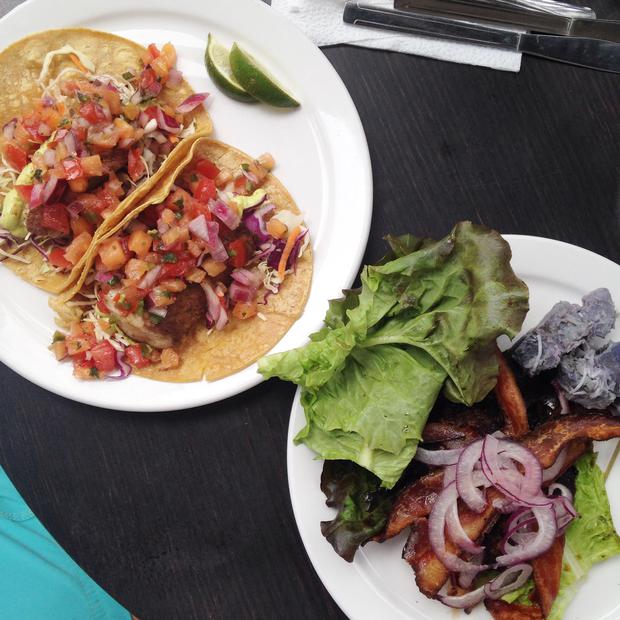 Gluten-free fish tacos for my hub and lettuce wrapped bacon burger for me (I ate 4 lettuce-wrapped burgers in our 6 days in Kauai because that's what you do on AIP). This was my second favorite. Street burger (below) was my favorite by a landslide. 
Street Burger – lettuce wrapped grassfed burgers with bacon, avocado, and onion (9/10)
Chef George of Da Jungle – lettuce wrapped or black rice wrapped grassfed burgers with bacon (9/10) and organic shave ice made from just ice, freshly picked fruit, and organic cane sugar.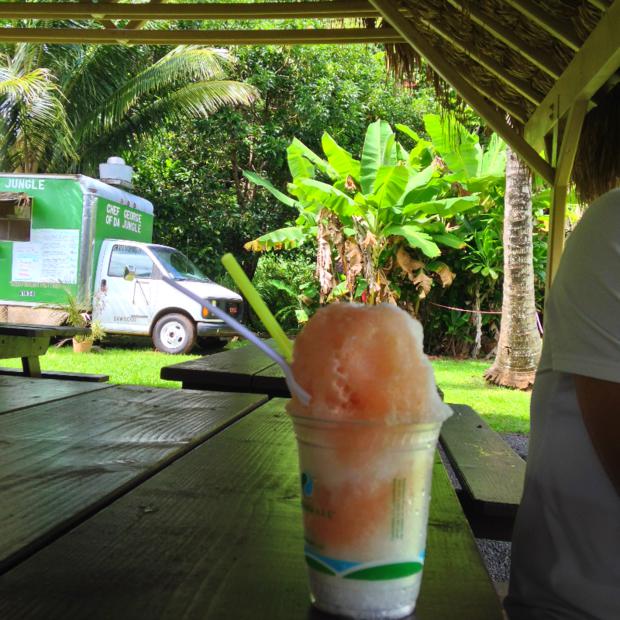 Freshly shaved iced with guava puree, coconut cream, and simple syrup. Perfect refresher after a hot 3-hour kayak on the river. I had a lot more sugar on this trip than I normally would but I'm not being nearly as strict on myself these days, and I find I tolerate these things much better. I used to be very restrictive with my food and calories for years and years. I don't want to be the 50-year-old woman with sunken cheeks who weighs her food and looks like a Real Housewife of Pretentious City, California. Sorry, was that harsh?
Kauai Juice Company – green juices every morning to make up for my lack of greens throughout the day (10/10) Try the liver cure – cucumber, dandelion, burdock, and celery!
Java Kai – organic iced coffee with coconut cream and a selection of gluten-free, vegan desserts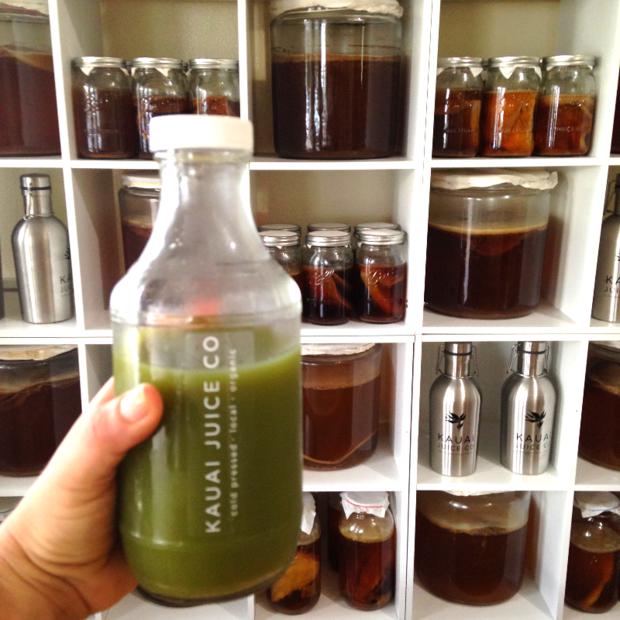 I replaced my daily salad with 17 ounce green juices every day because salad in Hawaii that is dairy and soy-free is like trying to find the last temple artifact in Legends of the Hidden Temple (90's kid reference, sorry)
Chicken in a Barrel – smoked chicken, pulled pork, and ribs with all sorts of fixings (not nightshade-free) – My husband had it for dinner one night and loved it! I learned my lesson with nightshade BBQ on my last trip to Austin. (8/10)
Papaya's Natural Foods – natural food grocer with pantry staples like canned wild fish, olives, chocolate (yes, that's a staple in my house), dried local bananas, locally made kombucha and a salad bar. (7/10)
Healthy Hut Market – another natural food grocer where I got some canned smoked oysters, gifts for family, vitamins (I ran out), and Jackson's Honest Chips (those are easily found all over the island actually!) (7/10)
Safeway – best selection on the island for organic produce, grass-fed beef, and organic chicken if stocking up for your kitchen or kitchenette (9/10)
Foodland – another grocer where I got my autoimmune-friendly poke made form just ahi, green onion, and sea salt without any soy sauce – the produce and meat wasn't good quality though (6/10)