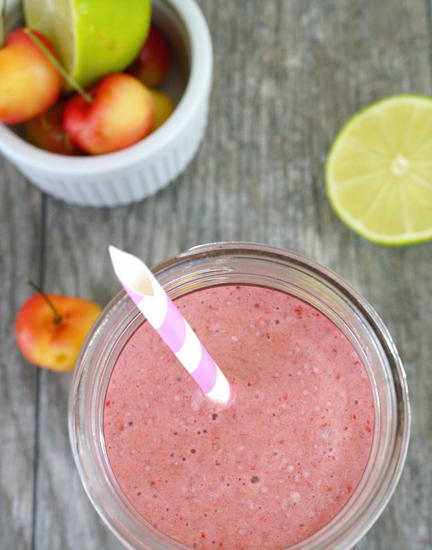 Since my husband and I are both home with the baby these days, we often split meals to keep things quick and easy. I've actually been cooking MORE since her birth (barring the first few weeks where I don't even recall eating) to keep us thriving on less than stellar sleep.
Mid-morning we like to split a collagen smoothie to keep us satisfied until 1 or 2 pm lunch. I play with a lot of different fruit and flavor combinations but one I always come back to is cherry-lime. It's so refreshing and is such a beautiful color, it can't help but lift your mood!
Organic cherries also have amazing health benefits including inflammation reduction, antioxidant protection, and cancer prevention. Ginger is one of my favorite potent AIP flavors, and I often blend it into fruit-based beverages like Watermelon-Lime-Ginger Agua Frescas (a similar recipe is in The Healing Kitchen and I just add a piece of ginger to it!)
I'm going to experiment with a cherry-ginger fermented beverage soon (it's on my drinkable to-do). Anyways, my husband is a very stubborn man and he "likes what he likes". Namely peanut butter and banana smoothies. A palate of a 5-year-old I have said in the past. He is getting more adventurous now, but he is still very picky on his fruit! Well, he gave this delicious smoothie glowing reviews, so I knew I had to share it with you guys.
I've made it with coconut and almond milk in the past. They are both delicious but the coconut milk will of course add a more tropical flavor while the almond milk is much more neutral. A way around this for AIP is using coconut water instead of coconut milk! It will be slightly thinner so you can use less if you'd like, and you'll be getting extra electrolytes making this a great sweaty summer beverage!
As always, this smoothie features my #1 supplement choice Vital Proteins. It is the only supplement I have ever stuck to, remember to take daily, and notice benefit from besides magnesium and vitamin D. It is pretty wonderful, and I'm known to order 60 ounces of the stuff at a time because it makes me feel high on collagen when the package arrives (it's called the Amazon Prime High). Good stuff, guys!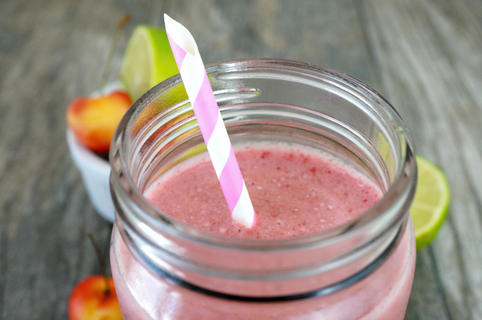 Cherry Ginger Lime Smoothie
serves 1 to 2 | ready in 5 minutes
2 cups frozen organic cherries
1 ¼ cup almond milk or coconut milk (coconut for AIP)*
Juice of 1 lime
1 ½ to 2 teaspoons grated ginger root (depending on "spicy" preference)
pinch sea salt
*Coconut water may also be used but will result in a thinner smoothie.
Blend all ingredients until smooth. Taste and add more lime juice or ginger depending on your preference. If adding more ginger, proceed in 1/4 teaspoon increments since it is a strong flavor.