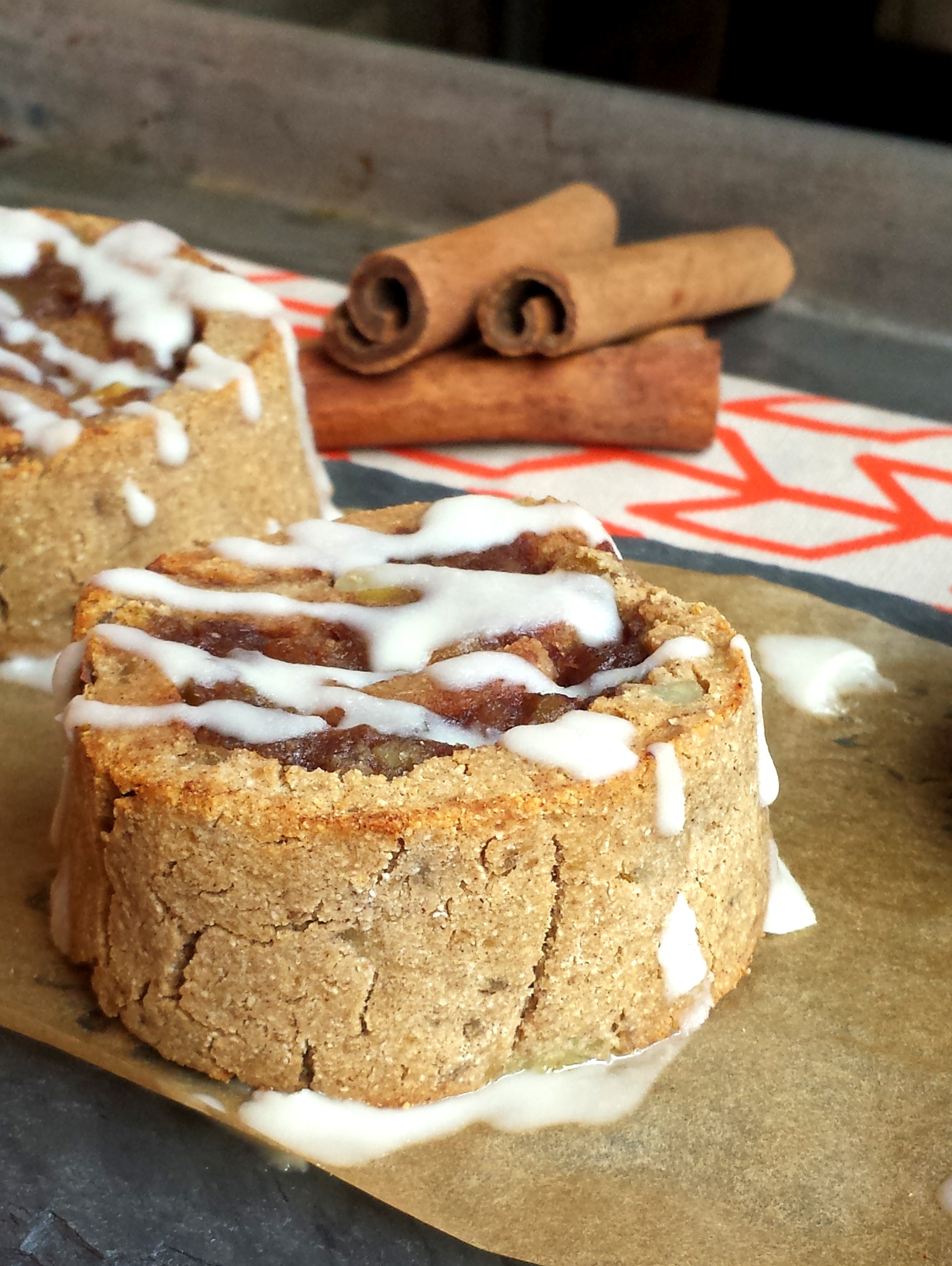 I made this recipe awhile back for a guest post, and then I ended up doing another recipe and totally forgot about my cinnamon rolls! Hello!? That is an egregious  mistake to make in the AIP community. This recipe does have a few steps, but it takes me less than 30 minutes to throw together! They aren't soft and chewy like normal cinnamon rolls since there's no yeast or eggs, but they are very reminiscent of the taste, and I actually prefer the crunchy, chewy, and gooey texture of these to regular cinnamon rolls.
This recipe makes 6 rolls, but it can be easily doubled for a larger gathering. You can also change up the filling by adding different fruits, a combination of berries or stone fruit sounds delicious to me! Enjoy this long lost recipe… I tested it 4 times to get the right ratio of tapioca and coconut flour for the texture I was going for! Have a wonderful weekend, and go try something new. We are going for a new bike ride to check out a pie shop for my husband who has a demonic sweet tooth. I'll just be admiring the architecture along the way. I will of course be forced to watch at least 2 football games (growl.)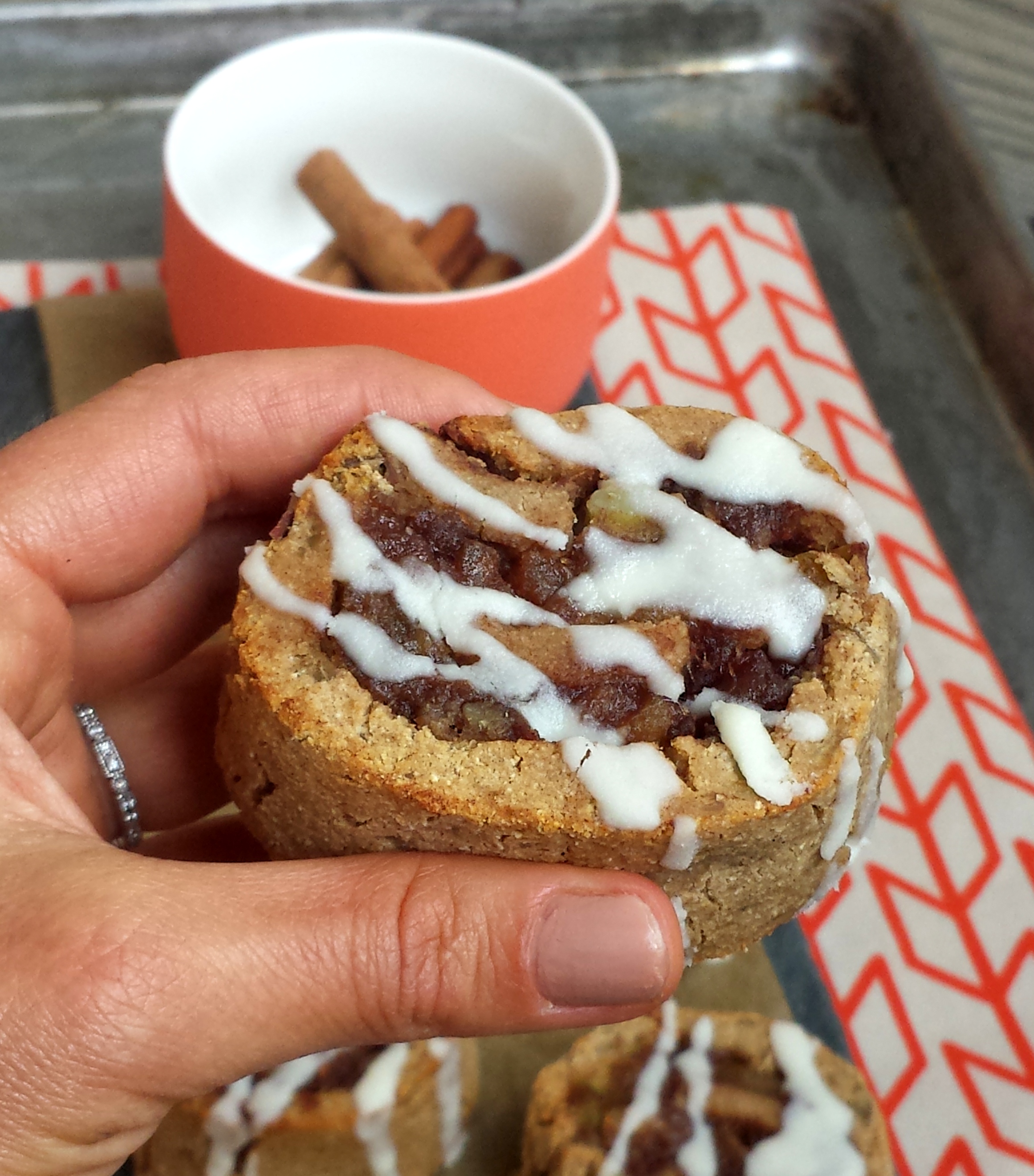 My hands are the size of a 5-year-old's but these rolls are a nice, hefty size! As they should be, darn it!
Rustic Apple-Cinnamon Rolls [AIP Friendly]
Makes 6 rolls | Prep 25 minutes | Cook 23 minutes
Time Saving Tip: while the sweet potatoes are steaming, make the filling!
Dough
2 cups peeled & diced white sweet potato*
2 T melted coconut oil
¼ c unsweetened applesauce
¼ cup coconut flour
1/4 cup tapioca flour/starch
1/2 tsp cinnamon
¼ tsp fine sea salt
½ tsp baking soda
*The flesh should be white. The Japanese purple-skinned or California white-skinned varieties both work here.
In a steamer basket set over a pot of boiling water, steam the sweet potatoes for 15 minutes, covered, until they easily break apart with a fork.
Place sweet potatoes, applesauce and coconut oil in blender/food processor. Blend until smooth and no lumps remain. Alternatively, you can mash in a bowl until smooth.
In a medium bowl, mix coconut flour, tapioca, cinnamon, salt, and baking soda. Using your hands, mix sweet potato dough into dry ingredients, kneading to fully incorporate.
Place dough on parchment-lined baking sheet. Using your hands, form dough into an even, compact rectangle, about ¼ inch thick.
Apple-Cinnamon Filling
1 cup finely diced Granny Smith apple
1 T coconut oil
5 large Medjool dates, pitted
1 ½ tsp cinnamon
Pinch sea salt
In small saucepan, cook apple in coconut oil over medium-low heat for 5-7 minutes until softened.
While the apple is cooking, place dates in small bowl filled with ½ cup filtered water. Microwave for 1 minute. Reserve all of the liquid!
Add dates, ¼ cup reserved liquid, cinnamon, and sea salt to the pan. Break dates and apples up with a wooden spoon as they cook down.  Once liquid has evaporated, add remaining ¼ cup reserved liquid and simmer, stirring, until a thick paste has formed, about 2 more minutes. Remove from heat immediately.
Apple-Cinnamon Rolls
Spoon filling mixture on top of dough, covering entirely.
Use the parchment paper to assist rolling the dough into a cylinder by starting with the short end of the rectangle and rolling away from your body. Ensure seam side is down.
Using a sharp, serrated knife, slice roll into 6 even pieces. (Note: Place dough in refrigerator for 5-10 minutes to make it easier to cut.)
Gently re-shape the dough into circles and lay face up on parchment paper.
Bake in 350 degree oven for 23-25 minutes until golden brown. Drizzle with melted coconut butter.