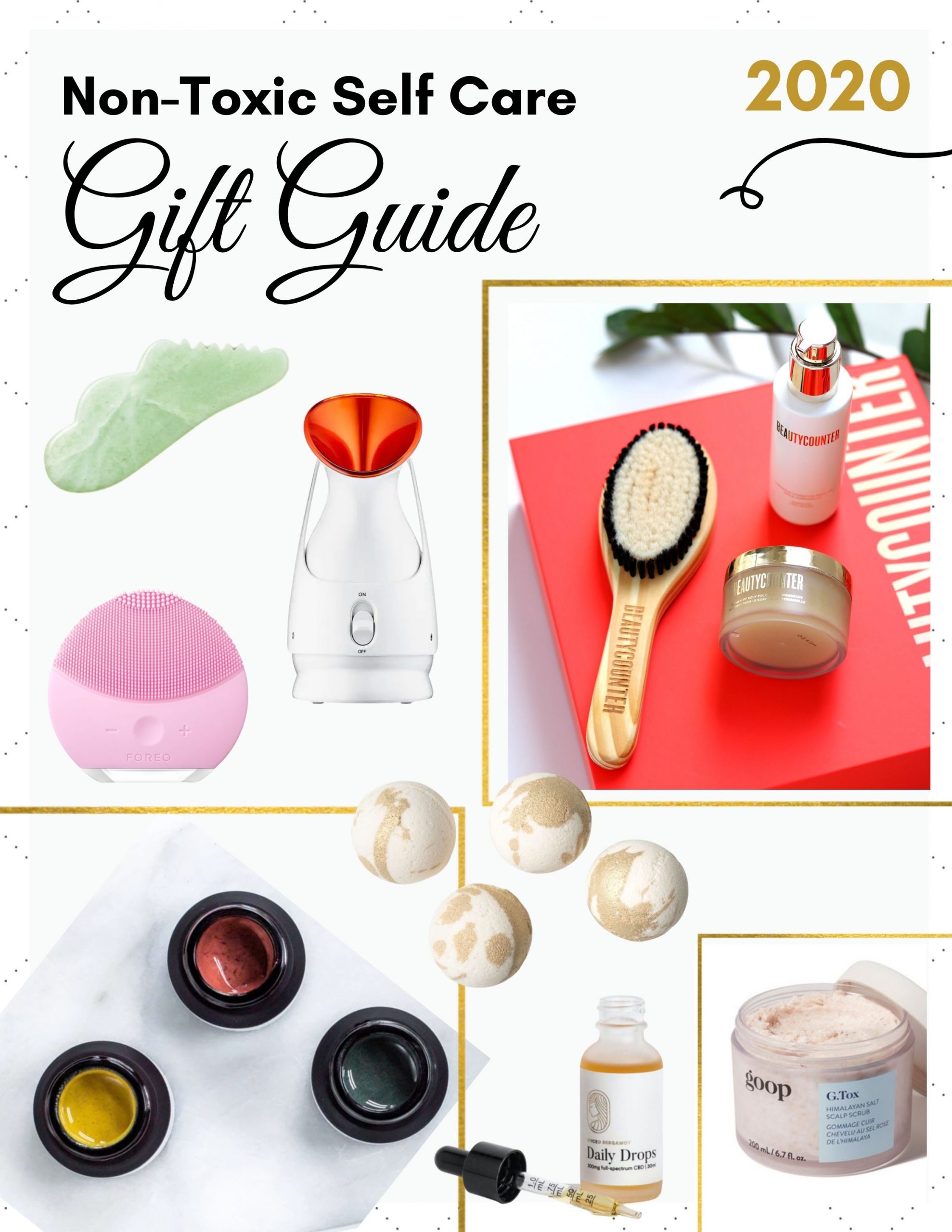 Who needs a little pampering and "me time" right now? Oh, all of us? Sounds about right. This Non-Toxic Self-Care Gift Guide includes some of my favorite at-home spa-worthy products that nourish your skin, hair and body using clean ingredients.
Primally Pure Gua Sha Stone ($32 – 10% off with code ALAENA) I consider this beautiful and pocket-sized jade stone nature's Botox. Gua Sha is rooted in Traditional Chinese Medicine and has a plethora of skin benefits including smoothing wrinkles, toning skin, decreasing puffiness and lymph stagnation, clearing sinus and toxin congestion and decreasing muscle tension (TMJ anyone?) Pair this Gua Sha Stone with my favorite Beautycounter Brightening Face Oil (10% off with code CHANGEBEAUTY10 for new customers) for good "slip" so the stone glides across skin without tugging and skin-healing benefits.
Dr. Dennis Grossman Facial Steamer ($149) This at-home facial steamer gives you that just-had-a-facial glow in 10 minutes or less. Fill it with water, turn it on and you have a relaxing facial steamer to open and detoxify pores and allow your products to get deeper into skin for more benefit. This product goes well with the Foreo Mini Luna 2 Cleansing Brush below.
Foreo Mini Luna 2 Cleansing Brush ($89 – currently 25% off!) I had been eyeing this trendy Swedish vibrating silicone cleansing brush for a few months and recently purchased. After my first go, I was hooked. Vibrating soft silicone bristles effectively clean skin (much more than hands or a washcloth) and can get into areas that are prone to congestion like around your noise, chin and between brows. It has three sides – for the T-zone, for normal to sensitive skin and for more oily, acne-prone skin. My skin is SO soft are using this for 1-minute AM and PM followed by my age-reversing and toxin-free Countertime Regimen (10% off).
Beautycounter Ultimate Renewal Bath Set ($89 – a $119 value) A three-product set that includes a wooden soft-bristled dry brush, delicious lemongrass-scented sugar body scrub and a chamomile luminous hydration body oil. Dry brushing is one of my favorite at-home detox tools for stimulating the lymphatic system. The combination of dry brushing, exfoliating with the sugar scrub and hydrating with a safe-ingredient body oil will cure any winter dry skin issue.
Primally Pure Skincare Masks in Clarifying, Soothing and Plumping

($112 for trio or $52 individual)

  I have been using these raw honey and functional herb skincare masks for a year now, and I don't go a week without them. You can grab them in a cute mask trio (which comes in an easy-to-wrap gift box) or individually at 10% off with code ALAENA for first time customers.
* BEST DEAL* Equilibria CBD Bath Bombs & CBD Drops

($28 and up) I've been screaming from the rooftops how much this organic and contaminant-tested CBD oil has changed my life for the better for almost a year now!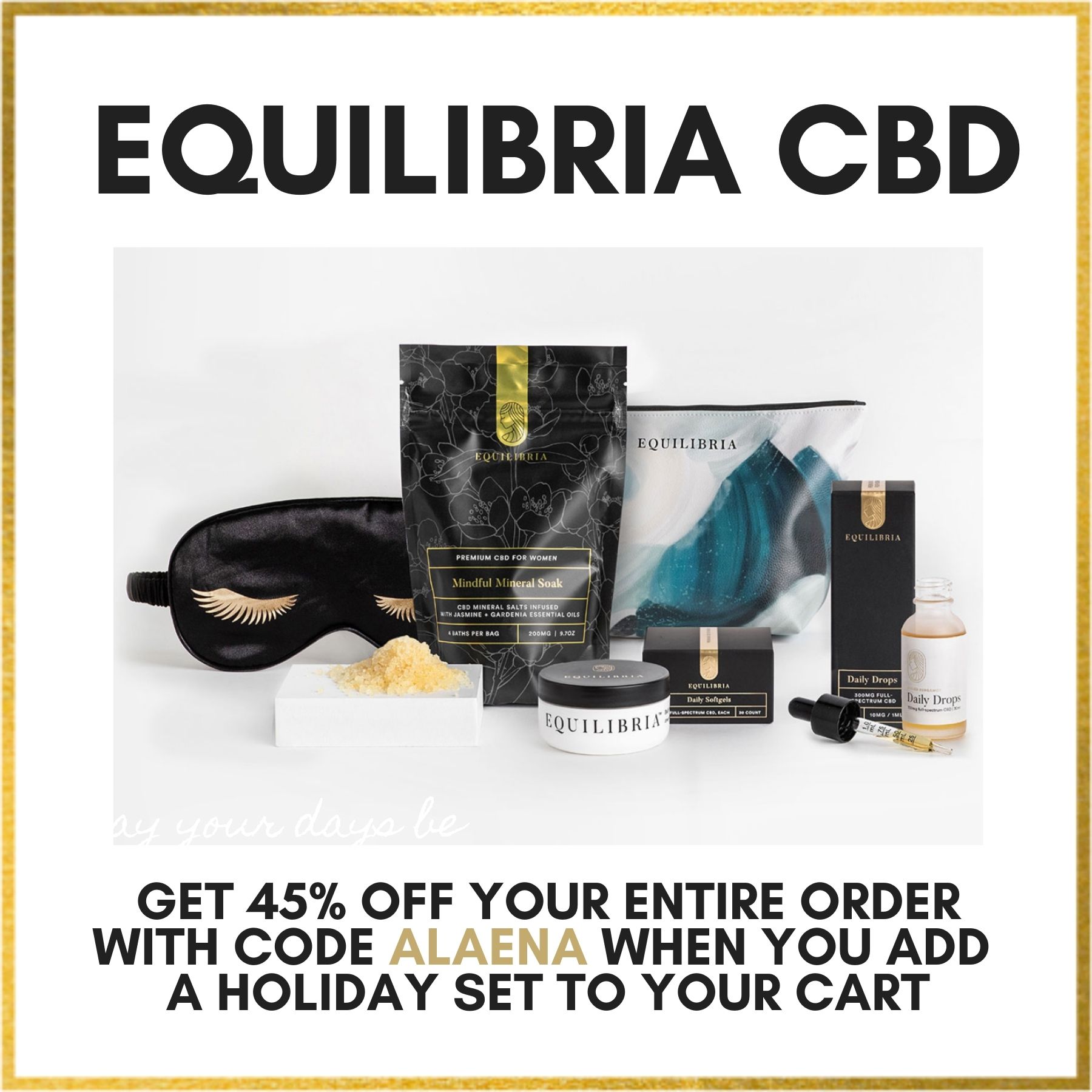 NOVEMBER 9TH-11TH ONLY
Save 45% off sitewide today when you add any Holiday Set to your order and use code ALAENA I HIGHLY recommend the subscription boxes too (Brilliance Box is my top choice since you get the Daily Gel Capsules for AM chill and anxiety relief, Daily Drops for PM sleep and the amazing Relief Cream – my replacement to Tylenol for muscle aches, cramps and headaches).
Goop G.Tox Himalayan Salt Scalp Scrub Shampoo

($42)

Another safer personal care favorite of mine – this exfoliating scalp scrub removes oil and product build-up, leaving hair bouncy and voluminous. I find it best for normal to oily hair (not dry or curly hair) and use it 1x a week or every 2 to 3 shampoos. I make sure I never run out, I love it so much, and it has a yummy rosemary and geranium natural scent.