A "No Recipe" recipe! I love those! Sometimes you need someone else to tell you to stir three things together to make magic. I've been having a year-long love affair with plantain chips. They are the autoimmune girl's dream snack! Crunchy, delicious, and high in carbs when all you have is protein and nothing else in your purse. I always bring a few bags of my favorite brand Inka Chips with me when I travel in case I can't find a restaurant that suits my needs. I can always top salted plantain chips with canned wild salmon or smoked oysters and avocado and call it a meal (and a very tasty one at that!)
During my first trimester, one of the only foods I could tolerate was plantain chips. Baby Grace is probably going to love them just as much as I do, or she'll be so sick of them by the time she's born, she'll never want another one the rest of her life. I have been mixing up the flavor combos of my storebought plantain chips (which are MUCH more economical and time-saving than trying to make your own at home!) So far I have made a really convincing "Sour Cream & Onion" version obvs without the sour cream, and am kicking myself for misplacing the recipe. Recently, I've been having a bit of a sweet tooth but don't want to go into that territory too frequently. Sometimes a super-satisfying sweet, salty, crunchy snack is all you need to curb that craving without pondering, "Should I or should I not bake today?" I 99% of the time opt to never bake. Not only does that mean I rarely consume baked goods, but I also save a lot of money on Paleo flours, vanilla extract, shortening, coconut oil, etc. Those things add up and before you know it, a batch of cookies just cost you $10 and a slice of your dignity if you burn them.
Your self esteem will not suffer with this recipe. It has 4 ingredients that you shake together. Get to munchin', people! This a perfect afterschool snack for your kids too! Consider serving it with a finely diced fruit salsa to get some extra nutrients in their little bellies!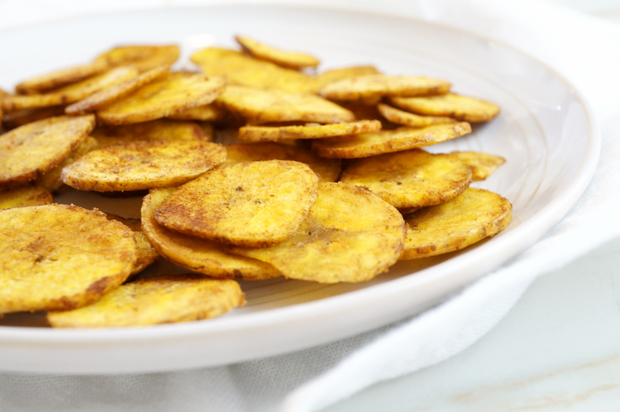 2-Minute Cinnamon Crunch Plantain Chips
Makes 2 cups | Store sealed at room temperature
2 heaping cups Inka Plantain Chips
2 teaspoons coconut sugar
1 teaspoon melted coconut oil
1/2 teaspoon ground cinnamon
Place chips in a shallow glass container that can be fitted with a lid. Drizzle remaining ingredients over chips, seal the container lid, and shake gently until the chips are evenly coated in the cinnamon-sugar mixture. The coconut oil is required as it helps the cinnamon-sugar adhere to the chips!