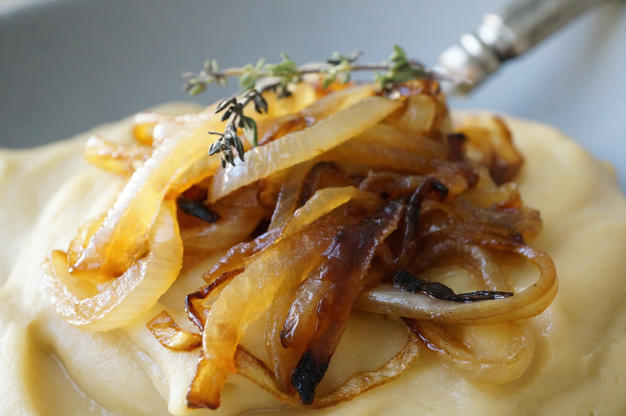 I am on a carb crusade these days. There's no denying how ah-maz-ing they make me feel, how much better I sleep, how much better I tolerate exercise, and how satiated my ravenous breastfeeding self is with carbs multiple times a day!
They get such a silly bad rap in the Paleo community. Instead of listening to Paleo "gurus", listen to your body! Is your energy suffering? Hair falling out? Libido low? Thyroid off? Poor workout recovery? You may not be eating enough carbs, especially on the autoimmune protocol where it's far too easy to focus on your protein and non-starchy vegetables (which are of course very important too!) 
My weight is much more easy to maintain on a moderate carbohydrate diet versus low carb, and I can fall right to sleep. Good sleep = hormonal regulation = weight maintenance. Even one day that is accidentally low carb affects how deep I sleep and increases the frequency of night wakings. Now I really, really prefer to only get my carbohydrates from starchy, root vegetables. I'm not much of a baker, and I'd rather not make an AIP "bread" or "pizza" to meet my carb quotient.
I tend to stick to the 40-30-30 macronutrient zone (carbs, protein, fat) and feel my best that way. I do this by including a starchy carb at each meal along with several cups of non-starchy green vegetables and a 4 to 6 ounce serving of protein (lots of avocado for added fat or I accidentally go too low fat). I find when my plate looks like this I can go longer in between meals and don't have energy crashes throughout the day.
I've had to increase my food intake since I started breastfeeding so I actually split this up among 4 decent-sized meals throughout the day (I always have "second lunch" around 3 to 4 pm so my protein intake is generally 12 to 16 ounces a day andmostly seafood). 
In the past week, I have cut sugar completely out of my diet in an effort to simmer down this frustrating case of hives that unknowingly popped up a few weeks ago. I thought it was a food allergy (and it may be), but it may be some immune shifts post-partum that I'm so not ready for. To do what I can on my end to soften the blow, I've returned to full-on AIP without reintroductions (I am treating myself to coffee 1-2 times a week and cocoa powder in small amounts though because I tolerate both very well) and feeling a bit better already!
The first few days without sugar was really tough actually, even though I only treated myself to some dark chocolate and coconut milk ice cream here and there since I had Grace. To counterbalance those sugar cravings, I had even more starches this week than usual and they nipped those sugar cravings right in the bud! I wanted to share my recent experiences with the awesome-ness that is a starchy veg for anyone who still feels "guilty" over enjoying them, or who sees the lack of starches on the plates of the greater AIP community, especially bloggers on social media who we tend to look for dietary mimicry.
Everyone has individual goals or ideas about healthy eating, but never feel guilty if you're like me and do well with loads of sweet potatoes and parsnips!These parsnips are sooooo silky smooth using my Vitamix. They are very earthy tasting but the caramelization and lard add extra flavor notes to balance that out.

Topped with quick caramelized onions, they taste so indulgent and make a perfect "bed" for baked chicken thighs, roasted pork tenderloin, or beef meatballs with a layer of steamed or sauteed kale, chard, or beet greens.
It doesn't get much more comfort food-y than Instant Pot whipped parsnips & caramelized onions!
Whipped Parsnips with Caramelized Onions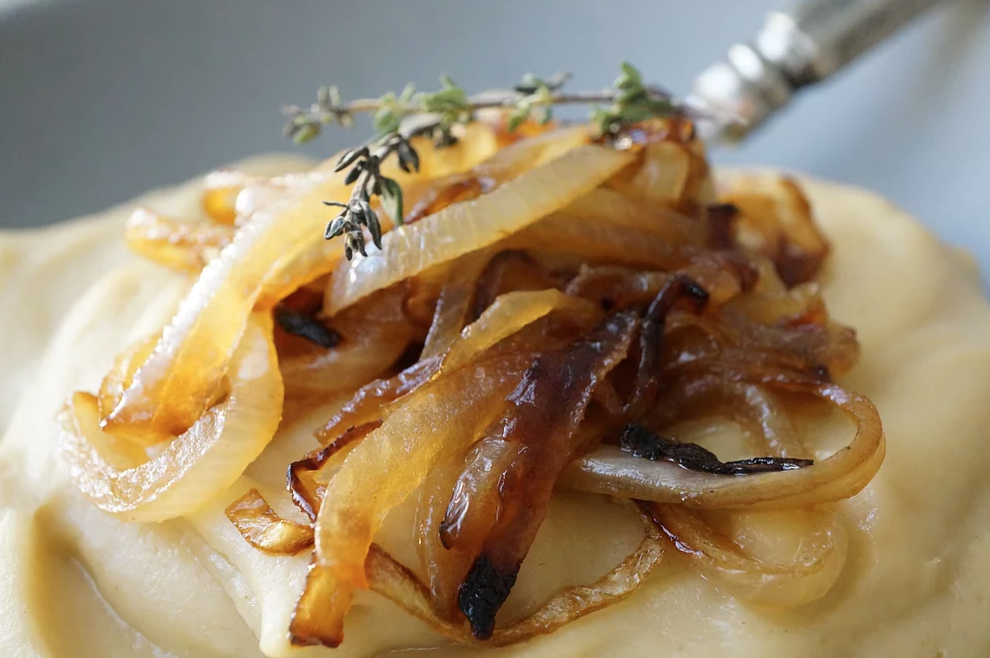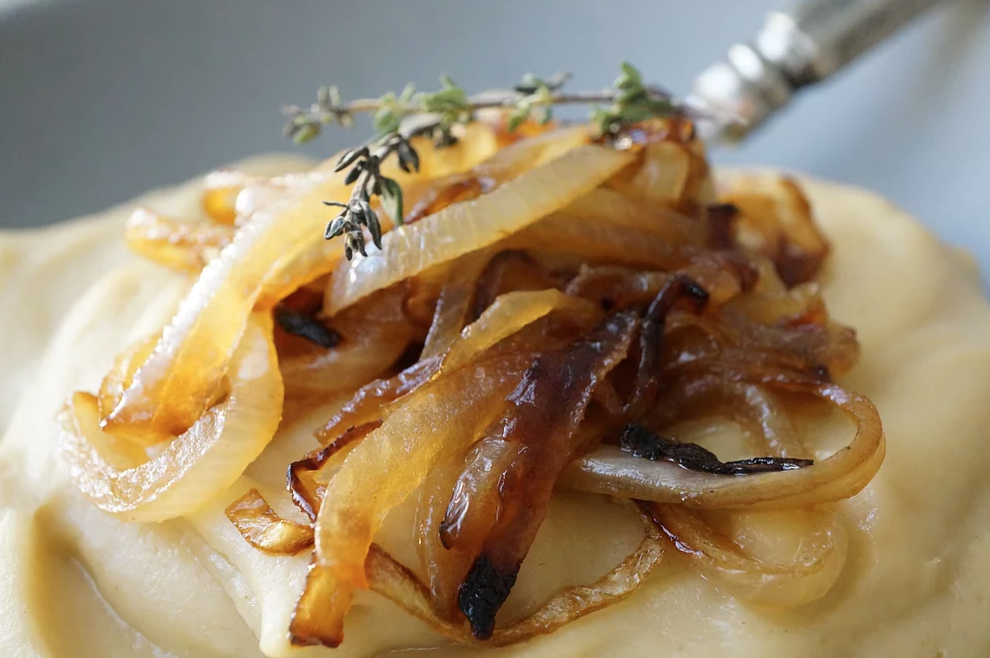 Ingredients
Instructions
Turn Instant Pot "Saute" function on and add 3 tablespoons lard to the insert. Once hot, add the parsnips and stir to coat in the lard. Cook and caramelize the parsnips with the sea salt for 12 to 15 minutes, or until golden brown on all sides.

Add thyme sprig and beef broth. Seal the lid and set the manual pressure cooker timer to 3 minutes. 

Once timer lapses, manually vent the pressure cooker. Transfer the parsnips, broth and whole thyme sprig to a high-powered blender and blend until smooth and pureed, at least 45 to 60 seconds. If blender requires more liquid, add 1 tablespoon of additional broth at a time to get it going.

Heat remaining 1 tablespoon lard in the Instant Pot insert using the "Saute" function again. Once hot, add the onion and toss to coat in the lard. Caramelize onions for 10 to 12 minutes until golden brown and then add the coconut aminos to deepen the flavor. Once onions are tender and golden, turn the Instant Pot off.

Serve whipped parsnips with caramelized onions on top and garnish with additional thyme if desired.