This was my third trip to Austin which has been named the Paleo Mecca of America (I unofficially made that up) as the host of the annual PaleoF(x) convention each April. The other two trip were for the Ironman Triathalon here in October – one of which I worked and the other which I watched a friend race. Both trips were focused on the race though, so I didn't get to do much exploring. This trip was slam-packed with outdoor activity, which is quite courageous of us in the July heat. Temperatures were averaging 99 degrees every day, and it really doesn't cool down at night like we thought it would. I would suggest traveling here any month except June through mid-September if you want to avoid the heat.
When I searched for a good Paleo Guide to honest a few popped up, but they didn't include what to DO in Austin – just what to eat! Well my philosophy is there is more to life than food… much, much more! Here is my list of my favorite things we did in Austin that promote a healthy lifestyle via fun, sunshine, and activity!
1. Boat Rental on Lake Austin
My favorite part of the trip was renting a zippy little boat on Lake Austin from the company Keep Austin Wet. The owner is a super friendly guy who will give you the best spots. The views are beautiful as your surrounded by steep limestone cliffs and monster mansions. They also include a tube and waterskis if you feel like getting in the water. The farther west/north you go, the colder the water gets. It dropped from upper 70s to mid 60s within a 40 minute boat ride which made it even more refreshing on a hot 100 degree day!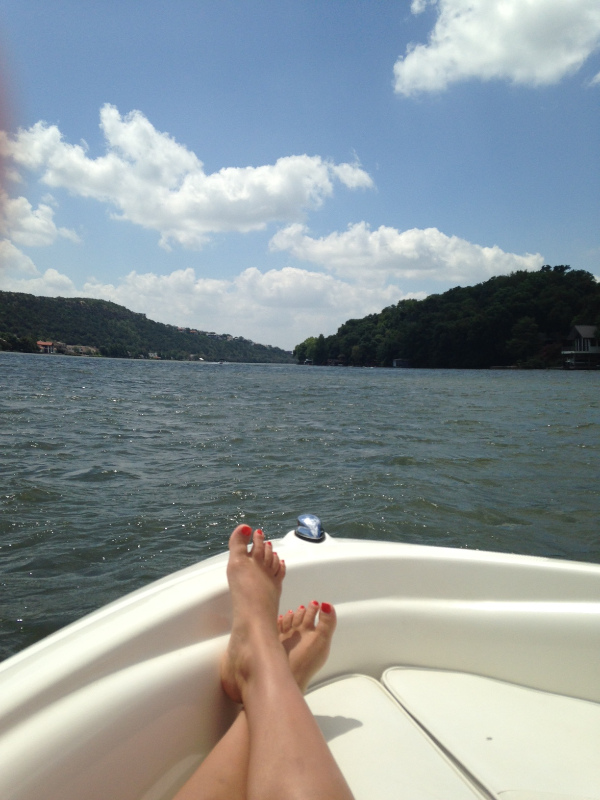 This is a popular adventure tour in Austin and started about 4 years ago during the drought. We booked in advance for the morning group to avoid too much heat exposure. You start the course by taking a van to the lake where you board a boat to start the course. It conssits of 5 ziplines – 2 of which are "bunny hills" as they called them and 3 which are more exciting. A couple of them go over the lake and have pretty amazing views. You can easily complete the 3-hour tour with moderate physical endurance as there are only 2 longer "hikes" up the cliffs to the next station. Our tour guide was Rex and he is very charismatic. Other tour guides looked like high school kids recovering from last night's hangover.
3. Swimming in Barton Springs
We walked to Barton Springs along the Greenbelt with a friend and paid the entry fee into the Barton Springs Pool which is a hybrid between a man-made and natural spring. The water is natural spring water but the concrete barriers to make the pool are not. The water temp is a refreshing 74 degrees and we had fun swimming two long laps through the spring. It gets very crowded in the summer so I suggest going during their late night swim around 8 pm.
4. Dairy-free Ice Cream at Sweet Ritual
The BEST dairy-free ice cream we have had by far! Sweet Ritual is a vegan ice cream shop that shares a space with Juiceland, a popular chain of juice cafes with some awesome combos themselves. There are 3 flavors of coconut milk ice cream that are soy-free, egg-free, dairy-free, gluten-free, and grain-free. While this is a "Paleo" guide to Austin – the ice cream doesn't technically fall under that category but it's still a healthy treat option when you're on vacation! I got the Toasted Coconut, Salty Caramel, and Birthday Cake divided between the few occasions we went there with a toasted coconut topping. My husband got the gluten free ice cream sandwiches and loved them too. The workers are very friendly and willing to answer all your questions about ingredients. Overall, they do a good job keeping it simple but do include some stabilzers like guar gum, tapioca starch and locust bean gum. Not gonna kill you to have that a few times a year though!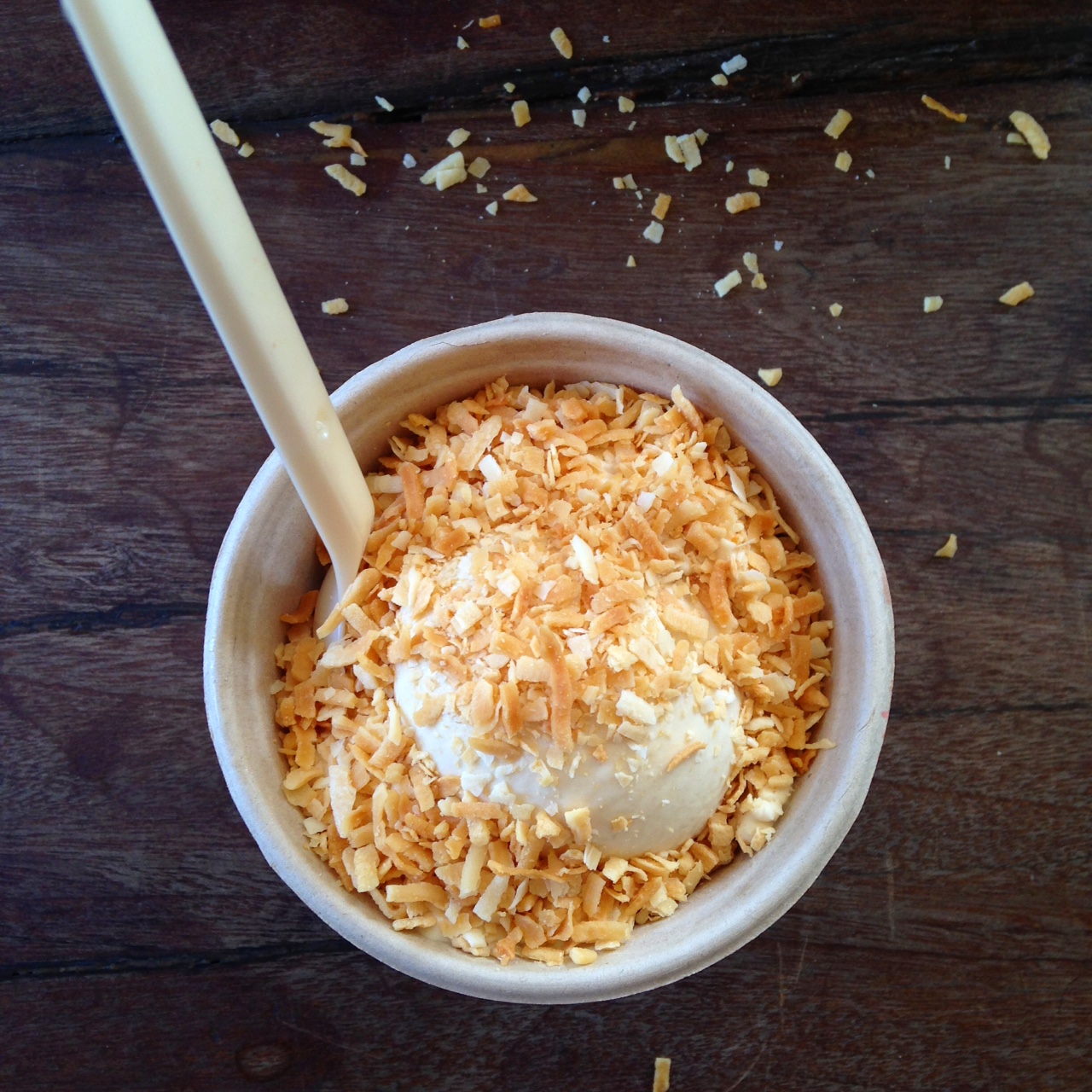 5. Running Mount Bonnell
One night we went to watch the sunset at Mount Bonnell which is a gorgeous cliffside neighbhorhood on Lake Austin with the insane homes we viewed during our boat ride. The hills are steep – like San Francisco steep! So we decided to run some hill intervals to work off the aforementioned ice cream. If you're not into feeling like you're going to die, then park on the side of the road near the observation deck and walk around the neighbhorhood for an hour to see some impressive real estate and views!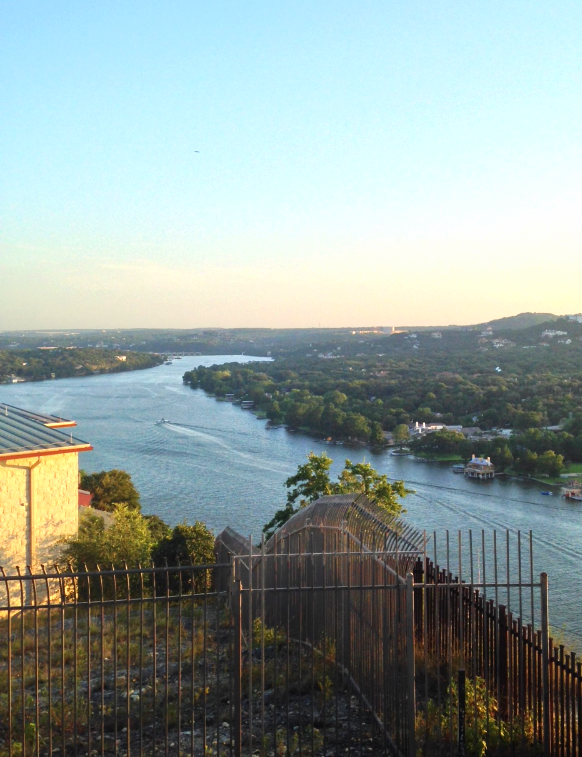 6. BBQ Ribs at Terry Black's & Brisket at Freedman's
Austin is the BBQ-lovers paradise with the sweet, smokey smells that waft through the air no matter if its 7 in the morning or 12 at night. We were pretty picky about the BBQ we ate. While I tried to avoid nightshades on this trip, I couldn't not try the ribs at Terry Black's. BBQ Ribs are my spirit food. The ribs here had a nice thick caramelized exterior and moderately smokey and tender meat. I got 1/2 a lb which amounted to 2 large ribs. We also got the smoked turkey which was not memorable but would make a good sandwich if you're watching your calories (boring). The night before we went to Freedman's and tried their nightshade-free meats including the brisket (really yummy but even better cold the next day) and the pulled pork (which I enjoyed more than my husband did since it's my favorite shredded meat). The seasonings are only salt and pepper, but ask to leave the BBQ sauce off the pork because they mix it in. Avoid the chicken because it's brined in beer and the ribs have a jalapeno sauce on them if you're avoiding nightshades. Verdict: I felt a little crappy in the morning after the Terry Blacks ribs (probably the nightshades or meat quality), but I felt perfectly fine after the Freedman's feast. Austin's most famous BBQ, Franklin's, was closed the week we were there for vacation unfortunately!
7.Deep tissue massage at AustinDEEP
Austin has a lot of cheekily named small businesses and I visited two of them on this trip. One of them being AustinDEEP – a massage studio that serves up deep tissue massages and infrared beds. First time clients get a free 30-minute session on the infrared massage bed which involves laying fully clothed on a table that heats up to 140 degrees via infrared rays while the bed massages you at specific points, sort of like during a pedicure at a nail salon but much more relaxing. I took a nap. I also loved how they offered watermelon infused water and all clients get a bag of complimentary bath salts, organic makeup wipes, and full body wipes after their massage. Well worth the $100!
8. Chocolate Chip Cookies at Picnik
I went to Picnik for the first time about two years ago right when they opened. The owner, Naomi, is the most bubbly, sweet girl. She wasn't there when we went for our coffees and cookies two mornings, but we still enjoyed the outdoor picnic tables and friendly staff. They have loads of all Paleo options there but their specialty is butter coffee. One morning I had mine made with ghee but my stomach suspiciously broke out into a rash within 2 hours so obviously dairy, even ghee, and I are not friends. A few mornings later I had them make it with coconut milk and it was equally delicious without any ugly consequences. Their chocolate chip cookies are made with coconut flour and are grain and egg free. They taste like softer, yummier Chips Ahoy cookies… in a good way of course!
9. Central Market in Hyde Park
I didn't think it could get any better than Whole Foods in terms of a big-box grocer that actually offers local goods and produce and trustworthy cafe food. We stumbled upon Central Market, which is HEBs natural chain of stores. It is RIDICULOUS. If you want to find the freshest produce, highest quality prepared foods, yummiest coffee, and tastiest local products then you must hit this place up! We ate here twice and both times I got the grilled salmon, dill roasted carrots, and sweet potato and kale quinoa salad. You know why they're even better than WF?? They actually use olive oil to cook their foods instead of canola oil! How awesome is that!? That kind of stuff really makes me respect a company. They also have very tasty in-house roasted meats like garlic and rosemary crusted pork loin. Their treats section is also very impressive – we got a vegan "Hostess" cupcake that was the most ridiculous treat I've eaten in probably 5 years but still pretty clean and a few bars of my favorite chocolate Willie's Cacao, who I want to get a giveaway from so you guys can enjoy them too! They have a huge outdoor patio so you can enjoy your food in the sun or shade and if you have kids, they have a playground on site. There's also live music, yoga classes, and food tastings!
10. Whisler's in East Austin
This sweet-ass bar located among some of the hippest (read:renovated bungalows) bars and restaurants in Austin is a do-not-miss even if you don't drink. We went with my husband's friend and were instantly impressed with the restored two-story home. There's some gorgeous exposed brick and original fixtures that made it fun to poke around. There's also a large outdoor space, a covered outdoor space, and two stories indoor. Even with all that room it was still crowded, but we could easily hear our conversations since they don't blast the music. I ordered several Topo Chico mineral waters to keep me quenched but the boys got some delicious looking pepper-spiced beverages.
Runner Ups
Paper Place for the BEST gift-shopping, stationary, books, and crafting. I got gifts for some friends, an adult coloring book for me, coloring pencils, and fun straws!
Juiceland freshly pressed juices with a large array of ingredients, agua frescas, functional smoothies and lots of Paleo goodies. They employ the NICEST people too! One location gave me some durian fruit to try (it tastes like pungent garlic-fruit) and another location gave me a free anti-inflammatory shot after I complained about feeling poopy from those nightshades!