These healthy homemade "peanut butter" Rice Krispie treats are quick & easy – made without marshmallows and dipped in chocolate for the ultimate kid-friendly comfort food. Refined-sugar free and made with just a bit of natural sweetener!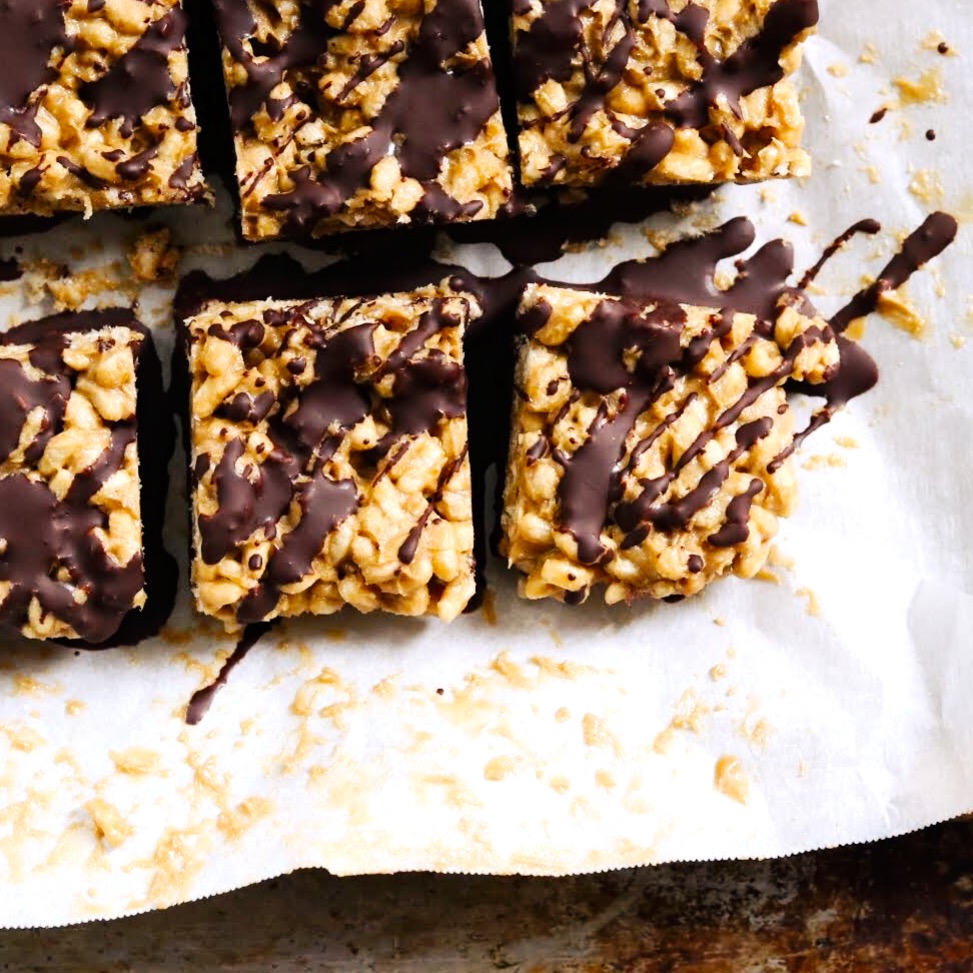 What makes them healthy?
These naturally gluten-free 5-minute rice cereal treats are made with sprouted rice cereal which makes them easier to digest. They don't contain any sugar or soy-laden marshmallow (or difficult to make homemade marshmallow). In addition, they contain gut-healing Vital Protein Collagen Peptides, grass-fed ghee, organic sunbutter and just a bit of natural sweetener (organic honey and pure maple syrup).
How flexible is this recipe?
Very flexible! You can use any crunchy cereal of choice. One Degree Organics makes a plain sprouted brown rice cereal and a cocoa flavored sprouted rice cereal for a "Peanut Butter" & Chocolate version of this recipe! Use cashew or almond butter in place of the sunbutter if desired.
How can I make it dairy-free?
Make it dairy-free by replacing the ghee with a 50/50 ratio of coconut oil and palm shortening or even coconut oil and coconut butter! It'll be a little coconut-y tasting if you do the latter – just a forewarning!
My recommended brands of chocolate.
I prefer to source fair-trade, low-sugar dark chocolate for this recipe. My favorite affordable healthy dark chocolate bar is the Equal Exchange Panama Extra Dark Chocolate. It's not too bitter like a lot of dark chocolates and melts smoothly for this recipe.

[simple-recipe:8170a]