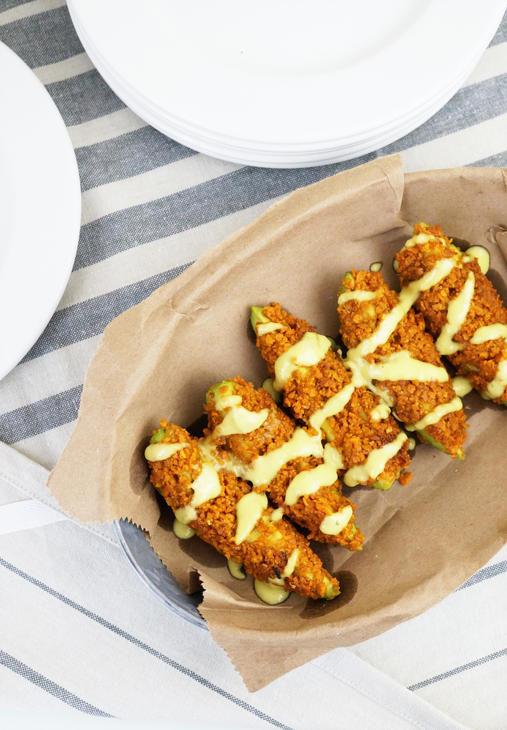 Maybe it's because we moved to Austin six months ago, or maybe it's because avocado and Jackson's Honest Chips are two of my favorite foods, but I've "retested" this recipe more times than necessary to satisfy my own gluttony.
The first time I had fried avocado was out of a food truck here in Austin 5 years ago when I was visiting. I didn't understand the draw to fried fat until I bit into the warm, creamy, crispy wedges. They're an indulgent food, of course, but when "breaded" in crushed sweet potato chips made simply from non-GMO sweet potatoes, healthy coconut oil, and sea salt, can we really call them so?
While delicious by themselves, I feel like the creamy subtleness screams to be drizzled in some homemade garlic aioli. The recipe makes plenty of aioli, enough for several batches of fried avocado wedges, so I keep my leftovers in the fridge for 3 to 4 weeks to add a big flavor punch to other foods such as a dip for chicken wings, drizzled over roasted vegetables, or layered in homemade cassava flour tacos!
You can use it like you would any homemade mayo actually!
I first discovered Jackson's Honest Sweet Potato Chips a few months into my AIP journey. I hadn't had a convenience food for 120 days at that point, and I couldn't believe my eyes when I found them at a local neighborhood grocer in Chicago for only $3.50!
I immediately purchased and consumed 3 bags within a week, and since then I have been hooked. They are my "special treat", my "travel lifesaver", and my "sanity keeper". I've made a couple other recipes for the blog featuring them: no-nightshade BBQ Nachos Two Ways & Fish Sticks.
For us nightshade-free gals and guys, they're a pretty special thing.
I had the chance to chat with the family owner of Jackson's recently and was really impressed with her energy, positivity, and dedication to quality, sustainability, and integrity.
I love that they had the vision for a natural foods company based on spreading health to other families. You should read their background story on their website HERE. At this point, they are a very well-known company in the healthy living sphere, but they have never let that affect the quality of their product, operations, or company mission. She told me about a little hiccup they had when first starting out the manufacturing process.
The facility had never dealt with giant drums of coconut oil before! They had only ever manufactured products that contained vegetable oils, so it was a big learning curve for all involved! The cool thing about Jackson's is they are at the forefront of a consumer revolution asking for food quality over low prices.
We know we can't always get both (Walmart prices and health-promoting foods), and most of us are okay with paying a little extra for higher quality products we know our bodies thrive on. I'd much rather pay the extra couple bucks for a chip kettle cooked in coconut oil than sacrifice my dedication towards leading an anti-inflammatory lifestyle and get a cheaper bag cooked in canola oil. I know the majority of my reader's feel the same way.
I hope you guys enjoy this recipe that we teamed up for as much as we do! If you're wondering how you can expand fried avocado beyond finger food,
I've served them over a massaged kale salad with bacon, red onion, and cucumber for a serious power lunch!
Be sure to pack a bag of these chips for your next picnic, road trip, or beach day!
They're a fantastic and convenient way to get your hormone-balancing carbs and beneficial coconut oil while on the go to keep you on track for your elimination!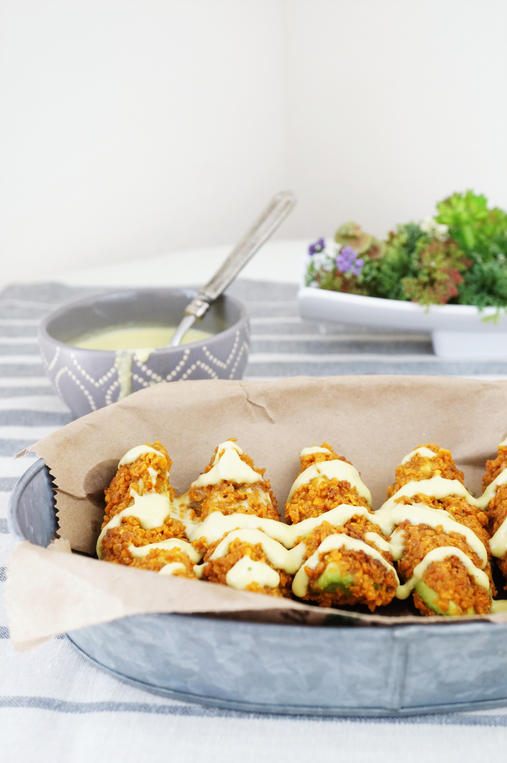 Here's a healthy take on fried avocado using crushed sweet potato chips!
Paleo Fried Avocado with Garlic Aioli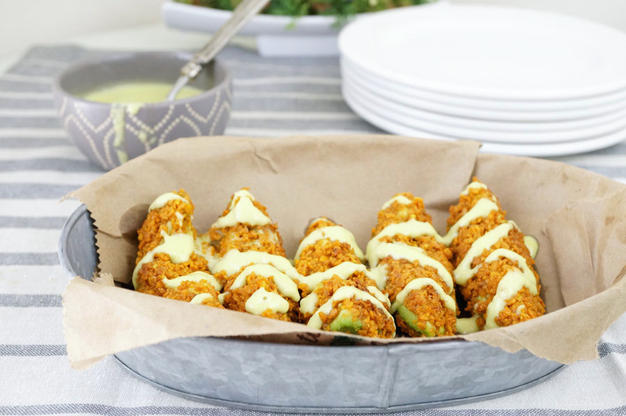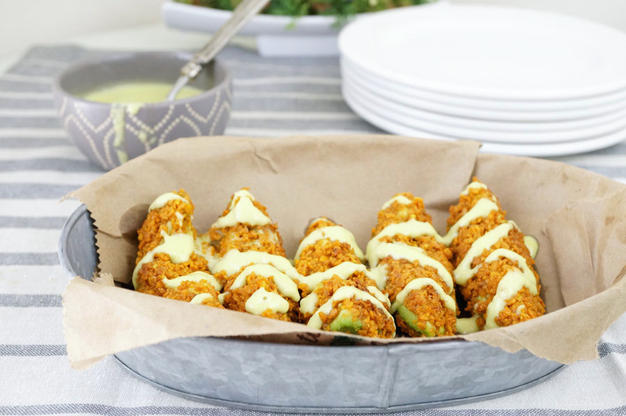 Ingredients
4

ounces Jackson's Honest Sweet Potato Chips

2

tablespoons arrowroot starch

1

egg, whisked

1

large ripe and firm Haas avocado

1/2 teaspoon sea salt

Freshly cracked black pepper, to taste

3

tablespoons coconut oil

Garlic Aioli (recipe in notes)
Instructions
Blend the sweet potato chips in a food processor for 20 to 30 seconds until you achieve a finely crushed and moist crumble. Add arrowroot to the bowl and process until just combined. Transfer the breading to a small shallow plate.

Pour the whisked egg onto a separate shallow plate.

Slice the avocado in half and carefully remove the pit. Slice each half into 3 equal size wedges and gently remove the skin. Season avocado with sea salt and black pepper.

Roll the avocado wedges in the egg wash until thoroughly coated and then roll in the breading mixture, using your fingers to firmly press it into all sides.

Heat the coconut oil in a large skillet over medium heat. Fry avocado wedges on each side for 60 seconds until they turn a crisp, light golden brown. Carefully transfer to a serving dish lined with paper towels using tongs. Serve immediately with the garlic aioli.
Recipe Notes
GARLIC AIOLI
Garlic Aioli
½ cup full-fat coconut milk
3 to 4 cloves garlic, peeled
½ large Haas avocado, peeled and pitted
¼ cup extra-virgin olive oil or avocado oil
1 egg yolk
1 teaspoon lemon juice
¼ teaspoon fine sea salt
In a food processor, combine the coconut milk, garlic and avocado until pureed. Slow drizzle in the olive oil with the processor running until well combined. Now add the egg yolk, lemon juice and sea salt and blend until smooth and emulsified. Store in the refrigerator for up to 2 weeks.